Superheaven – Ours Is Chrome Review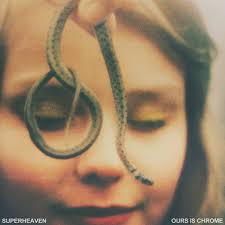 This is a journalistic review of Superheaven's sophomore LP Ours Is Chrome, released on May 4 on SideOneDummy Records.
Superheaven (formerly named Daylight) is an alternative rock band hailing from Doylestown, PA, with strong 90s emo and grunge influences coming from Knapsack, Texas Is the Reason, Seaweed, Nirvana, and Alice in Chains. The band is a quartet consisting of the dueling vocals of Taylor Madison and Jake Clarke, both of whom play guitar, drummer Zack Robbins, and bassist Joe Kane.
On their first three EPs, Superheaven was an immature punk band whose lyrics and songwriting were not very deep or strong by any means. Since then, the band has proven to be a heavy and dynamic powerhouse with emotional lyrical content. On their debut LP Jar, Superheaven effectively mixed the sounds of 90s grunge and emo just as bands Basement, Citizen, and Pity Sex were doing as well.
On Ours Is Chrome, Superheaven once again puts together a heavy and dynamic record, but adds a little more atmosphere and guitar affects. Ours Is Chrome also goes a little outside the box, especially in comparison to Jar, which is arguably as accessible as Nirvana's Nevermind.
Once again, Superheaven starts of the record with sonic masterpiece, "I've Been Bored". The riff at the beginning of this track sounds like a heavier version of a Manchester Orchestra riff as does the opening riff of "From the Chest Down". Tracks "Room" and "Leech" are dynamic and have a certain feel that makes the listening want to sway back and forth.
The tracks "Blur" and "All the Pain" are the dynamic backbone of this record, showing off exactly the sound Superheaven is trying to accomplish. Beginning with light, downtrodden verses, and transitioning into exploding choruses, each track manages to be beautiful and melodic without eliminating the ability to mosh to them. Both of those tracks are sonically reminiscent of a track from the band Failure, or even Hum.
The lyrics on this record are just as emotional as Jar. Tracks like "Gushin' Blood", "Dig Into Me", and "Next to Nothing" are very relateable tracks. Not a single song on this record includes any semblance of cheesy rhymes or insipid metaphors, each song's lyrics are simply about everyday interactions with people and the struggles of life.
Overall, Ours Is Chrome is a sonically diverse record with an apparent 90s influence, deep lyrical content, and excellent dynamics. This record is definitely one of the best of 2015 so far, and should definitely give fans of alternative rock an enjoyable listen.
Overall Rating: 9/10