Newly-Made AAU Team "BBE Goblins" Upset On Home Turf By Rivals "RACC"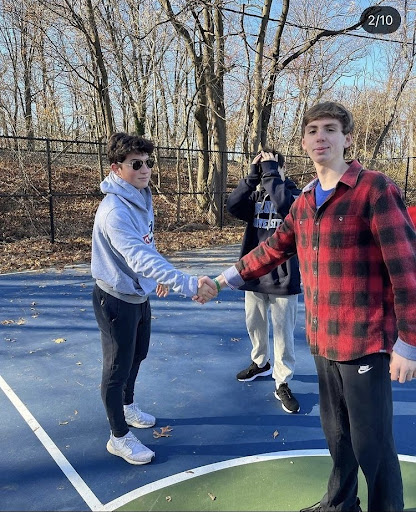 Fresh out of Glen Rock, the newly-made Amateur Athletic Union (AAU) Team, the Bulgarian Basketball Enterprise (BBE) Goblins, played their first game on Dec. 11, 2021 against another new team, RACC, unfortunately coming up just short. The Goblins have formed a good-looking team with even higher hopes. 
The game was a dogfight up until the last second, with RACC in the lead the whole game but with a close trail from the Goblins. The Goblins ended up with a chance to cut the lead to one as time was dwindling, but player-to-watch, Liam Fink, came up short on a shot from long range sealing the RACC victory 53-49. 
Despite the disappointing finish, there were many bright spots found in the game. Firstly, Emmett White had a solid game all things considered. Discounting his high number of turnovers, his post presence was certainly felt, and he made some great shots down the stretch. However, the player we all have to talk about, Nicholas "Cheese" Tufano, had a phenomenal performance. Despite not being there to start the game, as soon as he checked in he made an immediate impact – scoring the first time that he touched the ball. Cheese was a force to be reckoned with in the paint, scoring again and again as well as snatching crucial rebounds.
Another pleasant surprise was the great playcalling made by Matt DeStaso, as his relentless energy was being transmitted to the players, causing a great second half rally to make the game competitive again. At the end of the first half, RACC took a seemingly insurmountable double digit lead. However, after a fiery speech by Coach Matt, the Goblins came out swinging, giving RACC a run for their money.
While BBE fans everywhere are upset, there is still plenty to be hopeful about for the squad with the growing star talent and great coaches leading the way. This game was a great first game to prepare for the upcoming scrimmages and tournaments that the BBE Goblins have entered in hopes of improving. Unfortunately, the BBE Goblins first planned tournament – The Winter Wonder Slam – was cancelled due to a COVID-19 outbreak, and the future of the team is currently up in the air with COVID-19 and cold weather outside playing a factor. Remember to stay tuned for more BBE news and updates. Information on upcoming games and tournaments can be found on their instagram page: @bbegoblinsaau