Hockey team hosts annual pancake breakfast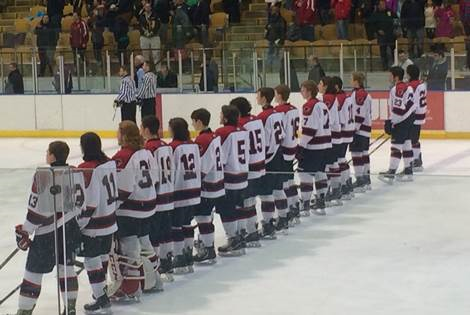 Glen Rock High School has a vast array of clubs and extra-curricular activities. These activities all have a various means of funding to ensure that they can continue. The Glen Rock Hockey team holds an annual pancake breakfast to raise money for its program. In past years, the breakfast has been held in the high school cafeteria, but this year the hockey team's fundraiser was hosted by Applebee's. The event, which occurred on Feb. 12, brought together players, coaches, and customers.
"My favorite memory of the event is probably the chaos that was in the kitchen. It was pretty funny." said Ben Sakac, a hockey player and a waiter at the pancake breakfast.
This year the food was prepared by Applebee's staff, but the event still required the team to take orders and bring the food out to each customer.
The breakfast is an opportunity for the team to be together while raising money for the sport that they love. Coach Zane Kalemba has coached different hockey leagues for about eight years and recognizes how close this year's team is.
"In general they are a very tight knit group. Their camaraderie is my favorite thing about them," Kalemba said. Kalemba stated that this made his experience as a coach much more friendly. The players, who have been in hockey programs together since elementary school, are used to working together and cooperating to reach their goals, whether it was fundraising or competing for the state finals.
Head coach Anthony Yelovich witnessed every member of the hockey team working on the setup, cleanup, and everything in between.
"My favorite part was [John] Lamachia and [Joey] Mouridy doing work at the coffee stand. They poured a lot of coffee that day." Yelovich said. "The guys got together and got to help each other out while helping others."
The Pancake Breakfast is held annually and is planned by the Glen Rock Hockey Association. Vinny Alvino is one of the main organizers of the event whose son is also involved with the hockey programs. The earnings from the breakfast not only go towards high school hockey, but also all hockey leagues in the town. This includes the programs at the elementary schools for those just beginning in hockey.
The hockey team has experienced a successful season which continues as they push. New and old coaches alike have experienced excitement over the success of the pancake breakfast and of their 2016-17 season.
"My experience here has been very enjoyable so far and hopefully we can cap it off with a state championship!" Kalemba said.