Catching Up With Bradley Passarelli
CRUD, a local punk band consisting of myself and former Glen Rock High School students Sean Kennedy, Bradley Passarelli, and Jared "Cookie" Zahn, took to basements and garages by storm last year and gathered a large following in surrounding towns.
This week, I sat down with drummer Bradley Passarelli to talk about his experiences with music, college, and the future of CRUD.
Dylan Kennedy: Hi Bradley, good to be here with you.
Bradley Passarelli: Good to be here Dylan.
DK: You started out as a bassist, what caused you to pick up the drums?
BP: I picked up the drums by messing around with my friends' sets, and eventually realized I had a decent innate sense of rhythm. This was a couple of years ago, and after playing other people's drums for a while I decided to buy my own, and I really like them.
DK: Some people say that I was chosen as CRUDs bassist because I'm a lot cooler and more attractive than you are. How do you feel about this rumor?
BP: I'd agree with that. I'm more powerful than you, though.
DK: At your most recent show you played the bass. What was it like to switch instruments? Did you enjoy playing the bass or would you rather have played the drums?
BP: It was fun to get back to my roots. I hadn't performed anything on the bass in a long time prior to our latest show, so I enjoyed it as a change of pace. Drums are probably more fun, though.
DK: You've written the music to songs including Mongrel and Tony Hawk. What is the writing process for CRUD like?
BP: I play the guitar a lot in my spare time, so sometimes I come up with a riff that I could see working as a CRUD song. I'll flesh out the riff into a fully-structured song, then I'll show it to everyone at practice, and everyone learns it and we usually tweak things a little. Sean writes lyrics in the meantime, then I step behind the drums and we have a song.
DK: Which artists have inspired you as a musician?
BP: Some of my favorite artists across multiple genres are Neil Young, Altar of Plagues, Husker Du, Tom Waits, Ulver, Nick Cave and the Bad Seeds, Archers of Loaf, Converge, Lil B, Titus Andronicus, New Order, Modest Mouse, Iceage, and Lunar Aurora. I don't think any of these artists really influenced the "CRUD sound," but they've all impacted who I am as a musician. As far as CRUD is concerned though, The Dead Kennedys were a big influence, and all of us are pretty into garage rock as well. And Jared likes the Descendents.
DK: CRUD is notorious for playing wild, crowded shows. What is it like playing in front of an audience?
BP: I love our audiences. When you're in a band, you want to see people get into your music, and there's no more depressing sight than a crowd of sullen people with their arms crossed at a show. I can proudly say those people are in the minority at our shows. I also find its easier to perform when people get physical at our shows, because I feel like I'm not just being watched.
DK: What kind of artists usually open for CRUD's shows?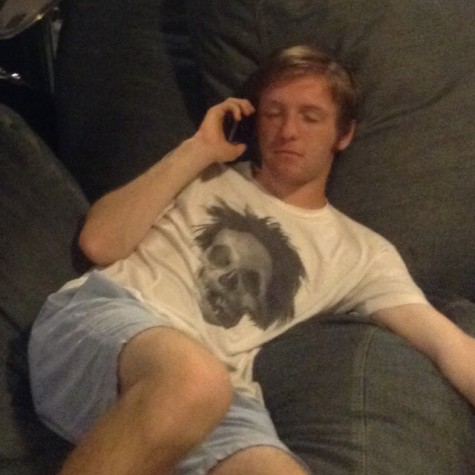 BP: We usually have our good friends Nick and Matt open for us. They always put on a good show. We've also had a really unique band called Vomit Fist open for us in the past. They're a metal band that revolves around the father-son dynamic of their guitarist and drummer, and they're fantastic live. Malcolm, their singer, is an engaging front man rivaling Sean in fury and intensity.
DK: You are a former Glen Rock High School student. What is it like being so far away from home and living in the big city?
BP: It's very different, but I like it a lot. There's so much to do, and I'm not far from a lot of my friends who attend other universities. Home isn't terribly far either.
DK: There were rumors passed around this year that you are attending Clown College. What do you have to say about these allegations?
BP: I'm currently attending undergraduate business school, so yes; the rumors are true.
DK: What are you studying in college right now?
BP: I'm in a business program, but I'm not sure what I'm going to major in specifically. I'll probably also pursue some sort of humanities minor, most likely in English.
DK: You have got to tell me Bradley, what is the best thing to eat in the Bronx?
BP: Pizza, of course. I can't really give you an exact estimate of how much I eat.
DK: Do you ever miss your brother Michael?
BP: I miss him almost as much as you miss your big brother, Sean.
DK: Many people say you are one of the biggest hunks to ever pass through Glen Rock. Do you have a comment on this?
BP: Where were these people when I was in high school?
DK: You were voted second place for best dressed student last year. Would you consider yourself as well dressed as your peers do?
BP: I don't know. I guess? Preppy clothes are trash.
DK: Speaking of fashion, many students are still proudly wearing CRUD t-shirts to school. Some are saying that wearing a CRUD shirt has become a fashion statement. What are your thoughts on the matter?
BP: I think that at its core, CRUD represents doing what you want regardless of how ridiculous it seems. Our fans really seem to embrace that philosophy, and I'm glad we've got a following of like-minded people.
DK: Tell me about working with Sean Kennedy and Jared "Cookie" Zahn. What is being in a band with so many hunks like?
BP: It's challenging, but it pays off. Sometimes hunks butt heads, you know? But everything usually works out and we become a stronger performing unit because of it.
DK: What would you like to say to all the little boys and girls that listen to CRUD's albums?
BP: Don't try and be us. Do your own thing.
DK: And finally Bradley, what can we expect from CRUD later this year?
BP: We may end up recording an EP, because some of the staples from our live sets aren't on record yet. Other than that, we'll most likely be playing a few shows over Thanksgiving and winter break, so stay on the lookout.