Meet Liz (Shaw) Kirkhus
The first step may have been designing guitar-shaped purses ── but Glen Rock High School Alumni Liz (Shaw) Kirkhus sky-rocketed her fashion career through concepts such as this, becoming an entrepreneur at a young age.  After receiving her diploma from Glen Rock High School, this savvy business woman became the owner and designer of a chic boutique called Lovely, located in Catskill, New York. Liz (Shaw) Kirkhus knew all throughout high school that she was interested in art and design, mainly focusing on fashion.
Although she was taken down many different paths trying to find her career, she ultimately moved to owning her own store. "My career background has been a crazy path leading me in and out of creative fields," said Mrs. Kirkhus.
Being a graduate from The Fashion Institute of Technology in New York City, Mrs. Kirkhus has plenty of experience with design. She graduated with an Associates Degree in Fine Arts, and a Certificate in Art Therapy at The School of Visual Arts in NYC. She later went back to FIT for continuing education classes including Marketing to Boutiques.
In and after high school, Mrs. Kirkhus worked in retail, where she learned a great deal about customer service and details about the retail business. After college, she worked as a recreation therapist at a nursing and rehabilitation center. She moved on to be an assistant director, and then a director of recreation. Switching gears, she became an admissions and marketing director and then moved on to becoming a marketing director at another facility.
In 2003, Mrs. Kirkhus took a hiatus from healthcare and decided to start her own design company called Liz Shaw Design which mainly produced handbags and accessories. "During this time I was also a substitute teacher at GRHS," said Mrs. Kirkhus. "It was an amazing experience. I got to sub for some of my favorite teachers and mentors like Mrs. Klau, Mrs. Cella, and Mrs. Tomas. I also gained a greater appreciation for all that teachers do and accomplish in their day."
In 2007, she returned to the healthcare field as an assistant administrator at a nursing and rehabilitation center. Mrs. Kirkhus said, "That was a tough but amazing position."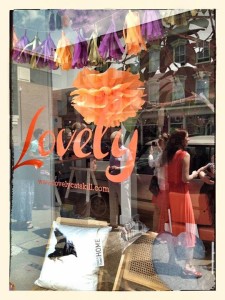 The trendy and chic boutique, Lovely, carries wares from independent designers, local designers, artists, and craftsmen. Designs range from men's and women's accessories to home goods, art, and fine edibles.
"I like the freedom of working for myself," she said. "I enjoy interacting with other designers and artists while curating the store. I love being able to call it my own."
Mrs. Kirkhus learned much from Glen Rock High School.  Primarily, she said, "How to be yourself. Even though Glen Rock is a small town there were many different 'groups' growing up. The teachers encouraged us to be who we wanted to be. I grew up thinking anything was possible. We all complained at the time but looking back GRHS was a wonderful place to learn."
Leave a Comment