The Mystery of the '67 Class Ring
Sweeping the sand, the metal detector began to ping.  It pinged once and then twice.
A 1967 Glen Rock high school class ring was found this year, buried in sand. But it was not uncovered in Glen Rock, or even in New Jersey.
The class ring was found in Daytona Beach, Florida in the deep burrows of the sand. Daytona Beach attracts over 8 million tourists every year. Special events that draw visitors to Daytona Beach include spring breaks, Turkey Run car show, and events during Thanksgiving Weekend, Biketoberfest in October, Daytona Beach Bike Week, Coke Zero 400 (the Nascar race on the first Saturday of July), and Speedweeks (Daytona 500, Rolex 24, and other sports car races).
During a student's sophomore year of high school, s/he is given the opportunity to purchase a class ring. The ring is personalized with a graduation year and, on the inside, it has the person's initials. People can choose to get it with a birthstone of choice, and the ring can be either gold or silver.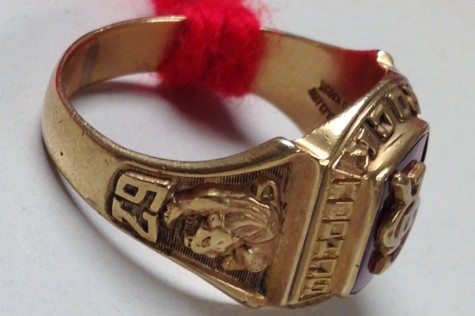 Along the 20 miles of sandy beaches of "The World's Most Famous Beach," one pedestrian was scanning with a metal detector when the machine started beeping, the pedestrian noticed that they had found someone's high school class ring.
The class ring was gold with a rectangular red stone in the front and the letters GR on top of the stone. "Glen Rock High School" was written on all four sides of the rectangle. The graduate's graduation year, 1967, was written on the band, right below was a panther, Glen Rock's mascot.
Inside the ring there were the initials "DM."
The discoverer then sent the ring to Glen Rock High School and the administration has been gathering information on graduates from 1967 who have the initials D.M.
Although there are a few people that the ring could belong to, one graduate will soon be happy to hear that their high school class ring that they had lost has been found.