A Very Unorthodox Jukebox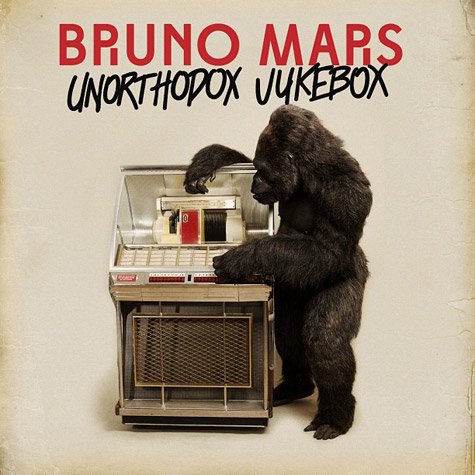 This past Tuesday, December 11, 2012, Bruno Mars released his second album entitled Unorthodox Jukebox. With a few songs off the album released in the weeks leading up to the album's release date, fans were able to get a taste of what was to come. The first single made public, "Locked Out of Heaven," with its upbeat tempo was a pleasant surprise, left fans wanting more. "Young Girls" and "Moonshine" were also exciting songs. The ballad "When I Was Your Man" reminded fans of songs from Mars' first album, Doo-Wops and Hooligans. These singles all contributed to the great excitement building among Bruno Mars fans for the release of the entire album.
What they got was beyond what anyone could have imagined. Far from the sweet, charming, and tame person that we came to know and love in Doo-Wops and Hooligans, this was an edgy (even risqué) artist who demanded to be heard. It was no more "Mr. Nice Guy" this time around, and fans were not disappointed.
From 80's throwback "Treasure" and reggae "Show Me" to the more hardcore themed songs like "Gorilla," "Money Make Her Smile," and "Natalie," fans were shocked by the diversity of the album. Bruno Mars went into what had been uncharted territory for him, and he totally rocked it. He ended the album with a nice reminder that he was still the dream-guy from Doo- Wops and Hooligans, with another ballad, "If I knew."
As a longtime fan, I was extremely surprised to hear some of these songs coming from Bruno Mars. At first, I was taken aback by the red 'explicit' label glaring at me as I purchased the songs on iTunes but, after listening, I was just taken by how great the songs were.
This album has certainly been a breakthrough for Mars, showing his versatility and pure talent. I would definitely recommend listening to the rightfully titled, Unorthodox Jukebox in its entirety. But my advice would be to go in with an open mind, and expect to be confused, stunned, and overall amazed.