Board of Education plans to initiate districtwide Chinese exchange program
An educational exchange program with some schools in China has been launched by the Board of Education.
Revisiting overseas relationships from his time as Superintendent of Pequannock School District, Superintendent Brett Charleston traveled to China to sign formal partnerships establishing Glen Rock and various schools in China as "sister schools." 
During Glen Rock's third trip to China over the past year, Charleston and Board of Education member Edmund Hayward met with officials from Beijing E-Town Academy, Beijing Academy, Grand Elite Education Group, NG Foreign Language School, and Shanghai Experimental School.
According to Charleston, who presented the outcomes of his recent trip at the Nov. 12 Board of Education meeting, Chinese students can come to Glen Rock during Chinese New Year in January and February, while Glen Rock students can go to China during spring break.
"The schools that we visited are considering sending their students here for summer camps that we run here through the Community School," Charleston said. 
In addition to the short term camps, Charleston has also recommended opening up seats for Chinese students to attend the high school for an entire year. 
The proposed program follows a national trend known as the "Parachute Generation," a term describing a growing population of Chinese students being educated in U.S. high schools. In hopes of having their children accepted into top American colleges, parents of this generation send their children abroad. Their unique experiences might differentiate them from other students on college applications, so their parents hope, according to the New York Times. These initiatives have been encouraged by the federal government's Ambassador to China, Terry Branstad, just last week. 
Schools like Mount Olive High School in Morris County have already opened their doors to international students to bring in revenue. 
To facilitate its start, the Board is considering a trip to China again in February to "solidify relationships" with foreign school officials, as they anticipate a need to advertise the program, resolve organizational factors, and determine financial and educational benefits. 
In accordance with anticipated program plans, any future Chinese students would pay the established non-resident tuition rate of $17,070 to attend Glen Rock public schools. In order to host full year students, Glen Rock must be federally approved through the Student and Exchange Visitor Program. Since the district has not yet been approved, the plans are still preliminary.
Additionally, the Board has proposed certifying Glen Rock curriculum for profit to be used in China, earning "a royalty of $200 per class," according to Charleston. 
Financial statements about international trips were not available on the Board of Education minutes. One of Charleston's prior trips to China when employed at Pequannock School District, in October 2018, was funded by $4,500 in district funds. Other trips were seemingly subsidized by parties overseas.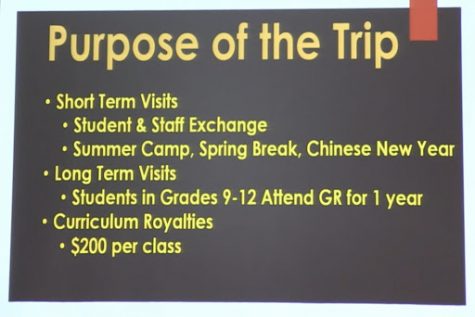 The summer program's curriculum will focus on science, technology, engineering, arts, and mathematics (STEAM) classes. The Board plans to build off of Glen Rock's own STEM summer camp and incorporate "arts and music" as well, according to Charleston.
"We're really going to focus on STEAM, so it will be similar to our STEM camp, but we'll be adding arts and music to that as well…" Charleston said. "The Chinese students will gravitate towards ESL while American students go there to support them as counselors-in-training, or they'd be able to take additional discovery STEM related classes."
While in China, Charleston and Hayward sat with Chinese school officials to discuss sister school agreements. According to Charleston, the sister agreements entail an understanding that the schools will "share students to visit each other… teachers can come visit…share ideas, things along those lines." 
"We're going to be friends and try to work together," Charleston said.
The Board is planning both long and short term visits for students and teachers. 
During the long term visits, Chinese students ranging from 9th to 12th grade will be able to attend Glen Rock schools for one year, taking five to seven classes. 
In an effort to advertise the exchange program, the Board of Education is considering taking another trip to China during spring break.
"We would take students to promote our summer program, and the students would go for free – the Chinese partners will pay for them, they will pay for their airfare," Charleston said.
View Comments (1)