The road to Nationals
As Julia flew across the finish line, the girls jumped up and down in realization that they had won their heat. They had just run their last shuttle hurdle race of the regular season. Their chances to improve and get a faster time were gone.
The rush of relief and adrenaline running out of a person's body after finishing such a short and fast race like the one they had just completed is incredible. It buzzes through bodies like lightning and forces out cheers and smiles.
They had won their heat, yes, but that didn't automatically mean that they had really won the whole thing. At Bergen County Relays, all the sections of the county run separately, but the runners are placed overall, which meant that a team in which the girls didn't have to run against still could have beaten them. No one dared to think that they could have really won overall, because the thought of being disappointed was too daunting.
Teams filled the shining blue plastic seats that lined the upper level of the building, looking down on the track. Colors of different schools molded together as the girls looked up to their own team, who was trying to tell them something. Times were being screamed at them by the teammates sitting in their section, but the girls couldn't make anything out.  Finally after moments of excited confusion, they read the lips of Chris Theuerkauf  ('17), who was screaming to tell them that they had run their race in just over 32 seconds. The loud, bustling armory fell silent to them as they realized that they blew the time of their first race out of the water by a full three seconds. Their smiles were too big to conceal as the girls jumped up and down, hugging one another.
Nationals were more than just a possibility now. They could do it. By being three seconds under the qualifying time, they were practically guaranteed a spot to run at one of the highest level high school track meets in the country.
The journey to nationals was almost as exciting as the meet itself.
As the girls collected their things from the crowded infield area of the track, the race they had run minutes before seemed like a blur. Trying to suppress their feelings, the group of four made their way over to the clerking desk in an attempt to see how they did overall. Out of about 20 teams, they needed to place top six to receive a medal. An older man in a red official's jacket sat behind the desk shuffling papers as they walked up. Too excited and jittery to talk, they all fumbled with their words and couldn't stop giggling. The man looked up from what he was doing with an annoyed glare in his tired eyes. Julia asked for the results for the girls' shuttle hurdles, and the man's head went back down diving into more papers. After evidently finding the paper he was looking for, he reached over to where the medals were stacked and grabbed four boxes.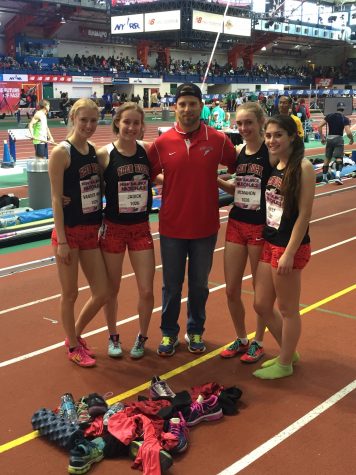 "First place girls, congratulations," he said, handing them the four small, cheap plastic boxes. Once the girls had taken a few steps away, they irrupted in screeches and laughs, being so obnoxious that the people around them stared. They didn't care. They had won Bergen County Relays, and now Nationals was so close, they could smell it.
It is March 8, 2016. Nationals is exactly four days away. Today, New Balance releases the design of their prized and famous backpacks. The backpacks are handed out to all runners who compete at nationals. Those backpacks are what caught the team's attention in the first place. Seeing athletes walk around with one of the bags was like looking at a professional. You were a force to be reckoned with, already a track star. The more bags the girls saw, the more they wanted their own.
Every girl on the team was most excited for getting the backpack. Leaving the armory with that bag at the end of the day, walking into future meets with the bag on their backs, that is what the girls were excited for. It was a momento of the day and proved that all their hard work had paid off for the entire winter season.
Spring track started on Friday, March 4, eight days before nationals. While everyone else walked out to the track with the excitement of their first day, the girls put finishing touches to their muscle memory and training.
Freshmen and new athletes began their training for the rest of their spring season, thinking about the success that they would have in June while the shuttle girls were focused on everything they had done in the past weeks to prepare. The biggest meet of their entire season lay just a few days ahead. For Julia, it was her last winter track meet ever. Living in Glen Rock, the girls were lucky enough to have run at the armory before.
Just twenty minutes away by bus, the armory is a venue where many Bergen County meets are held. They had already been there multiple times during their season. For so many teams, the armory was brand new and walking into that place for the first time can really take a person's breath away. The armory is a huge brick building that looks like any regular place from the outside, but once you step through the glass doors, it turns into an entirely different setting. Bright red walls curl up around the stairs lead to the second and third floor. Climbing them always makes you tired, no matter how fit you are. Reaching the third floor, the walls open up and reveal the pristine track, white sand pits, and hundreds of shiny blue plastic chairs. If a runner was nervous before, a place like the armory wouldn't make them feel any better. Olympians ran there, world records were broken there. It was a track and field hall of fame.
For the girls, running at the armory wasn't a huge deal anymore, because they did it so often. It would have been exciting to travel somewhere new for nationals, but at the end of the day, maybe it was good being so close to home. They had home-field advantage, and most teams didn't. As they walked through the big glass doors on the morning of March 12, maybe it would seem like a regular, no-big-deal meet.
Shuttles is one of the most exciting races to run, because it is unlike any over relay. Runners go back and forth on the track, instead of each person handing off the baton to someone running in the same direction. Hannah is the first girl to run. She gets down on the line with all of the other first leg runners and shoots out of her spot when the gun goes off. After Hannah, Julia runs, then Rachel, then me. The person you're running to is responsible for being ready when you get there. Each girl yells "rock" to signify when they have crossed the line and when the next person goes.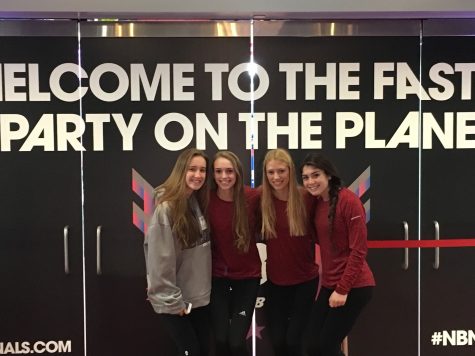 You can only be nervous right before you run. During a race everything is too fast and too short to think about what could happen if something went wrong.
"
The stomach aches, butterflies, and nervous chatter are left at the line and before you know it the race is over.
— Alethea Jadick
After each girl goes, they turn back to watch the people still running. They are no longer filled with nerves but jittery excitement. Once your leg of the race is done and you've done your best, the outcome of the race is no longer in that your hands. The rhythm of the race is intense and thrilling.
On March 10 2016, everything seemed to be coming together. The girls were ready, each practice was more solid than the one before, and there had been no major problems. They were comfortable in their race and could adjust and fix their problems with minimal stress and worry. But today, they hit a small bump in the road.
That morning, Coach McCarten let the girls know that they would be required to use blocks in their races. Everyone's nerves bubbled and burst because this was a major change.
Blocks are used at the beginning of the race when a runner is down in the start position. Blocks are used as a tool to help propel a runner forward by giving them an angled surface to push off of. They add power to a runners start, but they have to be used correctly. If a runner wasn't comfortable in blocks, they could do as much damage as they could do good . USA Track & Field required all runners in the shuttle event to use blocks. We had two days to start practicing with them.
The winning team was from Hoover, Alabama. They looked like lightning going over the hurdles, dressed in all white tops, white spandex, white socks, white shoes, and white bows in their hair. They ran shuttle hurdles in just over thirty-one seconds, an entire four seconds faster than Glen Rock. The team also broke multiple records, and their time is now considered the fourth best time in high school history.
They were so good and their legs moved so fast that you could barely see them move to fly over each hurdle. It was exciting to run at nationals, but watching other people run was insane. They watched a high school boy high jump over six feet, a girl break the national record for high hurdles, and another girl break the national record for the speedwalk mile. Talent from all over the country had flown in to show off.
The armory looked like a brand new pace to the girls and Coach McCarten as they walked in on the morning of March 12. Dramatic and inspirational quotes hung on large banners from the walls, and doors were flung open that were normally shut tight during regular season meets. Arriving two and half hours before the race gave everyone time to get settled and walk around, to buy shirts, and of course collect the beloved backpacks. Handfuls of attendants line the corridors directing athletes, coaches, and spectators where to go.
Parents armed with large cameras fussed over getting pictures of their children as they paraded around with the medals and crowns they had won.
Other runners who had not yet competed walked through the halls with no expression, their minds totally focused on their races. The atmosphere on the track level of the building was thick with nerves and competitive glares. No one wanted other teams of people to think that they could beat them.
It is easy to look at someone and automatically decide whether or not they were someone to be worried about, if you and your teammates could beat them. It was comforting to see a team that they had already beaten. One checked off the list, at least they knew that they would not be in dead last.
Getting to the meet gave the girls time to relax, but it also left time for them to think. Stressing over their races, the girls warmed up, and waited, and warmed up again, and waited again. Thoughts rush through your head and if you let it happen, the nerves take over until you have a moment of clarity and realize everything will be okay. It's like a roller coaster that goes faster and faster until you jump off and land dazed on the ground. For all of the girls, the race would be less than nine seconds. More than three hours of nerves for nine seconds.
How does a team go about thinking of a race that could potentially be a big deal? Nationals were much nicer to think about for the girls when they were just going for fun, going for the experience. When it became reality and Mr McCarten told them that it was possible to actually do well, the fear of being able to disappoint was ominous. Top six, top ten, thinking about making it happen was scary, and thinking about it not happening was scary.
The goal had never been to win or even to place top three, but the fact that it was possible to place top six nagged at every single one of them. If they ran their very best times and their fastest race ever they could do it. The top six teams or runner of every race were considered All-American athletes. Your name would be etched into the wall of the armory and just like that, you're in the books.
Once everyone runs their races and the top six teams were announced, they went to the All-American corner of the armory. The place where the girls usually stand to fill up water bottles during the regular season was transformed into the celebratory corner. Athletes stood on podiums while cameras flashed, and they were handed paper crowns and flowers.
Before Coach McCarten began talking about placing at nationals, no one had thought it was a remote possibility.
Practice was inside that day, and the air was thick and hot in the classroom where everyone was sitting.
Everyone was crammed into an English classroom of the upper floor of the building. After the daily announcements and after most of the other runners had left the room, McCarten handed each of the girls one white sheet of paper.
In typewriter font, the top six teams and times from nationals the year before were printed onto the top half of the sheet. Riverdell, a team Glen Rock sees often during meets, had placed fifth. The bottom three times on the sheet were so reachable for the team that it was hard to comprehend that it was possible to get there.
That day the butterflies came alive in everyone's stomachs and they didn't leave for another two weeks.
The difference between being pretty good and being really good in hurdling is being able to three-step; taking three steps in between each hurdle instead of four makes a race not only faster, but much more rhythmic and smooth. All of the girls had to work on breaking a two or three year- long habit, something that is much easier said than done. Many times, they could three-step in practice but not in a race, the nerves and high stakes brought back their old, comfortable habits. Three-stepping looks so easy and feels so good, but it just wasn't sticking right away.
Coach McCarten would not let the subject rest. Even before the regular season ended, their practices were filled with drills and exercises to help them accomplish their goal. Finally, everything came together at the Bergen County Championship. That day when it clicked opened all of the girls up to so many more possibilities, they were faster, stronger, and more capable of growing as runners. A wall had been broken in their training and it was relieving. Finally, they could move on to another problem.
Once the regular season was over for the girls and most of the team was gone, they had about a month until the day of their race. Coach McCarten worked on technical things like arm form, starts, and leaning across the finish line. Every single piece of the race was picked apart and fine-tuned. Luckily, enough warm, summer-like weather decided to come early It was in the high sixties in early March.
Practicing outside in shorts with the sun shinning on your back is endlessly better than running inside. In the hallways, you can't wear spikes, the running shoes that are used for races, so you can't have any race-like simulations. It is frustrating to run inside, constantly being squeezed by walls and lockers and middle school kids. The girls needed space and an entire track and the sun. Those warm practices outside were the best that they had had all year. Their muscles were not tight from the cold and they flowed over the hurdles. It was easier to improve and easier to have fun.
The Glen Rock track still shines with newness when the sun catches the bleachers and turf on its way through the sky in the late afternoon. The smell of cookies and cinnamon raisin toast comes over from Nabisco and sits above the track, taunting the athletes trying to practice there. The days when nationals were still far enough away were carefree and easy. Momentarily, everything was paused.
March 11 was a Friday. Spring track had started eight days ago on March 4, but the hurdle team was still stuck in their winter season. The race was less than 24 hours away. Crowds of freshman and new spring track athletes crowded the track as Coach McCarten and the girls went over final touches. It is important to never practice too much the day right before a race, because it can physc a runner out, or they won't be as fresh for their race. Every girl had three starts and that was it.
Warm up, three starts, cool down, gone.
To make the starts more race-like and to try to simulate the environment of nationals, McCarten brought over all of the freshmen and novice hurdlers to make loud noises and clap. Being bombarded by a dense cluster of people is very different from a general atmosphere of chattering, busy people. When you run at the center of the armory and all you think about is the race, all the noise fades away.
When I run, I don't hear a single thing. It is funny that in a place where there are hundreds of people and handfuls of other coaches yelling at the girls running along side me, the only thing I hear is Coach McCarten.
Having that many people yelling directly at us and standing right there was scary. That's when the negative thoughts come; what if I fall? What if i mess up? What no one realizes is that adrenaline and nerves make you better in many situations. Being afraid of messing up forces you to make sure something like that doesn't happen. Even if something does go wrong, runners have the energy to push past it because they are going so fast.
Running at a meet is different from running in front of people, because not everyone there is looking at you. People get nervous when their parents and family come to see them because they know for sure that those eyes will be watching them specifically.
As of right now, the high school's 55m shuttle hurdle girls team is fifteenth in the nation. They did not place top six or even top ten  but they didn't come in last. The actual race was not their best, but it was not upsetting or disappointing, because it was Nationals.
"
When I run, I don't hear a single thing.
— Alethea Jadick
They had run at New Balance Nationals and competed against some of the greatest high school athletes in the world. It would have been impressive to place top six, but that had always been a little bit of a long shot. Once winter was over, the girls automatically looked towards the spring, eager to continue their success as a relay team. Everyone but Julia had next winter and next spring, when the girls would be back at Nationals.
Leave a Comment
About the Contributor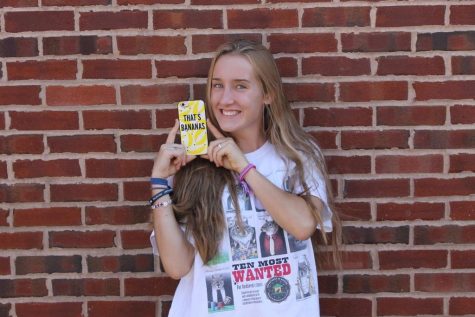 Alethea Jadick, News Manager
Alethea Jadick, senior, has worked at The Glen Echo for two years. She enjoys running, exploring the outdoors, and traveling. After she graduates she is...