Kurz chases elusive dream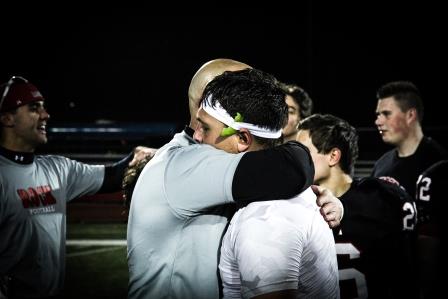 The whistle blew and the crowd erupted.
After months and months of practice and hard work, the Glen Rock football team had secured its spot at MetLife stadium to play in the state championship game.  Head coach Jim Kurz stood in the middle of the field as he absorbed this surreal moment.
He turned to the stands and spotted his father, Bob Kurz, coming down to congratulate him.  He made his way to the center of the field and the father-son duo embraced each other.
Then, Coach Kurz got to work.
For fourteen years, Kurz has dedicated much of his time to the Glen Rock football team. Receiving the honor of head coach seven years ago, Kurz has much experience in the sport.
On Dec. 4, 2015, the Glen Rock Panthers will be continuing their season with their final game at MetLife stadium against Mahwah. This will be Kurz's third time attending MetLife as a head coach though he is no stranger to a state championship game.
In December of 1996, Kurz played in a state championship game against Secaucus.
"We actually played here, it was a great experience," Kurz said.  "We were able to win as well and that was really special.  It was probably the greatest game I was ever a part of because we got to achieve our goal."
Kurz's father, Bob Kurz, has played an important role in his life.  From the beginning of his football career until now, his father has always been there.
"When I dropped him off in the parking lot [at a game], he would get out of the car and I would tell him to concentrate," Bob Kurz said.  "And he would say, 'I love you, Dad,' and we would pump fists. And that was it."
When playing in his State Championship game, Kurz felt as though he was in control of the game. However, now as a coach, his players are in control.
"With coaching you do your best to prepare the kids as best as you can and it's up to them to play," Kurz said.
The players commit a majority of their time to this team so that they are able to perform to the best of their ability.
"It's such a huge commitment we ask so much of them and it's really a nonstop thing," Kurz said.  "Even when you're not practicing, football is always on your mind and so it's really a full time gig and it's become all year around."
On Nov. 20, 2015, The Glen Rock Panthers played in the semifinals against Hawthorne.
Bob was watching the game as always, waiting patiently with the rest of the fans.
"The people I was with supported me and said, 'Hey, we're not out of this yet,'" Bob Kurz said.  "I got news for you, this team makes you feel that way: we're not out of it. We're not out of it until the final whistle blows."
Emotions were running high as the game came to a close.  Kurz was anxious; however his team was filled with assurance.
"I think there were times where I would say to a specific player or a group of players, we got this and let's just keep fighting and their reaction back towards me was just full confidence." The sureness in the team kept Kurz calm in the final minutes of the game.
"A lot of it is just believing and they believed that they could come back and win," Kurz said.  "When I saw that, I had a lot of confidence too as a coach."
The final whistle blew in overtime; the score was 35-34 resulting in a Glen Rock victory.
"I think rightfully so we put in so much time and effort that obviously one of our goals is to make it to that point," Kurz said.  "Our backs were against the wall so many times that I think once we were able to just keep fighting and persevering and we dealt with all of the adversity, once the game was finally over, it was just an exciting time and we certainly enjoyed it."
"They came back, they showed what they're made of," said Bob, equally as excited as the team as the game came to an end.
The celebration continued after the game as fans crowded the field to congratulate the team on their nail-biting performance.