Game Preview: Glen Rock to face off against Mahwah in North 1, Group 2 Sectional Final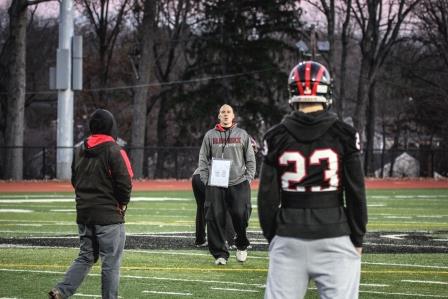 Glen Rock football faces off against Mahwah on Friday, Dec. 5th, in the North 1, Group 2 state championship game. The game will take place at Metlife Stadium in what will be Glen Rock's first appearance in the state final since 2011.
Despite having the number one seed, many experts across the state see Mahwah as the favorites coming into the game.
Mahwah boasts a high powered offense, averaging 40 points a game thus far. Mahwah's up-tempo offense is led by quarterback James Ciliento. Ciliento has scored 34 touchdowns this season and is named by Varsity Aces as an offensive player of the year candidate.
Yet Glen Rock also boasts an offensive player of the year candidate in Matt Schlett. Schlett has accounted for 40 total touchdowns this year for a Glen Rock offense that has averaged around 32 points per game.
With both offenses performing at such high efficiency, all eyes will be on the defensive side of the ball to see which team can get a stop during crunch time.
Glen Rock's defense has flown under the radar all season but often makes big plays during the most crucial parts of games. Junior Tim Ray has stood out thus far, recording four interceptions on the season. But it was Ray's offensive performance last week that propelled Glen Rock into the state finals as Ray recorded four touchdown catches including the game-tying catch with a mere four seconds left.
With two high powered offences squaring off, the game will come down to who can perform better in the fourth quarter. Given that Mahwah has played in a total of zero one possession games while Glen Rock has played in five, Glen Rock has proven that they are battle tested and able to perform in the fourth quarter. This experience will serve them well in a game that will be a tightly contested battle.
My prediction is Glen Rock wins the North 1, Group 2, State final game by a score of 35-28.