Jeans for Troops Day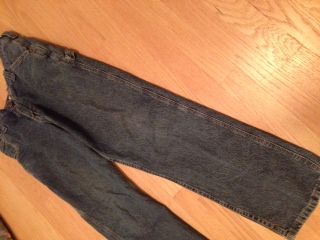 On November 6th, Mr. Pohlman and the All-American Club ran Jeans for Troops day in association with the GI GO Fund at Glen Rock High School.
Dr. Valenti, Glen Rock schools superintendent, sent an email about Jeans for Troops day to Mr. Arlotta, Principal of Glen Rock High School, who then brought the idea to Mr. Pohlman.
This was the first year Glen Rock High School hosted Jeans for Troops day, and Mr. Pohlman hopes to continue this idea throughout upcoming school years. "This is the first year. I hope it's not the last year, and depending on how well it goes this year, we'll do it again next year," said Mr. Pohlman.
For a $5 donation, teachers and students who chose to participate were given a sticker, and, in return for their donation, were able to wear jeans. This may not seem like a big deal considering students wear jeans everyday, but for faculty, dressing down was well worth the $5.
All the money raised on Jeans for Troops day was contributed to the GI GO Fund. The money given to the GI GO Fund will then be dispersed among different veterans in the area.
The GI GO Fund was founded in 2006 after the organization's co-founder's good friend passed away from wounds suffered in Iraq. This organization helps veterans find employment, get an education, find a house, collect their benefits, and much more. The GI GO Fund is centered in Newark, however, major cities nationwide are beginning to use this organization as a way to help veterans living in their area.
So, how did the All American Club begin working with the GI GO Fund? Mr. Pohlman had the answer.
"This is the first year for the All American Club and we were looking for vehicles to do what we want to do over the course of the year as different fundraisers to raise money for different organizations," said Mr. Pohlman. "Mr. Arlotta received this email and thought it would be something we would want to do, so that's how we got involved."
"The work that the veterans do affects all of us, so I personally thought it was a good idea to run with this," said Mr. Pohlman, as he explained how the new club got started with the GI Go Fund.
The All-American Club plans to host more fundraisers for different veterans' causes and other organizations. Additionally, the All-American club is planning to highlight different months throughout the year, such as African American History month in February and Women's History month in March.
The biggest event planned for the All-American Club is their "giant" fundraiser at the end of the year, which they are still working hard on. All the money made at this fundraiser will be given to a charity of their choice.
"Fundraising and raising awareness of different causes that are out there" are the current goals for the all new, All-American Club.
Leave a Comment