The Dramatic Entry of Senator Ted Cruz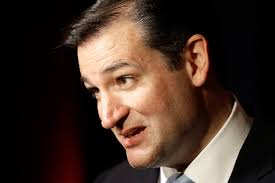 Recently, most of Washington DC has been stunned by the quick entrance of Senator Ted Cruz into the United States Senate.  Cruz, 42, a legal scholar and stubborn individual, was born in Calgary, Alberta, Canada.  He worked very hard in his early years and graduated cum laude from Princeton University in 1992.  Sen. Cruz then graduated magna cum laude from Harvard Law School in 1995.  At Harvard Law School, Cruz was the editor of the Harvard Law Review. A professor who taught Cruz once exclaimed, "Cruz was off-the-charts brilliant".
In Sen. Cruz's professional working career, he served as a law clerk to William Rehnquist, who was a Chief justice of the United States.  He also served under J. Michael Luttig of the United States Court of Appeals for the Fourth Circuit.  In 2003, Cruz was appointed as Solicitor General of Texas by Texas Attorney General Greg Abbott.  During this time, Cruz was very active in the legal community and authored many legal briefs and oral arguments for the Supreme Court.      
With that having been said, when Sen. Kay Bailey Hutchinson (R-TX) announced in January 2011 that she would be vacating her senate seat after 2012.  Immediately Cruz announced his candidacy.  In the Republican primary in late July 2012, Cruz would face Texas Lieutenant Governor David Dewhurst.  Dewhurst, who was widely considered to be the republican nominee, suffered an upset loss against Ted Cruz.  Cruz beat Dewhurst by a margin of 57% to 43%.  Then, in the November general election for the senate seat, Cruz defeated his democratic opponent, Paul Sadler.  Sadler lost by 16 points, or 56% to 40%.  Sadler was an attorney and former Texas representative.   
It all started when many Senate democrats, including senior senator Chuck Schumer, started to air complaints about the junior senator.  The two engaged in a combative discussion on NBC's Meet the Press, where senators are usually more collegial in their remarks.  Cruz annoyed democrats on the senate armed services committee when he blatantly accused Defense secretary nominee Chuck Hagel of conspiring to accept money from secret terrorist groups.  Specifically, Cruz asked whether a group called "Friends of Hamas" gave campaign contributions to Hagel.  Cruz also accused Hagel of acting hostile towards the state of Israel in a video that was played during the hearings.  He fought against California Sen. Dianne Feinstein during a gun control hearing that drew a lot of emotion.  Democrats were also surprised to find out that Cruz was one of three senators to vote against John Kerry's nomination as secretary of state.
Sen. Cruz was also rebuked by Republican Sen. John McCain and Democratic Sen. Bill Nelson for asking unfair questions in Chuck Hagel's nomination hearing for defense secretary.  His colleague Sen. Lindsey Graham (R-SC) privately acknowledged, "I think he's got unlimited potential.  But the one thing I will say to any new senator-you're going to be respected if you can throw a punch but you also have to prove you can do a deal".  In April, with Cruz threatening to filibuster a gun control package with a few other senators, McCain called him out.  Appearing on CBS's Face the Nation, he said, "I don't understand it, the purpose of the United States Senate is to debate and to vote and to let the people know where we stand."
On the other hand, his loyal supporters argue that Cruz is doing exactly what he was sent to Washington DC to accomplish:  Lead the Republican Party back to its conservative principles, don't compromise on long held views, and upend the Senate's traditional rules.  Conservative Sen. Jim Inhofe (R-Okla.) recently said, "I love the guy, and he's got the tenacity to stand for something and not back down.  That means he's my kind of guy".  Florida Sen. Marco Rubio, also a rising star in the Republican Party, said "I think he's going to be a superstar".      
There are some advantages and disadvantages to his mudslinging.  Some of the advantages Sen. Cruz receives from this behavior are that he is rewarded in his congressional district.  He is in a relatively safe congressional district that is keeping his approval numbers close to 50%.  The strategy also ensures that other senators like Sen. John Cornyn (R-TX) reward Cruz by giving him committee assignments and chances to lead senate republicans in the future.  Essentially, it gives him an elevated perch from which he can air his views in a louder and larger microphone. 
However, there are also disadvantages to this strategy.  For example, after the Hagel nomination hearings, some in the media were calling Sen. Cruz the next "Joe McCarthy".  Joe McCarthy was a senator from Wisconsin from 1947-1959, who was famous for saying that the US State Department is infested with communists.  Joe McCarthy once said, "I have here in my hand a list of 205—a list of names that were made known to the Secretary of State as being members of the Communist Party and who nevertheless are still working and shaping policy in the State Department."
According to New Yorker Magazine, in 2010 at an event sponsored by republican billionaires Charles and David Koch, Cruz made the accusation that there "were twelve (Harvard) professors who would say they were Marxists who believed in the communists overthrowing the United States government".  It was from that quote that people compared to him to McCarthy because of their shared fear of communists in this country.  Therefore, when Cruz was asked about whether he admired Joe McCarthy in a Dallas newspaper interview earlier this year, he simply said "I'm not going to engage in the back and forth and the attacks".  Thus, I'm not accusing Cruz of engaging in "McCarthyism".  All I'm saying is that if Cruz takes his "inquisition" style of politics too far, like former Sen. McCarthy did, he may become irrelevant and annoy his own friends.  He knows the consequences and the results.  In conclusion, over the next few months it will be interesting to see how far Cruz takes his bellicose style of politics.  If he decides to run in 2016, Cruz may be forced to turn it down a little as he tries to appeal to a broader swath of voters.