Boy's basketball captain shooting for a great season
Hang on for a minute...we're trying to find some more stories you might like.

Returning this year for boys' varsity basketball team as the varsity captain is senior Gabe Weinstock who has high hopes for the upcoming season. He has played basketball four years for Glen Rock and says he can't wait to go all out his last season.
Gabe is a natural leader and he has to be as this year's captain. During practices, he gives other players support and calls out to others what do during things like warming up. In his role he says it's important to, "lifting guys up, making sure everyone is positive and moving onto the next play even if something goes wrong."
Gabe skipped freshman basketball and played Junior Varsity so he is used to facing challenges during his basketball career. This year's challenge, captain of the team, but he has the backing from his teammates and he knows it as he was voted captain.
He has worked vigorously to get this moment. He has learned many things over the year to improve his game but the most important one that he learned is not every shot goes in from anywhere but he always strives to take "8s and 9s", the scale he uses to rate the likelihood of making a shot ranges from 1-10. Gabe says that a 10 doesn't exist because no shot goes in one-hundred percent of the time from anywhere no matter who. Shots that are eights and nines would be the shots easiest for a basketball player to make such as a wide-open layup. Anything below a 7 he won't shoot and will look for another opportunity. With a big understanding for the game, Gabe helps him and his teammates all grow together with this scale because most of them know how it works.
Gabe is motivated going into his final season. The most important thing to focus on for Weinstock and his coach, Jason Mittelman, has nothing to do with wins and losses, but maintaining positive energy and coming together collectively as a team.
He would like everyone to know that it would be great if as many people could come out to all of the team's games and since it's great to see the support.
About the Writer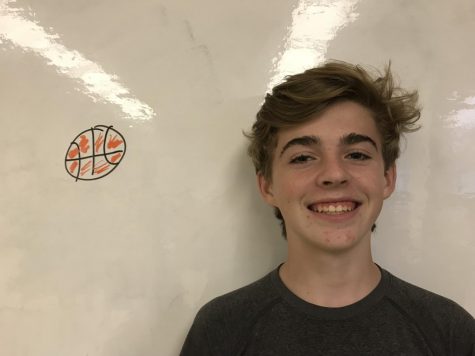 Kevin Lederer, Staff Writer
Kevin Lederer is a freshman at Glen Rock High School and this is his first year with The Glen Echo. During the summer he worked and went to Maine with...