Boys soccer paving way for special season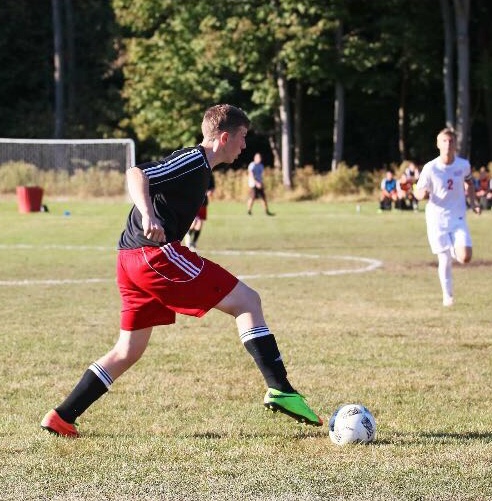 The Glen Rock Boys Varsity soccer team is off to a solid 5-0 start to their 2018 season after Saturday's 4-2 win over Garfield at Montclair State University. The highlights of the game included a goal and assist a piece from Seniors, Mark Buckel and Ben Zakowski, an assist from Senior, Josh Kim, and two more goals from Senior, Nick Rogers.
We have a very special team on our hands. They have loads of talent at every position, plenty of depth and a hardworking attitude.
In 2017, led by Head Coach, Casey Schick, the Panthers had a historic season, noted by their extraordinary run in the county tournament, in which they made it all the way to the semi-finals, and this year could be even more memorable than the last. More than half of the team is returning from last year, including sweeper, Mark Buckel, midfielder, Nick Rogers, and forward, Ben Zakowski.
Another very important asset to the team is defender, Wyatt Milbrodt (right), who unfortunately suffered a fractured jaw in last week's win over Lakeland High School, and will not be cleared for contact for 4 weeks. This is a devastating blow for Milbrodt who was ready for a promising Senior year, but he still has extremely high hopes for the team and will be supportive on the sidelines until he can get back on the field.
"Last year was an amazing run in the county, one that built off of hard work and the entire team focusing on one goal, to shock the county" said Wyatt. "This year we won't really be able to fly under the radar, we have to treat each team as an equal opponent and take it game by game. Stay humble".
The boys have a lot to prove this year, but they definitely have the talent and experience to do it. The team looks to continue their hot start as they hope to make deep runs in counties and the state tournament. If they keep playing the soccer that they are capable of, then this season is going to be one to remember.