Painting the fashion industry
While she was scrolling through Pinterest, senior Emily Males discovered a plethora of art illustrated on articles of denim and was inspired to create a denim masterpiece of her own. She painted a "pop-art" design on the back of an old denim jacket, and after receiving compliments from many she decided to create more jackets to sell to her peers.
Males began selling denim jackets this past fall once people were expressing interest in her creation. As she describes, customers will request a jacket, usually with a "pop-art" design in mind, or Males will develop one of her own while sticking to the pop-art theme. Males sells the jackets for around $85, which is around the price of similar items on the e-commerce website Etsy.
"It's something that I really enjoy, doing art and doing this specifically because you get the real satisfaction out of people wearing it," Males said. "I want my art to make people feel good, feel happy."
Males has only made a few jackets but plans to continue to make and sell them, in the hopes that more people will discover her creation and express interest in purchasing one. A handful of students can be seen fashioning the jackets in school, yet Males has received attention from students at Vanderbilt University. Vanderbilt freshman Vasi Argeroplos heard about Males' jackets through mutual friend, and after seeing the jacket designs, wanted to purchase one of her own.
Due to the jacket business gaining more attention, Males' parents encouraged her to continue to pursue it. They describe it as a great opportunity for Males to be able to display her art to an audience.
"I don't know how to explain it," Males said. "I made that, that's so sick and everyone in school is seeing it."
In the future, Males hopes to continue making and selling jackets as more of a hobby rather than a business. She plans to sell jackets on Esty, which will allow her to reach a larger audience.
"An Etsy store I think I could do the rest of my life," Males said. "Just having fun, making art and selling it to people."
Leave a Comment
About the Contributor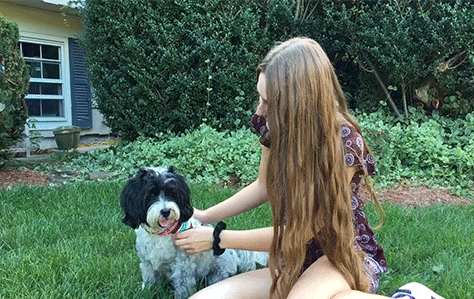 Christine Nappi, Copy Editor
Christine Nappi is a senior at Glen Rock High School and this is her second year writing for The Glen Echo. She plays softball, loves to write and tell...