The man, the myth, the muscle cars
"What is that?"
The man scans the beauty in front of him, taking in its elegant design. Although it may seem archaic (yet stylish) to the modern eye, any motor expert commends the sheer amount of power it possesses. The Auto Zone employee, a fellow in his 20s, has never seen anything like it in his life. After studying the vehicle several times, the man takes a deep breath and says to the car's owner, "Thank you for letting me see this."
John Milsovic, who has been an English teacher here in Glen Rock for 13 years, is used to attracting this kind of attention. A 1979 Camaro is a rare sight in 2017. Although he only takes this prized possession out two or three times a month, the might and rarity of this classic muscle car make all sorts of heads turn.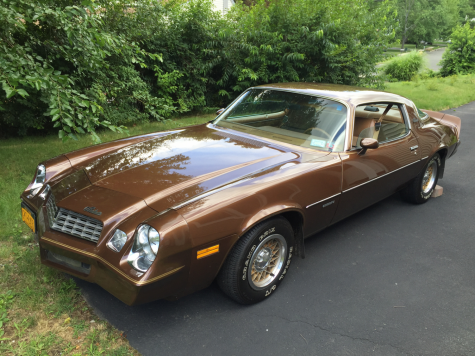 A muscle car isn't as practical as a regular car, as they are hard to navigate in traffic and consume more gas when driving. Their appeal instead lies in their intensity- with their powerful engines, most muscle cars boast a 300-800 horsepower engine- and their sleek designs that stand out from the norm.
"One certainly has to be careful with the horsepower, especially in this area," Milsovic warns, as muscle cars really aren't intended for traffic or crowded business districts.
It was a mid-life crisis, he jokes, that got him into the hobby, but the true reason is much more sentimental. The Mustang his grandfather drove during the mid-1970s captivated him at the young age of eight years old. When Milsovic was in high school, a Camaro was passed down to him after his grandfather's death, fueling his love for that particular breed of vehicle. This story of a poignant moment of his adolescence is still shared with his students today.
Nostalgia is certainly one of the main selling points of these beauties. Muscle cars from the 1950s to 1970s are particularly rare to find in good condition. Milsovic currently owns only one of these relics from the past, a 1979 Camaro Berlinetta, along with the newer 2017 Camaro. Both vehicles currently are in separate garages, covered with car covers to protect them from the harsh winter.
Maya Hendl, a junior who has Milsovic as a teacher, recalls the many discussions she has in her English class. "He likes to talk about Star Wars and Stranger Things and then relate it to what we're learning," she says. While she doesn't know that much about muscle cars, she still finds his tales of Mustangs and Camaros engaging. "It humanizes him," she says. Hendl believes that teachers should share some aspects of their personal lives to an extent, especially if it relates to what is being learned. "It tends to make things a little more fun."
Although it may be a bit more extreme than knitting or stamp collecting, there is much benefit to owning such rarities. Muscle cars, especially classic muscle cars, emulate a certain style that is much more captivating than your average minivan. And as the years go by, their peculiarity only increases.
"It is a great hobby," says Milsovic, although he does warn that muscle cars are not for everyone. The hobby requires a great deal of time and money, along with dedication to maintaining the pristine state of the vehicles. However, he would encourage anyone who is interested in history or automotive engines to look into it.
One great way to learn about muscle cars is to attend a convention, where dedicated fanatics work hard to show off their beloved muscle cars. Milsovic recently attended one of these meetups, and recalls learning a lot.
While owning muscle cars requires a lot of hard work and dedication, for Milsovic, the beauty and power of them are worth the effort.