Bursting the bubble and leaving Glen Rock
The front doors of Central School welcomed another bright-eyed six year-old into its care, and a white Mercedes makes its way out of the parking lot. This bright September morning signaled the start of the 2006-2007 school year and the beginning of Quinn Carlisle's elementary school career.
Over the next five years, this building would become a home away from home for Quinn, and give him memories he will never forget. These classrooms taught him how to love reading, respect elders, and work hard. The football field taught him how to play fair, lose with honor, and never give up. The playground taught him how to have fun, be creative, and that if you get past the cooties, girls are kinda cute.
Quinn had the world at his fingertips. Glen Rock gives its children complete security, something not many other towns can offer. Life was nothing but joy, school was a glorified playdate, and the recession was just Dad spending more time at home.
For Quinn, hockey was an outlet into the real world. From a young age, he knew he had the skill to be an impressive player, and he was constantly playing on the best teams and practicing with the best coaches throughout middle school.
Hockey helped Quinn build many important relationships that would benefit him later in life, and taught him how to work on a team. This sport became second nature, and when he wasn't on the ice after school, he could be found practicing at home.
When eighth grade came, Quinn realized that hockey could take him to new heights. The national championship tournament was being held at the Ice House, where Quinn's team at the time played. They were given a spot in the tournament, despite not officially qualifying, and went in as extreme underdogs. This was the perfect time for Quinn to prove his ability.
After a win against the Erie Lions, Quinn waltzed into Glen Rock High School with a win against one of the nation's best youth hockey teams under his belt, and enough confidence to take on the world.
Quinn's brother, Keaton Carlisle, sophomore, always knew his brother had many admirable traits, and predicted that he was meant to do big things in life.
"Quinn is a leader, and is very responsible…he gives you respect, and you respect back. I know he will succeed at Hotchkiss and go on to do something great," Keaton said. He knew that these were traits his brother would carry into high school, but this leadership and responsibility quickly turned into laziness and boredom.
After experiencing life in a boarding school, Quinn now recognizes that Glen Rock High School never forced him to show his full academic potential. "That school [GRHS] was pretty easy for me, and I never had to work that hard, and I never really learned how to sit down and study for a test for hours, whereas here, I sometimes need to do that to get by." Quinn said. This lack of motivation eventually translated to procrastination, and Quinn still remembers the many nights where homework was forced to wait until as late as 10:30 or 11 p.m.
These habits had no negative effect on Quinn's grades, however, as he managed to replicate the marks that made him such a distinguished middle school throughout freshman and sophomore year. As he said, GRHS never pushed him to his academic limits, and it was always easy to get by without dedicating his whole agenda to schoolwork.
While Quinn's situation may make Glen Rock High School seem like a cakewalk, study habits here were more of a testament to his own knowledge, not the quality of the school. GRHS is known for its rigorous courses, renowned faculty, and successful sport teams.
The fact that Quinn made it through these years so easily confirmed one thing: He was meant for something else. Eventually, private schools came into consideration, as their progressive curriculum and rigorous academic schedules seemed to fit more than Glen Rock's.
During the winter of 2015, Quinn began the application process for a new high school. He knew this would be one of the most stressful decisions of his life, as the school of his choice would double as his home for the next three years. After weeks of stress and questioning, Quinn made his decision. In fall of 2016, he would be a bear cat.
The transition to Hotchkiss was a nerve racking one. The student body here was diverse, highly intelligent, and of an elite class.  At Glen Rock, Quinn had become accustomed to a group of mostly white students, occupying a wide range of intelligence levels.
"My first day of school, I was pretty nervous, because I had no idea who any of the kids I was going to school with were, and it would always be different than the first day of Glen Rock where I'd see the same friends that I'd been hanging out with all summer," Quinn said. Unfortunately, things only got harder from here.
Being a private school, the amount of work given to students much higher than that of a public school. Plus, the onus is on the students to actually complete the work, not their parents. Luckily for Quinn, he had a dependable, friendly roommate to grind through these tough times with in Ben Myers, sophomore.
"Quinn is a great roommate, [and] we have had some fun times in the room together. We also know when to let each other have some space, because it can get annoying when you're constantly with someone, so that' good," Myers said. "Only place we don't mesh is cleanness. I like to be really neat and Quinn is just less neat, I wouldn't go so far as to say he's messy. The thing is I don't really care so we still work well together."
After getting past the first couple days at Hotchkiss, Quinn still needed to get used to the style of teaching, and learning, at his new school.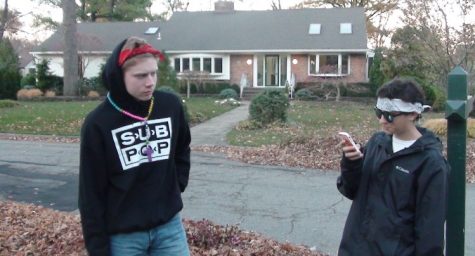 "The diversification of the student body definitely changes the learning experience because, especially in classes like history and English, not everyone has the same, like, foundation that kids in America grew up with," Quinn said. "Also, the things we talk about have lots of different points of views, like we talk about African Americans in society and Chinese Americans in society. We have the points of view of people who up in, either, in say, the South, or Oklahoma, and kids who live in China currently."
In Glen Rock, students come from almost virtually the same background. Many of their parents were raised near or around New Jersey, and the ethnic variety is very low. As for the learning, students who sit down, take their notes, and do their work will succeed. As will teachers who put the content on the board, and have their students take notes.
At Hotchkiss, Quinn quickly realized that extra help was a major part of just getting by, whereas at Glen Rock, talking to teachers after class is typically for the students who are falling behind. But interestingly enough, Quinn finds the teachers that he needs to talk to at Hotchkiss of a lower quality than those at Glen Rock, despite their higher reputation.
"I found, surprisingly, that I like the teachers at Glen Rock a lot more, especially Mr. Toncic, Mr. Pohlman, and the art teachers too. Here, the teachers all carry fancy degrees and whatnot from Ivy League schools, but they're all kinda trying to teach the same thing, which is how to write, and how to ask questions and stuff like that, and the actual course work comes second for them," he said.
After seeing this, one may begin to wonder why Hotchkiss and other similar schools are rated so highly, and require such incredible amounts of money to attend. After all, isn't school for learning? Why should one pay more for worse teachers and more stress? Ironically, the answer may not lie in academics.
For many years, Glen Rock has been labeled as "the bubble," and for good reason. This is a town where everything one needs is within five miles from their home, and where gossip spreads like wildfire. Being a Glen Rock citizen means becoming one with the aura of Glen Rock: a citizen here shops at Kilroys, takes Saturday morning walks to Starbucks, and has, or will have, at least one golden retriever. The bubble takes care of its citizens, and gives them a life of peace and security.
For children born in Glen Rock, there is a bit of an issue. Despite offering safety and high quality schools, Glen Rock may not accurately portray the world after high school graduation. There are many students like Quinn who have not felt pushed to give their best academically, and push off assignments until the last minute. Why? Because they can.
Many students note how easy it is to obtain answers for their homework assignments, whether it be from classmates or the internet. Many also opt to do their work during lunch, or in other classes. Josh Quiat, junior, is one student in particular who finds that GRHS may breed negative study habits.
"It's so easy to get the answers. And I mean it's unfortunate, and it's not right, but we just have the mindset to get the answers," Quiat said. "Going into this school year, I'm like 'I really gotta take this year seriously', but as the year goes on, I realize how easy it is, and how, like, you really don't need to study hard to get good grades. You can just glide through things."
With a 3.7 GPA and enrollment in two AP classes, Quiat is surely a good student, yet numbers don't tell the whole story behind his success. Both he and Quinn alike agree that homework has to wait until late into the night, if it's even done at home. Besides his AP History homework, nearly all his assignments are completed at school.
Parents who decide to put their kids through transfer school are paying to avoid situations like these. The teachers may not be elite, and the students may miss their old lives, but these schools teach something priceless… self discipline.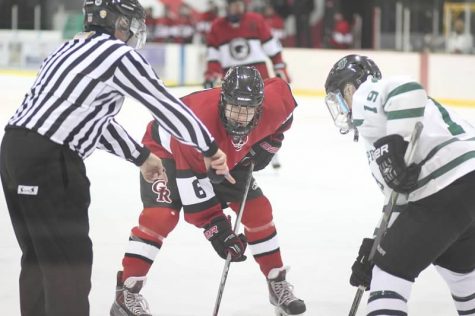 At Hotchkiss, there is no room for leaving that math homework until 11 p.m. No, that physics homework can't wait until lunch and that history assignment surely can't be done in class before the teacher comes around to check it. At a private school, students learn how to work. At a public school, students learn how to pass. Parents will pay tens of thousands for the former.
Quinn, having the knowledge he does now, would tell his eighth grade self to "obtain as much street knowledge as you possibly could before I would go to Hotchkiss. I think I've done an okay job with that, but really like, making the most of my time and the freedom i had then, on Saturdays, and Sundays, and nights going into town, and traveling to the city, and traveling around the world, I think that's what every kid who goes to Hotchkiss needs the most, because there's an extreme lack of that while you're there."
Luckily for Glen Rock High School students, maintaining a social life is easy. Here, kids can easily find time to spend with their friends or significant others, and make a habit of doing so every weekend. Yet, the importance of this cannot be stressed enough. There won't always be time to hang out, and eventually, free time may have to be sacrificed at times for the sake of schoolwork. Until then, GRHS students owe it to themselves to experience the world outside of school. Go to that party, make that trip to the city, apply to that summer course at your dream college! It is important to learn how to live, and not just to pass.
"After being educated in the Glen Rock school system, I would say that I have the tools to succeed, I just need to learn how to use them." Quinn said.
Once again, GRHS is a good school. Students come out of here educated, and most graduates go to college. The only problem is, they leave the town as students, not adults.
When Quinn left Glen Rock for Lakeville, it was never for the classwork or the teachers. Quinn and his family could recognize that a prep school environment was what he needed, and with some letters of recommendation and a handsome check, a prep school environment was what he got.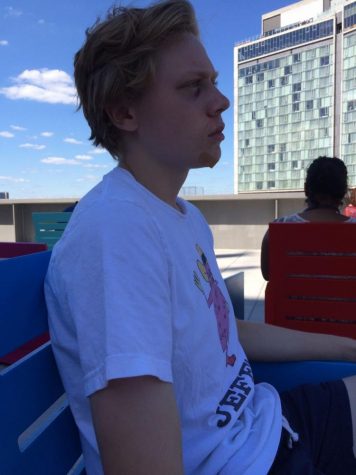 Needless to say, there needs to be a best of both worlds scenario for this whole public vs. private school debacle. Quinn should not have to dwell on the fact that he gave up his previous social life and academic experience for a school that pushes him to his absolute mental limits: there obviously needs to be some kind of resolution.
Unfortunately, private schools won't become free overnight, and public schools won't change their curriculums to model the average college. Instead, it must be up to the student to make the most out of their schooling situation. Quinn said it best when he realized that street knowledge was the most important thing he could have gathered while attending GRHS. Yes, grades and conventional knowledge are important too, but as Quiat has proved, good grades don't always make a good student, and a good student may not always evolve into a good person.
Glen Rock is in limbo at this point; it is progressive compared to many other public schools, yet will never be able to offer the real world experience of a private school. The result of this? An overall smart student body with controversies galore and a tendency to do what superiors advise against. But to the parents' dismay, these controversies may make smarter people than the homework assignments they tend to dodge. Why wasn't PARCC test a success? An official will say it's because of a lack of preparation and awareness. The students will say it's because the PARCC is a poorly designed test that only appears on your transcript if your SAT/ACT grades aren't high enough. How come the homecoming dance isn't what it used to be? How could these wild teens abandon their school? Well, why be confined to a cafeteria when better memories can be made elsewhere?
GRHS students have a knack for sniffing out bulls**t. Everyone knows that when the time comes, they'll buckle down and study for this test, or meet up at the library and finish that project. But until then, it's vital that the students stay observant, and realize the world for what it is, and think beyond Glen Rock High School. Perhaps that's why Quinn left. It's often hard to think outside of the bubble, where worksheets rule supreme and ACT tutors are given blank checks. Maybe Quinn wanted, or needed, something else.
Not everyone has to be like him. Great people have been made in Glen Rock High School, and many more will come. But they won't always be the ones who shun everything besides their studies. Those who sacrifice happiness for perfection will succeed here, but may struggle later on. Look at Quinn, for example. He put off assignments he believed to be unimportant until the late hours of the night, spent hours each day playing hockey, and had a flourishing social life. Now he's at a school that has him on track for incredible success in life.
Did he get where he is today through blind acceptance? No. Did he question the environment around him? Yes, and it paid off.
The bubble makes it easy to forget real life, but the harsh reality is that everyone will move on.
View Comments (1)
About the Contributor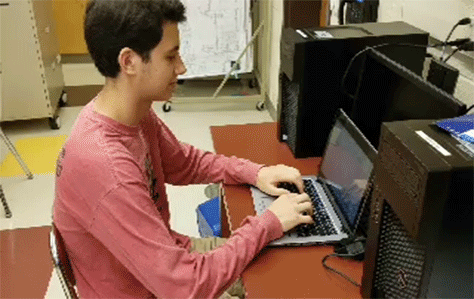 Luke Brangaccio, Advertising and Business Manager
Luke Brangaccio is a senior who is in his second year writing for the Glen Echo. He spent last year as a staff writer, and is now the Advertising Manager....