Kicking soccer into business
At one point in Al Guzman's life, he needed a skills trainer for his soccer team.  Luckily, an old friend of Guzman recommended Fredy Guiran to fill in for his practice. Once Guzman saw Guiran, he knew that he was the right guy.
Guzman was amazed by the way Guiran came up with creative drills for passing patterns, footwork, etc. Afterwards, they talked and, little by little, they started to build a close friendship.
Guiran and Guzman always hoped that someday they would have their own place. However, at the time it was nothing more than a pipe dream.
Then, four years ago, Guiran and Guzman were finally disillusioned with renting out spaces for their soccer teams. They made the decision to create their own soccer facility. There was still one obstacle getting in the way, actually finding a place that was suited for soccer.
They searched the tri-state area, but nothing was showing up. Finally, on Jan. 1, 2015, Fredy Guiran and Al Guzman became proud owners of the Sports Training Center located on 183 Grand Street in Paterson, New Jersey.
For Guiran and Guzman, it had been their dream to turn their passion for soccer into a business because of their love for the sport and desire to create programs for it.
"I think getting our own facility was going to be better for us because we could be able to do any type of training that we wanted to do and obviously rent it to other people who want to use it to play," Guiran said.
The Sports Training Center offers different types of programs for boys and girls, such as a recreational program for 4-7 year olds, winter and summer select teams, and, for kids who are very competitive, extra training to improve on a daily basis.
Not only that, but the Sports Training Center provides a Men's League (AKA Open Space) where men who are over 25 or 30 years old rent the place to set up mini scrimmages against each other. They play from 8-10 p.m. or sometimes even until midnight.
The duo also have travel and club teams, like World Class FC, use their facility.
At the same time, the Sports Training Center created the FC Broncos travel program. This is a non-profit and charitable organization, which is filed as a 501c3. They prepare the developmental program and whenever they players are ready, they send them to the FC Broncos. This program happens during the fall and spring season.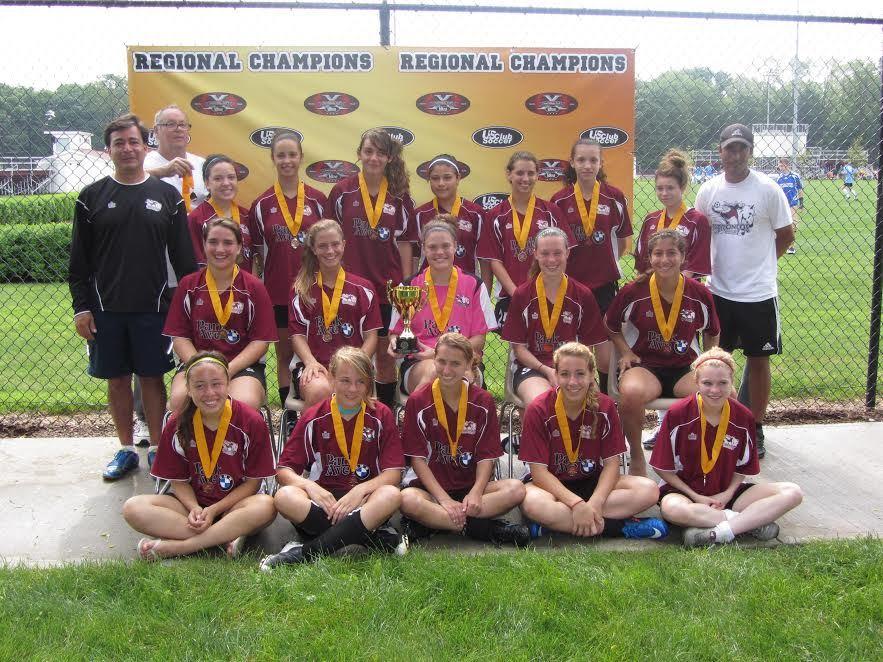 The Sports Training Center also offers a winter and summer select team for anybody in younger age groups who are interested in training for their upcoming season. Lastly, the Sports Training Center sells soccer balls and cleats in case anyone needs them to play.
The customers, whether parents or boys and girls, are pleased with the way the Sports Training offers different exciting programs to help kids and adults develop into great soccer players.
Keeping the business together
People tend to think that being in charge of a facility and maintaining it is not that difficult. Whenever anyone enters through the Sports Training Center or any other place, it always looks clean and full operational. However, in reality, it's probably one of the most strenuous tasks when running a business.
Making their own facility a reality was the first step. Guiran and Guzman had to go to the zoning department and fill out an application notifying the state that they planned to put up a soccer facility. Then, the inspectors came and checked the place to make sure that it was safe: for instance, they certified that there was no metal in between the fields that could get anyone hurt. After the inspection, they issued the duo a permit to allow them to open up the facility and its concession stand.
But the old adage of "if you build it, they will come" isn't always the case, so the two needed to publicize their newly opened venture.
To get the name of their enterprise out, Guzman created a website called www.stc4u.org where they could post upcoming events and information about the type of programs they provided. Guiran and Guzman also put up flyers in downtown Paterson, as well as outside their own facility. Guzman was helped with these flyers by a friend, Eduardo Olivarez, who prints ads and logos. Olivarez's website is www.hereitsnj.org.
Glen Rock High School business teacher, Uma Kearns, explained that the two took a big risk in starting their own business.
"For advertising, you need to have the right product at the right price, and have a pretty big market so that you're able to sell it to people. You just have to have the right circumstances, you need the product, price, and the population," Kearns said. "You could lose a lot of money if you don't have the right product or if you don't price it correctly."
The Sports Training Center has a lease for five years. So far, the place has been running for two years.
Guzman is in charge of the advertising, administration, and coaching the developmental program and travel teams. Guiran is in charge of creating certain programs and training higher level skilled players. The two employ Diego, the coach of the developmental program and FC Broncos. Diego played professional soccer in Colombia and on one of the Colombian national youth teams at the age of 15.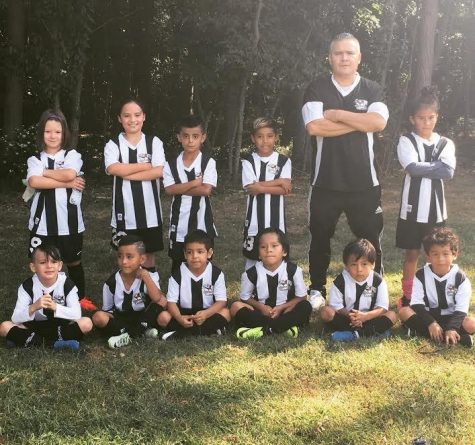 There are also volunteer coaches for the FC Broncos Program.
Often times, though, Guiran and Guzman manage the business with the two of them at the helm. It's not always easy, and a lot of planning time is devoted to just making sure one of them is in the building at all times
"When I'm not available to be here, he has to be here," Guman said. "We try to accommodate hours between his schedule and my schedule."
There are lots of responsibilities when it comes down to maintaining a facility. In order to make the place look nice and tidy, Guiran and Guzman have to walk the fields personally to make sure it's clean.
"Even though we tell people not to bring food to the field and not to use cleats, sometimes they do. They chew gum and throw it on the field. Sometimes, they throw little things on the field that we have to be careful for because the turf has to be kept at a good condition for the players to play," Guzman said. "We have to make sure that there's no holes in the net."
Guiran and Guzman also regulate the food stand themselves. They sell snacks and refreshments like bagels, water, and other simple food items. The waiting area can at times be like a stampede, with players and spectators trying to rush through to either get to the soccer field or get food from the stand. Other times, it's a quiet place where some parents chill on the couch waiting for their children.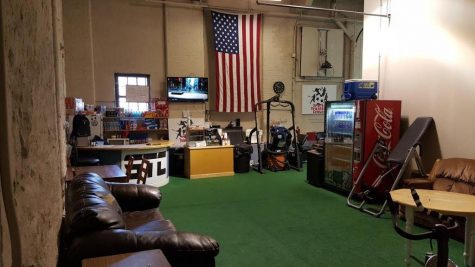 "The parents have the option. They're free to do whatever they want," Guzman said. "Some of the parents let their kids do what they need to do, and they go out to the front and they either eat something or drink something and watch TV."
Guiran and Guzman have to make sure that the light bulbs are repaired whenever they break to insure proper lighting. They also have to pay for heating and the rent for the facility. Lastly, they have to carry insurance in case somebody gets hurt. Guiran and Guzman used to make everyone sign a waiver, but now they only make the people who are registering for the developmental program sign it.
"We have something that tells you that this is a physical activity: it's a contact sport so they have to be careful and not to sue the place or the employees. If you play in a travel team, you have a pass for either US Club or New Jersey Youth soccer and you hold insurance in it. We stopped doing it for the adults because they know," Guzman said.
Up to this point, there haven't been any severe injuries for which an ambulance had to be called.
"Everything is through the customers. Everyday we have programs that give us the stability to pay the daily bills, which is the either the heat or the rental of the field," Guiran said.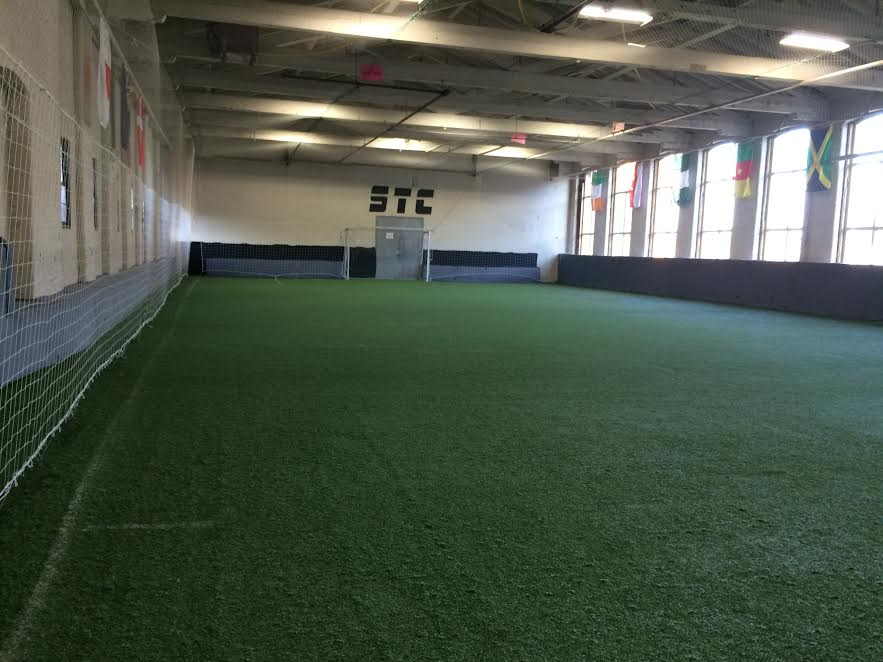 Back in the old days
It's not easy for any soccer player, even for Guiran and Guzman, to reach a stage at which they can finally turned their passions into a business. Guiran had to learn the basics of soccer before beginning his professional soccer career, which then ultimately led to creating a place with Guzman.
Guiran learned how to play soccer at the age of four and began playing for a recreational soccer program. He would go to the park everyday to play some pick-up games before entering the U.S. They would practice tricks like the maradona and the stepover. Little by little, he started to like the game of soccer and decided to continue on with the sport.
Later on, he started playing for the Passaic High School team along with the Passaic PAL club team. Guiran had a mentor named Dan Ryan who ran the PAL program and was an adviser for his high school.
"Thanks to him, I ended up going to college," Guiran said. "He was a very good coach and guy, as well. He helped many, many kids at the time when I was playing soccer."
Then, Guiran attended and played at Kean University in Union, New Jersey.
After college, Guiran jumped right into the professional soccer career as soon as he finished college. He went to  Colombia and played for a couple of teams. One of them was the Bucaramanga which is the team he played for the most and then he ended up playing for the team of Bogota, Millonarios.
"We ended up playing in the most important cup of South America which is called Copa Divertalores, which is the top two teams in each country they play against each other and obviously they get the finals. We only made it to the third round. I played against the best teams in South America which was an unique experience," Guiran said.
Guiran was a successful and well-known athlete during his soccer career. In high school, he was on the All-State team and a leading scorer statewide. In college, he was awarded Rookie of the Year and, in his second year, he was an All-American player. He was also the leading scorer at Kean University, which has a Division III soccer program.
"We ended up winning the NCAA championship, and I was awarded most offensive valuable player of the final four tournament, which is the top four teams in the nation," Guiran said. "I was very lucky to be that guy."
"
It's a very rewarding feeling, teaching the younger generations to play, and we want them to play not just kicking the ball and run, but passing that ball — have a structure, have a goal to achieve — and pretty much let them play on the field.
— Al Guzman
Soon after, he was recognized as the leading scorer in Colombia and the best new player in the first division during his professional soccer career.
Now he coaches both young girls and high-level skilled players at the Sports Training Center. Guiran is the director of girls program of the World Class Football Club of New Jersey and New York.
Guzman, too, would practice a lot when he was a little kid. He played high school soccer in Mexico and then played at New Jersey Institute of Technology. Guzman would also work out at the gym to prepare for the games and give him more strength. Soon after, he joined Pumas, a professional team in Mexico. This was a semi-professional team and they played teams within Mexico.
Guzman played as a forward throughout his high school and college career.
"It was pretty much an amazing feeling. I was a fast player. I could shoot with either leg left or right. I had no problem, so the most exciting thing was to score those goals when I had the chance to do that," Guzman said.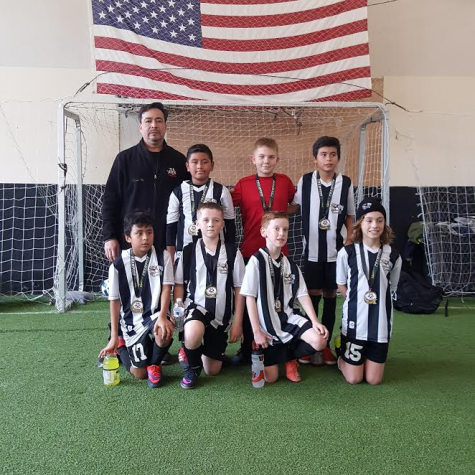 Guzman would later receive awards during his coaching career. For example, with his U-15 FC Broncos girls team. The team won regionals and went to US Club nationals at Virginia Beach.
Guzman currently works as a telecommunications engineer at UPS along with coaching the developmental program and travel teams for FC Broncos.
"It's a very rewarding feeling, teaching the younger generations to play, and we want them to play not just kicking the ball and run, but passing that ball — have a structure, have a goal to achieve — and pretty much let them play on the field," Guzman said, "In the field, we give them little instructions, but we let them play their game."
A similar spark for Glen Rock students
Guiran and Guzman weren't the only ones who have discovered soccer as a passion.
Glen Rock High School senior Mary Geen and junior Olivia Traphagen also found out at a young age that they had a love for the sport and wanted to pursue it. Geen practiced with her older brother three times a week when she was younger. Traphagen did as well, but instead practiced with her sister and dad.
They both started off with travel soccer but then went their separate ways. Geen played for World Class Football Club and then moved to Arsenal Football Club. Currently, she is playing for New Jersey Crush. Traphagen played for the New Jersey Crush and is currently playing for the New Jersey Stallions Academy.
Club soccer team takes a lot of commitment. Practices are each about an hour and a half. The teams work on a lot on possession, footwork, and set plays. They also work on defensive skills, shooting, crossing, and different techniques of passing like lofted or curled pass. Sometimes, they would scrimmage against each other at the end. All of these drills help them in preparation for their games.
"For club soccer, the intensity is really quick and everyone is expected to know what to do," Traphagen said.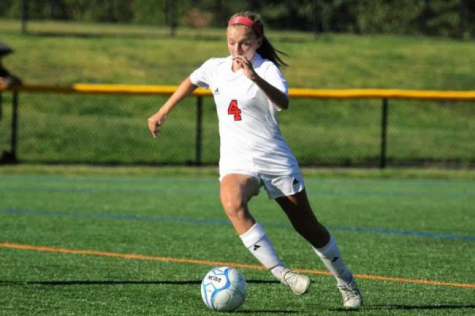 Not only that, but Geen and Traphagen played for the high school varsity soccer team. The team practices almost everyday for an hour and a half except for Sundays. For preseason, practice ranges because sometimes they had two practices a day. High school and club soccer are alike in the way that they do similar types of drills.
"We did cone work and drills like passing patterns and then we scrimmaged and did shooting drills. We did crossing and how to switch the field with different cone setup like where everyone should be on the field," Geen said.
Geen and Traphagen trained under three coaches throughout their high school soccer careers: Tracy Trobiano, Leah Jerome, and Lona Ozrek. Geen found the transition to be a little difficult, but adjustable.
"It was hard having every single year like the three years we had a new coach from Tracy to Leah to Lona, but we all pulled together and a lot changed every year," Geen Said. "It changed in a good way because each coach has a different style and it worked for everyone."
On the other hand, Traphagen found the adjustment to be convenient.
"It was not hard to adjust to the new coaches. I was able to adjust to Tracy because all of the girls on the team were used to how she coached since they had her in previous years. Leah was a very good coach especially since she knew what it was like to play at Glen Rock High School, and coach Ozrek is very intense and I am excited for what he has planned for next year," Traphagen said.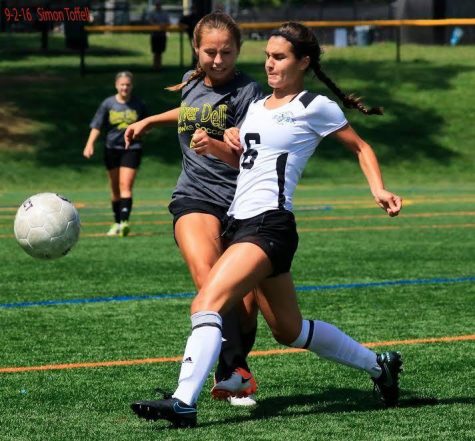 Geen and Traphagen still manage to find time to practice on their own.  Sometimes a local field can be surrounded with a stampede of parents and children, but most of the time, the field is silent and empty. It's the perfect place to train.
"It gets me in the mood for the high school season, and it motivates me to play better and be prepared for the upcoming season," Traphagen said.
High schoolers on the field
The high school varsity soccer team participates in league, county, and state tournaments. The girls each won league titles throughout their high school soccer career. Traphagen thought that this was a huge accomplishment. They also went to finals of states but lost to Ramsey.
"It was a tough loss, but everyone was motivated to play as well as we did last year to put it to the next year," Traphagen said.
In addition to that, the girls participate in a variety of high-intensity level tournaments across the country. Traphagen's team did well in its regular season last year. Geen's team won the state cup.
On the field, Geen and Traphagen are hard-working competitors. Geen plays sweeper and Traphagen plays forward. Geen and Traphagen manage to handle pressure and have fun while playing their game.
"Anything that goes on during my day, I kind of just forget about it and I just enjoy playing soccer because that's the one thing that matters right then. It just feels good to get something right and have a good touch," Geen said. "It's relaxing to me."
Traphagen also feels the same way and tries to cheer for not just herself, but others on her team as well.
"
It's obviously upsetting when we lose, but it doesn't affect me throughout the day or anything because unless it's like a bigger game.
— Mary Geen
"When I'm playing, I try to leave everything on the field and I make sure I play my best and play with the team and not just myself. I always try to get in open position. And if I have a shot, I take it usually and I encourage other people to do the same. And I just feel like all my problems are left on the field. It's a great feeling," Traphagen said.
Winning a game is always an exciting feeling for Traphagen and Geen, however, losing is a little disappointing.
"It's obviously upsetting when we lose, but it doesn't affect me throughout the day or anything because unless it's like a bigger game," Geen said.
Because of the hard work and ambitious attitude that they put into the field, they have been rewarded with both wins and accomplishments. For example, this year in high school soccer, Geen got third team (all state), second team all-county and first team all league. She was also awarded first team all league in junior year, as well.
Traphagen was also awarded for second team all county and first team all league. Traphagen also received second team all county and was the leading scorer of the high school varsity team with 17 goals.
Chasing after their dreams
Geen and Traphagen also hope to pursue soccer as a profession just like Guiran and Guzman did. At first, Geen was a little uncertain about whether she wanted to continue soccer in college.
"In my junior year, I was really unsure if I wanted to continue in college and then, when I thought about giving it up and about not playing for the next four years, I just didn't see myself being able to give that up, so I really wanted pursue it. My parents motivated me the most probably because they were always supporting me," Geen said.
Traphagen has been optimistic about pursuing soccer as a career ever since she started playing. When she was little, her mom gave her Mia Hamm books to read.
"I really looked up to her. I thought that she was a very good player as well as Alex Morgan. I look up to her now and I think she's really good as well as Carli Lloyd, Abby Wambach and a few other players on the US National Team that I look up to," Traphagen said.
Geen is going to attend University of Scranton which is a Division III school. In order to reach this status, Geen had to reach out to multiple college coaches, send them tournament schedules, and met with them when she visited the school. Geen also attended an ID clinic at University of Scranton: a full day of scrimmages and drills the coach had the players do. Then, about two weeks later, she met with the coach at Scranton who offered her a spot on the team.
"I feel so accomplished that all the hard work and dedication that I've put into soccer throughout my life got me to where I am today, being able to pursue the sport that I love in college," Geen said.
Traphagen hopes to get into a Division I or a Division III school that's neither too far nor too close to home.
Both Traphagen and Geen think that sportsmanship is a key component in soccer.
"I really like the team sport about it because everyone works together really well and there's such a team dynamic to it because you can't do everything by yourself. You have to rely on the other teammates," Geen said.
Perhaps no two people know better about relying on each other than business partners Guzman and Guiran. Without Guzman's advertising skills and Guiran's soccer skills, this facility wouldn't have been made. Both of them had to work collectively in order to create the Sports Training Center.
All of these athletes think that soccer is an awesome sport that helps build strength in your body and social skills.
"For me, it takes all of my problems out of my life and takes all the stress away and I can just play my game and play with my team," Traphagen said. "It's really important to experience something like that at some point in your life. I love soccer and I want to spread the joy of soccer to others."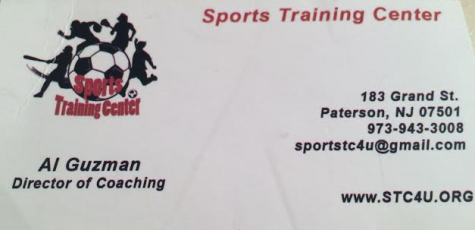 Leave a Comment
About the Contributor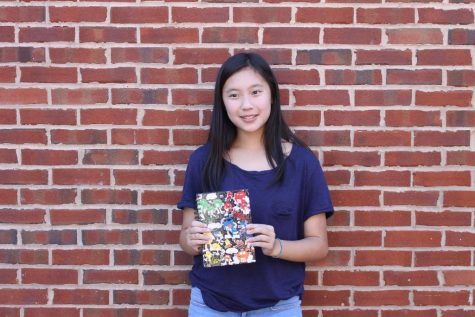 Janice Lee, Staff Writer
Janice Lee is a sophomore at Glen Rock High School. She does cross country and plays soccer during her free time. She has two brothers. Her favorite movie...