Boys hockey loses county championship against Don Bosco Prep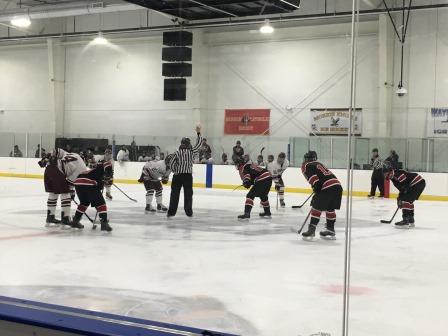 by Kate Casey, Advertising and Business Manager
January 29, 2017
The Bergen County Tournament came to a close after the boys hockey team suffered a devastating loss against (No. 5) Don Bosco Prep on Jan. 18 at the Ice Vault in Wayne, NJ.
After achieving an unexpected win against Bergen Catholic on Jan. 16, (No. 10) Glen Rock made its first appearance in the championship game in the history of this tournament. They held strong against Bosco until the third period, when Bosco scored three goals, and ended with a score of 6-1.
Since the tournament began in 2012, Don Bosco has held the championship title for six consecutive years. Still, Glen Rock entered the game confident. The Glen Rock fan section was filled with students dressed in black, representing their school. The crowd was loud and optimistic about the game ahead.
Seconds in the game, senior, Ryan McLinskey scored Bosco's first goal. Glen Rock junior John LaMacchia returned with a goal minutes later off an assist from sophomore Patrick Smith.
"
It definitely felt different seeing many of my old classmates watching me play for a team different than Glen Rock."
— Tsubasa Konishi
With two minutes left in the period, Bosco scored another goal off an assist from former Glen Rock High School student, Tsubasa Konishi. Konishi transferred to Bosco earlier this school year before the start of the season. As one of Bosco's top scorers, there was tension between the Konishi and Glen Rock players.
"Tsubasa is a good player, but it was really weird seeing him play wearing another jersey," said Assistant captain Peter Cassidy.
After leaving Glen Rock only months before, Tsubasa faced his former friends on the ice.
"It felt very unusual, knowing mostly everyone, not only on the ice, but in the stands as well," Konishi said. "It definitely felt different seeing many of my old classmates watching me play for a team different than Glen Rock."
Even being one of Bosco's strongest players, Konishi did not score in the game against goaltender Ryan McAuley.
McAuley is Glen Rock's starting goalie, and has taken a lot of pressure this season. He held a 89 percent save percentage this season. As one of Glen Rock's most valued players, McAuley saved 28 of the 34 shots from Bosco.
"Ryan has been playing very hot lately and has been standing on his head for us. Not much he could do about the goals that were scored," Cassidy said.
Down by only one, Glen Rock coach Zane Kalemba, was optimistic after the first period.
"We're playing well, we'll have to see the rest of the game, it's too early to tell," Kalemba said.
The game was very rough, Glen Rock received several penalties. The team went into the second period shorthanded with junior Matthew Maselli in the penalty box.
The game ended with three Bosco goals in the third period, and Glen Rock walked off the ice crushed by the emotional game.
"I thought our team didn't show our best. We had played four games in six days and we were exhausted," Cassidy said. "We didn't show what we were capable of in previous games in the weekend."
Despite the loss, the team has the rest of the season to look forward to. Rock is hoping to make its way back to the Prudential Center for the state championship, just like last year.
"Bosco's probably our toughest opponents all season," Cassidy said. "When we are playing well we can play with any team in the state. I'm pretty confident for Prudential."