Three clubs combine to host holiday party
The Gay-Straight Alliance, Theater Company, and LEAP Club will be combining forces on Thurs. Dec. 22 to host a Holiday Party at 6 p.m. in Room C131.
This specific date was chosen because it is right before winter break, so students will have little-to-no homework and will not need to stress out about schoolwork. They can simply enjoy the holiday party.
This will be the second annual Holiday Party involving the GSA, but the first combining all three groups.
Last year, the Glen Rock High School GSA teamed up with the Waldwick High School GSA to have a similar holiday party, but this year, that group was not able to join in.
Mrs. Nicole Rusin, art teacher and GSA adviser, and Ms. Juliet McKinley, art and theater teacher and Theater Company adviser, thought this would be a perfect opportunity to host an event together, as they had been talking about it for several months.
"
We rule sweets. We are the best at sweets,"
— Nicole Rusin
Ms. Jenna Dunay, LEAP Club adviser and art teacher, was more than willing to involve her group in the event. She was approached by Rusin, and immediately agreed.
"It's a great way for them to meet new people and celebrate," Dunay said.
A message was sent out to the GSA membership of approximately 50 students, notifying them of the event details. With all three groups, advisers are expecting to have at least 25 students participate, but are hoping for closer to 50.
"Holiday parties are always more fun when there's lots of people," Rusin said.
There is no official dress code, but because it is a holiday themed event, students and teachers are encouraged to wear their "holiday gear." This could be anything including ugly Christmas sweaters, Hanukkah sweaters, reindeer ears, elf hats, fun socks, and anything with lights.
Rusin said that she's a "big fan of things that light up."  
Preparations cannot take place until soon before the party, as the classroom will continue to be in use until the last period on Thursday. For the last few minutes in last period, Rusin and her students will all help to set up Christmas lights and other holiday decorations for the party.
The night will consist of three activities, one in the beginning, middle and end, that involve to entire group to get them to know each other better and intermingle. Each club is responsible for creating one activity. The GSA will be doing the opening icebreaker activity, LEAP Club will be doing the middle, and the Theater Company will close the evening. The popular Christmas movie Elf will be playing in the background.
A holiday party is not a party without snacks. Since there are three groups organizing the night, each will be responsible for providing a different type of food.
Patricia Whyte, senior, is a board member in all three clubs, so she will be responsible for bringing a drink, savory snack, and a dessert.
The GSA will be bringing desserts. This includes cupcakes, cookies, chocolate covered pretzels, doughnuts, chocolate covered pretzels, etc.
"We rule sweets. We are the best at sweets," Rusin said.
The Theater Company is responsible for savory snacks, including chips, pretzels, Chex Mix, Cheez-Its, and others, and the LEAP Club will bring soda, juice, and other drinks. Various individuals from all groups are splitting up the responsibilities of providing napkins, cups, plates, and silverware.
The party is not only an opportunity for some fun, but also a chance to give back. The clubs will be collecting and donating unused toys, winter accessories, canned foods, money, and other items to the Essex County LGBT RAIN Foundation. They are an organization that provides a multitude of support services for LGBT youth and adults in Northern New Jersey. Bringing a donation to the party is not a requirement but is encouraged and appreciated.
About the Photographer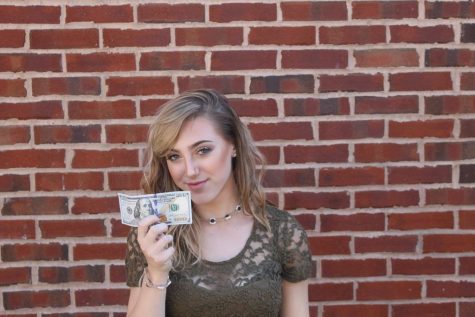 Julia Blando, Copy Editor
"It's not a phase, mom," 13 year old Julia said, with black ripped jeans, eyeliner to the brow, and plastic hair extensions. 

Email: [email protected]