Students protest outside Trump Tower; "Let the New Generation Speak"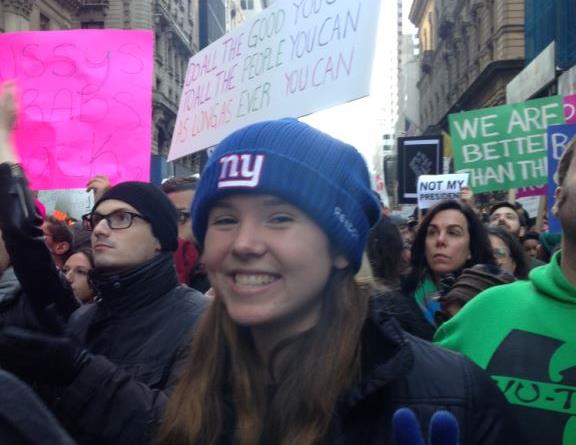 Students across Glen Rock rolled out of bed to a day off from school on Nov. 8, as well as to the unexpected: Donald Trump, along with all of the controversies that had surrounded him leading up to the election, was elected.
Matt Lacognata ('17) felt distraught. He was only two months shy of voting age during what he describes as the most important election we may see for a long time. He said it was the first election he had ever followed closely. 
"When it was announced that Trump was elected president, it got my mother really upset and my sister really upset, which then made me really upset because I couldn't do anything about it," Lacognata said.
After the way Trump carried himself throughout his campaign, Lacognata was outraged that his foul language had garnered enough support to win him the electoral college.
"We accepted that and put him into that power with that language," Lacognata said.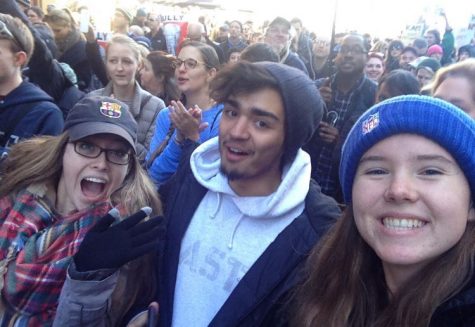 Across town, his friend and classmate, Jean Walter ('18), sat in awe.
Walter was tuned into the presidential campaigns for the first time as well, and she summarized her feelings toward the outcome of the election succinctly: appalled.
"I was appalled that we elected this guy and I wanted to do something. I was just angry," Walter said.
Eager to voice their opinions on Donald Trump being the country's choice as President-Elect, Walter and Lacognata, along with a group of other Glen Rock High School students, got together and bought train tickets to Penn Station and assembled in Union Square Park, joining thousands of others.
"A lot of people had to back out because their parents were worried. Originally, I just told my parents that I was going to go to New York to go to Central Park because I didn't know how they would feel about it," Lacognata said.
On the other hand, Walter, daughter of history teacher and volleyball coach Mrs. Kathleen Walter, received a token of motherly advice before heading to the train station before the protest.
"My mom was like, 'Jean, go get yourself arrested,'" Walter said. As her mother joked around before she left for her first protest, it was apparent to her that she was making her mother proud by standing up for her beliefs. Her father, who she said was a little more reluctant about the idea, reminded his 15-year-old to be safe. Kathleen Walter felt confident that violence wouldn't be an issue in front of Trump Tower.
"I think the Trump protests have not been as rough as some of the Obama protests, so I was okay with her going to that; she should do it. Every President has been protested for some sort of action," Kathleen Walter said.
On the other hand, Lacognata felt mildly uneasy going into the protest.
"In the back of my mind I was worried because in the past there have been problems between protesters and anti-protesters. I had to be there despite what could happen," Lacognata said.
Within five minutes, his anxiety vanished. He found himself just a few rows back from the front of Trump Tower, the centerpiece of the protest.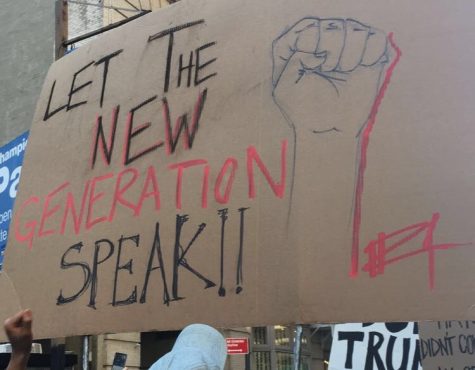 Being surrounded by such a vast group of people and knowing that they shared similar ideas with many of the other protesters eased both the students and prompted them to get in the mix. After seeing a sign that stood out to Lacognata, he and someone he had just met in the crowd began to chant the message aloud.
"That caught on for a little bit… it was very empowering," Lacognata said. "A lot of people followed along, and it just kept going and going. I was in a group who knew exactly what not to do- which was get violent, get loud or get rowdy. I knew I would be fine."
The energy captivated Lacognata, as well as Walter.
"We were all united, and we were all there for the same cause. There was a unity that you don't always see…it was such a cool vibe there. Everyone was there for the same reasons. The chants were A-1, they were awesome," Walter said.
The junior felt inclined to attend the protest after hearing what Trump had to say about women.
"His sexism directly affects me. That whole aspect of him just really freaks me out. I can't believe we elected him," Walter said.
While this posed serious trepidation to Walter personally, what concerned her, even more, was what the election of Trump would mean for other people's futures.
"I was there to stop the hateful rhetoric towards people who aren't white guys, because that's unfair to literally the majority of the world," Walter said. "I don't want to take away rights for other people. I'm not going to be affected by immigration policy, but the way he treats other people is so appalling."
Both Lacognata and Walter agreed that Mike Pence, who will serve as Vice President to Trump– gives them even greater fear. But despite their feelings, both students felt a sense of relief by using the protest as an outlet for their discomfort with the outcome of the election.
"The whole point of the thing was not to force him out of the building and yell at him, it was really just to show them that we aren't the silent minority," Lacognata said.
Leave a Comment
About the Contributor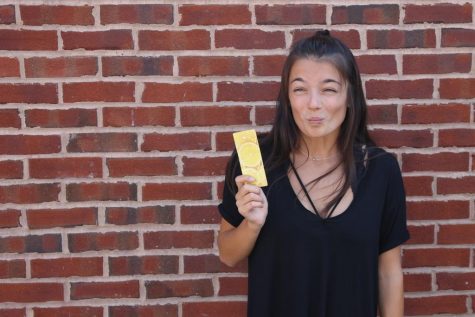 Michelle DeMaria, Facebook and Instagram Manager
Michelle DeMaria will be working with the Glen Echo for her second time this year. She is extremely excited to be managing the Instagram and Facebook accounts...