McCarten's push for victory
In the last leg of the 4×4 race of the 2014 Group 2, North 1 state sectionals, Sean McInerney receives the matte red baton as he attacks the runway. McInerney is behind in third place.
The adrenaline kicks in, as he knows what he must do to please his coach, his fans, and-most importantly- himself. He's at the end of the 100-meter mark of the first bend on the track.
With his feet pounding and heart beating, he approaches the beginning of the second curve, attacking at gradual increments of speed. He has yet to give up, for he is still determined with a fierce mixture of emotions.
McInerney is picking up speed, so much so that he begins to catch up to the athlete in second place. Now, he is at the midway mark on the second bend. He sees his opportunity. He has the strength and energy to pass him.
McInerney enters the last straightaway. There stands McCarten, his voice faded but still boisterous. His yell encourages McInerney to use up his reserved energy and kick it into full gear. He catches up to the runner and passes him, putting McInerney in first.
He blows through the finish line.
He is fatigued and disoriented, but he hears his teammates and coaches cheer him on. The athletes from the other teams are astonished. His training has led him to this moment with the help of Mccarten, his perseverance, his helpful attitude, and his experience.
Coach J.P. McCarten is the head coach of High School Track and Field.
McCarten's track career started at his Alma Mater, where he first started as a sprinter and javelin thrower and was coached by Ray Harrison.
Harrison kept the boys and girls separate. He believed in independence and being self-taught. He would work with jumpers and hurdlers, and the sprinters would run a workout. Both the throwers and sprinters conducted a lot of their workouts on their own.
There was a lot of training and work that Harrison expected his athletes to do on their own. It was very business-like, and he expected a high level of commitment from them.
"We did fairly well for being on a team that was coached by only two coaches," McCarten said.
He remembers winning the league all four years while he was in high school, one of his most memorable experiences during his time participating in the sport was in his sophomore year. The 4×4 team where he was an alternate runner, made it to Penn Relays. That group set the the school record at 3 minutes and 21 seconds.
Harrison was an English teacher. McCarten recalled that he was a very smart man himself.
"He gave us a lot of motivational speeches, used a lot of big words, but a lot of those speeches I still think about and still value to this day. He gave speeches before practices everyday," McCarten said. "There was screwing around here and there, you know guys being guys in high school."
He was not always strict when it came to coaching; a big part of sports is to have fun at the same time as competing for the win.
The coaches always found a good balance of fun and work where the kids loved being at practices and meets and also did well as athletes.
There has been a long line of these coaches that goes as far back as 1978 when coach Pal White began coaching boys' and girls' track as head coach in Ridgefield Park from 1978 to 1984. He brought his experience to Glen Rock track when he became the assistant coach for the boys' track team in 1989 and took on the role as head boys' coach in 1991. He coached alongside the girls' head coach D.J. Nimphus.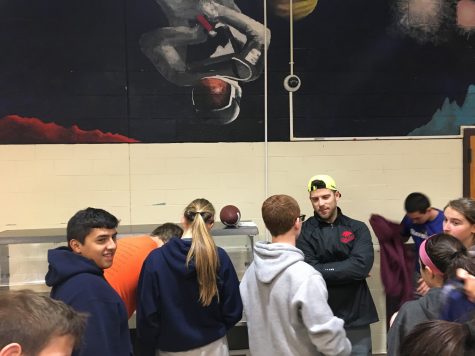 Coaching was very different back then. It was old-school, it was rough, it was strict, but nonetheless effective. Running was proven difficult, for the track itself was cinder and in very poor condition. Endurance was a very big part of the coaching process with little to no speed work, even for the sprinters.
"He told me he wanted a school where kids wouldn't be afraid to fail-meaning go for it; go out for the school play, write for the school newspaper, don't be afraid to take a chance," White said.
White received this valuable piece of advice from Principal Dave Schein when he came to Glen Rock to coach track and implemented those words-that very "code"-into his coaching methods. White loved to see his athletes excel and go out of their comfort zone and try new things.
"We were fortunate to have a ton of gifted athletes with a great attitude" White said. "I tried to honor each athlete's effort."
That is why his teams were so well-rounded; there were always athletes at his disposal that were willing to try a new event.
But it this wasn't his only coaching policy. White said that he wanted his team to devote one hundred percent of their effort on and off the track. if he witnessed this, he wouldn't get on anyone's case. He was demanding on the track with workouts and plenty of exercise. This would all go a long way.
Throughout his years coaching at Glen Rock, the boys' track team came in first place at the BPSL League Meets seven times from 1993 to 1999. Although coming in second place in 2000, they came in first place from 2001 to 2004.
His boys' teams were also extremely successful in other meets. His team came in first place in the County Relays from 1994 to 1997, second place in 1998, and back again to first place from 1999 to 2004. In County Groups, his team came in first place from 1995 to 1997 and from 1999 to 2003.
In State Sectionals, his team came in first place from 1995 to 1997. From 1999 to 2004, White's team came in first place six times in a row in the State Sectionals, more than any other school in the north section of New Jersey at the time. His team even came in first place 2003 and 2004 In State Groups.
White's team lived up to the potential that he saw at the beginning of every season. It all had to come to an end at some point. At the close of the season in 2004, White stepped down from the position as head coach at Glen Rock.
"I felt a million emotions," White said.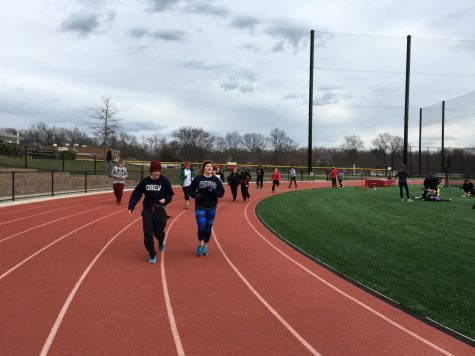 He has been coaching organized sports since 1985. The moment of resignation was one that brought a whole assortment of emotions.
Those emotions come back to him every once in awhile. With social media such as Facebook and e-mail, he keeps in touch with many of his former athletes. He says that it is especially rewarding to see them post pictures of their own children.
"Three weeks ago I went to see the sons of two former athletes play middle school basketball," White said.
White, like a father, has watched his athletes grow into the outstanding people they are today.
After White's leave from coaching, Jamie Bianco took over the position of head coach for the boys' and girls' track team during the winter season, and head girls' coach for spring track.
Before coaching Glen Rock, she coached at her Alma Mater, Pascack Valley High School, while teaching at Old Tappan, where she taught Algebra and Pre-Algebra  to the seventh and eighth grade. When she started teaching at the middle school, she was offered a job as a track coach.
"I happily accepted the winter and spring track coaching positions," Bianco said.
She started coaching the fall of 2006, and again had a very successful time coaching, so far as to having some athletes qualify for state championships.
Although not everyone was as successful, Bianco still focused on athletes of more novice skill sets, and also had a great time working with those who came out for the team just to stay in shape.
"
We didn't go to any small meets, any freshman/sophomore championships, and I think that's critical to developing a strong team overall, because if you don't develop your younger athletes, then you won't have good varsity athletes."
— J.P. McCarten
Having worked with such a wide range of athletes, she was able to see hard work and commitment everyday from all of her athletes.
"Each athlete had different goals and the wonderful thing about track is that you are constantly racing against your own times," Bianco said.
Every athlete that made a commitment to the team worked hard each day. During the course of the season, everyone was able to see improvement.
With coaching,  comes responsibility and organization. Even though her first day coaching was nerve-racking, she knew that she had to stay organized, especially in practice. It was finally her turn to design the practice program in order to help her athletes reach their season and career goals. She had plenty of sources to turn to for assistance with her methods of coaching.
She was able to take ideas from her prior coaches and mentors. She often spent time talking to other coaches at track meets, talking about how they coached their own team. She would improve on her coaching methodology that way.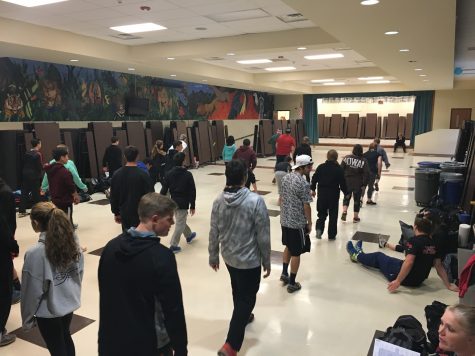 Bianco had her rules straight soon after coaching and was strict on keeping her athletes in line. She expected her athletes to be present and on-task with their coaches throughout the season and during practices.
As for her coaching methods, she used a variety of techniques to prepare her athletes for the competitions.
"Depending on the time of the season or the event, there are a bunch of techniques you could use to coach the athletes," Bianco said.
Typically, at the beginning of the season, Bianco would help work on basic endurance and strength by running for long periods of time or running high amounts of short-distance sprints. Around mid-season, she diminished the endurance and strength work and focused more on skills, such as correct running and jumping form, as well as techniques for running certain races. At the end of the season, she fine-tuned each athlete's skills before their respective events.
"I was excited to be given such an amazing opportunity and knew that I had big shoes to follow," Bianco said. "I was able to take ideas from my high school and college coaches to design my own philosophy, which was a lot of fun."
Despite being given such a responsible role, she always loved and found the best in what she did and was always looking for ways to help out her students.
"Each time I had an athlete who broke their personal record or won at a meet, I was so proud." Bianco said.
Although often times it was the athletes' hard work that allowed them to achieve this level of excellence, she hoped that it was her guidance and training that also helped them to achieve their goals.
Her coaching went a long way in the end. During her time as head coach, she had many athletes achieve all league recognition. In addition, she had a few athletes who were named to the All-County team and had athletes who qualified for the State Meet of Champions, which includes the best track athletes in the entire state.
Her years of coaching came to an end in the of the spring season of 2012, when she had her first-born son. She stopped coaching after 12 seasons at Glen Rock High School.
"Although I love coaching track, the time commitment is a very large one and I wanted to make time to be at home with my family," Bianco said.
At the time, McCarten was the assistant coach to Bianco. He started coaching in 2011, and when Bianco left in 2012, he took over the program the following year.
McCarten had so much information and people to turn to for advice, but he also had a lot to improve on. He saw the opportunity here to help change the program, so he took it.
He took time to improve on this and tried focusing any extra time he had to help improve the individual athlete by teaching them techniques and giving them advice on how to improve overall, especially the younger athletes. He saw potential in everyone and wanted to exploit their strengths and have them work to do the best that they can over the next years.
"Being a member of the team, pushing one another, and having team competition makes everybody better. It is a very important part of being successful," McCarten said,
McCarten pushes his athletes to not be complacent, but rather to strive to be on a relay or to come in first or second or even third place. Doing their best is what McCarten likes to see and it makes everyone better overall.
McCarten talks about an uncomfortable zone while running track; the minute while running the 400-meter race, the nerve-racking seconds before starting the 100 or 200-meter race
"When you're in those events, being able push yourself past that really uncomfortable moment or few minutes is really what's important," McCarten said.
He tells his athletes that you're not doing any physical harm while in those uncomfortable moments, and you're only going to feel uncomfortable for a little while and then it subsides.
"
If you can get to that point, especially in the endurance events and the distance-running events and the long sprints, you'll do very well."
— J.P. McCarten
It works when he tells them that. McCarten's expertise on the subject really transfers to the athletes. They take that advice, and they work upon that. They do end up getting comfortable with those uncomfortable moments, and it makes them stronger runners, stronger athletes, and it gives them a stronger mentality. It helps them grow as people.
Thinking about getting past that uncomfortable zone, when it comes to track, there are a lot of events that are not exactly physically-taxing, and there are some that are. When you're in those events, being able push yourself past that really uncomfortable moment or few minutes is really what's important, and realize that if you're not doing any physical harm, you're only going to feel uncomfortable for a little while, and then it subsides. If you can get to that point, especially in the endurance events and the distance running events and the long sprints, you'll do very well.
He has built the team from the bottom up, helping each individual athlete, creating a stronger base for the team, and it is very recognizable. McCarten says the last two years, the boys team has been very good in the sprint relays. 4×1 has been state sectional champions the last two years. 4×4 won the state sectionals 2 years ago. They came in second place last year. Both the boys' and girls' teams won the league last year for the first time in ten years.
The girls' team has been very good, too. The girls' hurdle team in the winter were Group 1 champions for shuttle hurdles, as well as Bergen County champions for the same event. They even qualified for nationals.
McCarten is very impressed with the distance group.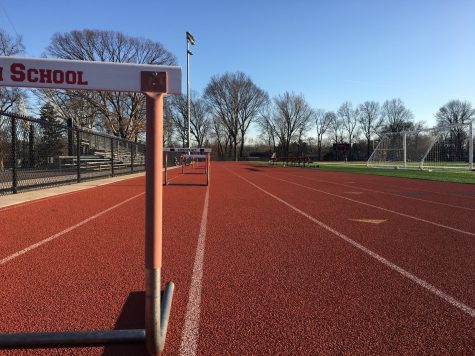 "The distance group overall has overcome leaps and bounds," McCarten said.
He is happy they have been winning distance medley relays, winning 4×8's, which was the weakest part of the track program when he took over. He now considers it a strength. Overall, the distance program has become very strong since McCarten has taken over.
McCarten wants to defend the league championship for both the boys' and girls' teams and to have a top three finish in the county as a team, whether it be Bergen County relays or individuals.
At the state level last year, 20 percent of the kids went to states, and McCarten wants to increase that amount this year. He would like to have more of the relays qualify in states. He wants to see improvement on the overall team, but is always looking for improvement on the individual level as well.
"I never saw myself as a head coach for track, but now it's one of my passions, one of the things that I really enjoy doing and enjoy seeing the results in the kids," McCarten said. "Bottom line, it's really for [the players], it's not really for my enjoyment, to see [them] succeed is really the bottom line."
Leave a Comment
About the Contributor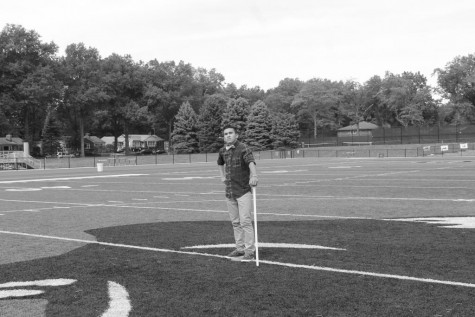 David Martinez, Staff Writer
David Martinez is a junior in Glen Rock High school. He has been playing soccer at the school since his freshman year and plays other sports such as track...