Kicking it to Iona
It was a hot day in September and Julia Kelly was gearing up for the second half of the first game of her final season. She was huffing and puffing while the sun glistened down on the soccer field. Her heart was racing as she ran onto the field. It was finally occurring to her that it was her final first game of the season with her high school team.
"My feelings towards the first game were kind of weird, the seasons flew by," Kelly said.  Kelly has been playing soccer for eight years; soccer has become a part of her and something she identifies with.
"It's helped me learn how to be a team player," she said.  "Soccer has affected my life in such a positive way."
Kelly is a defensive sweeper for the Glen Rock High School soccer team. She began playing soccer in the fourth grade where she started off as a forward but decided to switch positions as her playing became more competitive.
"[I] decided I wanted to get more serious and switched teams to World Class when I was in seventh grade where I changed to a defender."
Kelly is a very competitive athlete and expects the best from herself and her team during every game.
"I am so competitive not only against myself but other people too so I get annoyed when people don't play up to their potential or I don't," she said.
"She has always been a dominant person on the field. When I first saw her play there was something special about her," said Christopher Fox, the junior varsity soccer coach at Glen Rock High School.
Fox has watched Kelly grow as a player from the beginning of her high school career until her final game at Glen Rock.
"She's in the back she commands the ball, she has good vision of the field so she makes things happen in she back. Without a good sweeper, it's a different game," Fox said.  "We're extremely confident with her back there no matter who we're playing, if we're playing a pressure forward team, we have no doubt in Julia's skill at all on the field."
Kelly had a bumpy start with soccer when she began playing it as a child.
"When I was younger, I hated it I would refuse to play and just sit on the soccer ball, so definitely a big turn around."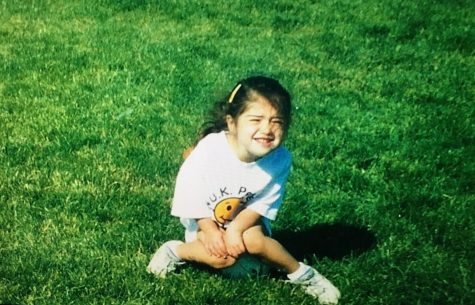 The first game of her senior year was a dreamlike experience for Kelly.  The game was against Pompton Lakes, a rival of Glen Rock; Kelly was determined to win.
"I was really focused to win the game so we could possibly win the league, which we ended up doing," she said.
Glen Rock won 1-0 in the end, which gave Kelly a sense of accomplishment. This win fueled her drive for the rest of the season.
However, reaching the end of the season was bittersweet for Kelly. Finishing her high school soccer career was something she never imagined coming, but it came quicker than expected. The final season came with many different aspects.
"This past season we had a new coach, we did new things and we had different fundraisers," Kelly said.  The team experienced several ups and downs during the 2015 season.
"During our county game we hit a bump in the road, but we moved on from that quickly and that was our turning point."
After the team overcame several obstacles, the girls began working as a unit again.
"We came together more as a team and we became 17 strong," Kelly said.  "We became a really good team and started crushing other teams because before we weren't doing too well and then after that we started taking back the league title."
Her final high school game was against River Dell High School on Nov. 5.
"My feelings during the last game were, when the first goal went in I was like 'Okay, maybe we'll get back' and then it hit 2-0," she said.  "They scored another goal and I sat down and I was like 'Well, there it is.'"
Looking at the scoreboard was disheartening for Kelly.
"I was really upset then we started back up again, I remember just trying really hard and just being like 'Okay, this is the last 20 minutes of your high school game, keep on going.'"
The clock counted down and the game came to a close.
"I remember being by the sidelines by the bench and just squatting and crying and looking at Jaci Mills and just being like 'I'm never going to play soccer with you again,'' Kelly said. "It was a very surreal experience to sum it up."
Glen Rock lost the final game of the 2015 season 2-0.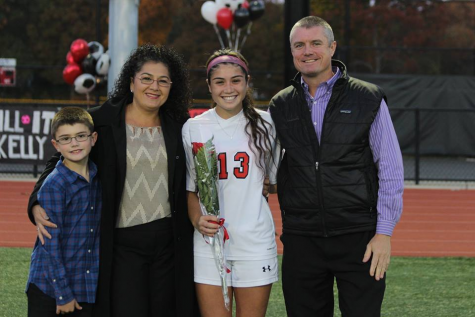 Kelly's four seasons with Glen Rock were some of the most influential in her life.
"Sophomore year was my favorite year in general. I loved the girls, Taryn Dwyer and Claire Oh were the seniors and I really liked them," she said.
As a young sophomore, Kelly experienced a game that became engraved in her mind. It was pouring rain; fans from each team lined the bleachers.  Kelly was anticipating a powerful state playoff game against Kinnelon.
"People were getting rowdy and it was super cold and we were all just like 'this is Glen Rock, this is the town spirit,'" Kelly said.  "I was so pumped because that was the year we came back from winning the state championship and we were all like 'yes we're going to do it again.'"
Glen Rock was the lower seed during the Kinnelon game.
The game grew more and more intense with each passing minute.  Each player carried tension as they ran up and down the field.
"There was so much going on that game, I saved a corner kick that was curved and I slide tackled," Kelly said.  "I tried to do a step over and slipped then got back up and slipped again and got back up then fell again but I was still able to turn and clear the ball.  Whenever I slide tackle, that gets me really pumped."
"Everyone played that game to the best of their ability and that was what I think brought us together, that game," Kelly continued.
The score ended in 0-0, bringing the teams into penalty kicks.
"Usually you're out after the first round and we went into three and it was just penalty kicks none stop."
After the nail-biting penalty kicks, the final score was 13-12, resulting in a Glen Rock win.
"I think that year we all had the same goal going into the game and we weren't going to give up. Since we played such a hard team, that's what brought us together," she said.
The game against Kinnelon raised many emotions for Kelly.
"I was really upset about the season being over but I was like I still have two more to go it's not "the end" but it felt like the end," Kelly said. "I miss those girls and it was a really nice experience, we were really close that year."
Aside from playing with the Glen Rock soccer team, Kelly plays on one of the most prestigious club teams in New Jersey.
"My club team is in the ECNL which stands for Elite Clubs National League," she said.
Kelly has traveled all over the country to play with her club team including California, Florida, Seattle, Boston, Pennsylvania and North Carolina.
"I drive 30 minutes to my club team and I love that drive I like that I'm out of Glen Rock and I'm best friends with all the girls on my club team we're all really close." Kelly said.  "It's a nice way to get out of your head, surrounded by people so similar but so different. I just really love the sport."
Club team has helped Kelly grow not only as a player, but as well as a person.
"I love club teams because you play harder teams so your team is just closer, we have so much to lose and we all have the same goal."
Kelly has participated in many tournaments with her club team, however The NEWSS tournament, sticks out greatly to her. The tournament is a showcase in which coaches come to watch the girls play.
At this tournament, Kelly gets to show off the skills she has developed with the sport over the years.  She enjoys the concept of coaches scouting the players and hearing back if any of them are interested in her as a player.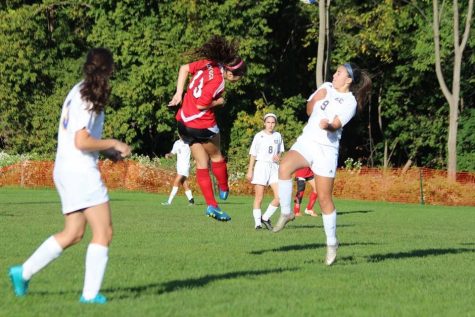 "She plays for one of the top clubs in New Jersey and she's been playing for a long time and it shows on the field," Fox said.
Though soccer is Kelly's number one activity, running track has also played an important role in her life.
"Soccer was my gateway into track I guess because I knew I was faster than everyone else," Kelly said.
Kelly began running spring track at the young age of twelve and began running winter track her freshman year of high school. Kelly has been a varsity track athlete since freshman year. The main reason Kelly took on track was to improve on her soccer skills, however it became something she was very dedicated to.
"I met Julia in the cafeteria as a freshman and she asked me, 'what is the best time for the 400?'  I replied, 'Do you mean in high school, college or the world?'" said J.P McCarten, the varsity track coach at Glen Rock.  "As you can see, right off the bat Julia loves a challenge and to this day the school record for the 400 meters is something that she wishes to break."
"My freshman year I made it to groups for the 4×4 and as a junior I placed 3rd in triple jump at sectionals," Kelly said. "At groups I jumped my personal best, a 36."
As a senior, Kelly and three of her teammates placed first in the 55 meter shuttle hurdle relay, with a time of 35.07 seconds. Kelly only started seriously training for hurdles this year, and was seemingly impressed with her and her teammates abilities.
"Who knew I could hurdle before this?" she said.
Playing soccer all year around and incorporating track into her schedule hasn't been easy for Kelly.
"Track has definitely made my life much busier. It's also made my life interesting," she said.
"Julia came late from a soccer double header to the Bergen County Individual meet this past Spring 2015," McCarten said. "She made it with seconds to spare to run the anchor leg of the 4 x 400m relay with a personal best split time of 59.2."
Kelly gives 100 percent of herself in each sport that she does, and never allows the pressure she may be under or the fatigue of the day, get in her way.
"Just when I think I'm tired during the last 100 for the 400 I have to push and finish," Kelly said.
Kelly spends most of her time running from one sport to the next, which has taught her a lot.
"When I'm sprinting off the field after a soccer game to run a 400 at counties, there's no room to be tired and you need to be there for your team no matter what," Kelly said.
In the sport of running, it is the runner against themselves, which is something Kelly knows all too well.
"Before every race I get really nervous because I feel like I have so much to prove because each time I'm competing against myself," she said.
Although Kelly experiences a lot of nerves knowing her whole team has their eyes on her before races, she has learned to do great things.
"Julia is what you would call a 'gamer.' It is difficult for her to push herself in practice but when it counts, she is all in," McCarten said.
Kelly has achieved many goals that she never thought possible throughout her four years of running track. She has been a qualifier for Bergen County Meet of Champions since freshmen year, along with the 2016 New Balance National Indoor Championships qualifier for the shuttle hurdles relay, which she placed 15th overall.
"My greatest accomplishment as a runner is making to SMOC Nationals and breaking the intermediate (400m hurdle) record at leagues and winning that and just being able to prove to myself that I can do it," Kelly said.  "As a team we have brought back track after ten years."
Julia was a great contributor to the 2015 conference championship win for the girls track team for the first time in ten years.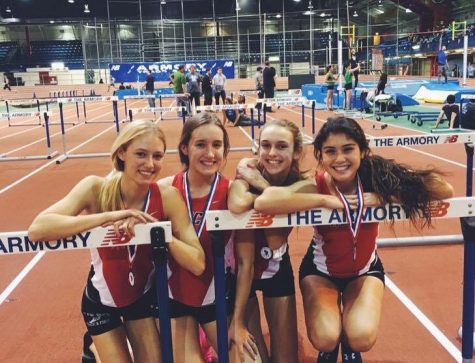 "She is a vital contributor to the rebuilding of a team that had once been very prolific throughout the state in the 90's and early 2000's," McCarten said.
Kelly has finished her final winter track season, but she certainly has a lot to be proud of.
"Julia will certainly be missed but we are fortunate to have many good athletes in all of the events that Julia competes in," McCarten said.
Since Kelly has been playing soccer from such a young age, she was destined to continue her soccer career in some way. As a junior, Kelly first heard of the school she would end up spending the next four years at: Iona College located in New Rochelle, NY.
"First I would email [schools] about coming to tournaments. There would be a list of schools that would be attending like Florida or San Diego and from there they would either respond that yes they were going or no they weren't, but send the rest of your schedule," Kelly said.
After several schools watched Kelly's performance, she was invited to sleepover at the school and go further into the recruiting process.
"What I would do was I would go to the school, stay the day and sleepover to see if I liked the school or what kind of vibe I got from it, that's how I decided if I liked it or not."
It did not come as a surprise to any of Kelly's teammates or coaches that she would be continuing to play soccer at a higher level.
"She is a really good female athlete who doesn't lie down for anything, she's tough, she knows what she wants, she's a gamer," Fox said.
Before picking Iona, several other schools such as Monmouth, Saint Joseph's and The College of New Jersey reached out to Kelly.  TCNJ wanted Kelly for both track and soccer which seemed like a huge commitment for her.
"I was going to run track but decided not to because I couldn't deal with all the pressure that I put on myself and soccer is just number one always," she said.
During the recruiting process, Kelly looked to friends and family for support and advice. Caroline Taylor, a former Glen Rock player who now plays for Manhattan College, supported Kelly through most of her journey.
"She kind of went through the same thing I did with the recruiting," Kelly said.
Many of the girls on Kelly's club team also went through the same process.
"The girls that I play on my club team with are such big supporters, they are not jealous or anything," she said. "They were just happy and I would always tell them what was going on."
Though recruiting is a vigorous task, Kelly's confidence was boosted when she began to receive positive feedback from coaches.
"Once you get that one, it's tremendous for your confidence."
Kelly's first encounter with Iona was during a NEWSS tournament.  The school piqued her interest.  Kelly then emailed the recruiter asking if they were still looking for players to recruit.
"[The coach] came to a game and she liked what I saw. The assistant coach then emailed me and invited me to the camps," Kelly said.
While visiting Iona, the college gave Kelly a feeling that no other school gave her.
"It wasn't like going to a small town to a huge school. I'm going from a small town to a pretty good sized school, but not ginormous."
Kelly also had the opportunity to meet many girls who already play soccer for Iona, some of whom she connected with immediately.
"I got along well with one of the girls that's already on the team, she'll be a junior when I go there but she said to me 'You're cool, I like you. You should come here, you'll really fit in.' and I think that was when I was like 'Oh I really like it here.' So that was kind of what helped me pick it," she said.
Iona was also ranked high on Kelly's list because they offered speech pathology as a major, which is what Kelly is interested in.
"Obviously I was looking towards schools that had my major, which was kind of hard to find."
Kelly received an offer to commit to Iona on Aug. 1, 2015.  After weighing her options, Kelly accepted the offer around Aug. 14.
Moving on from her high school and club soccer careers has not been easy for her.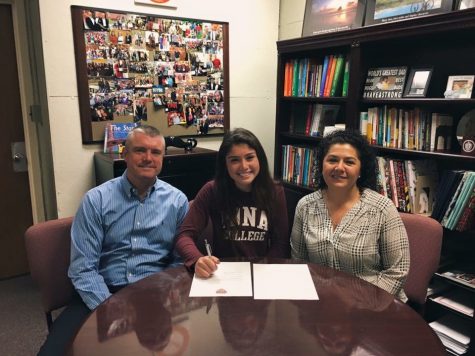 "For club team I think we're all stars in our own way and we all have such deep connection," Kelly said.  "I think the hardest part will be leaving those girls behind, those girls are the best versions of myself so that's going to be the hardest thing to let go of."
Iona's pre-season will begin Aug. 3, which is just a few days after Kelly moves into her dorm.
"I definitely think preseason in college compared to high school pre season is going to be 20 times harder," she said.  "The speed of play is going to be so much faster than my club team, the girls are going to be so much stronger, faster, the games going to be completely different."
As a college athlete, Kelly will have to juggle a lot of activities and responsibilities throughout her day.
"I think she can handle it, I just hope that she stays positive through the entire process," Fox said.
For Kelly, beginning her new adventure is thrilling and she anticipates that she will really enjoy the next four years.
"I'm excited to meet the girls and new people and see how I can handle being on my own a little and it's completely a different experience," she said.
Leave a Comment
About the Contributor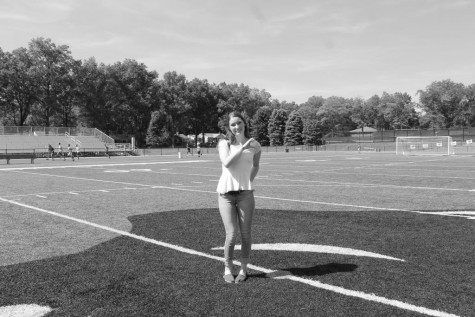 Beth Keefe, Multimedia Manager
Beth is a senior at Glen Rock High School and has been writing for The Glen Echo for three years. Beth's favorite place to visit is Disney World, she has...