The flyer from Miami
The Florida sun beat down on the balcony where 8-year-old Christina Jorge was relaxing. She stared at the tall palm trees as she daydreamed of becoming a part of the local cheer team, Top Gun Jags Angels. 
As a child, Jorge enjoyed playing soccer and softball, but she never had a passion for either of these sports like she has for cheering. She eventually made the decision to get involved with the Top Gun Jags.
Top Gun Jags provides competitive cheer and dance training in Miami, Florida. The walls of the center are covered in banners and awards and the gym is filled with trampolines and mats to practice various routines and stunts.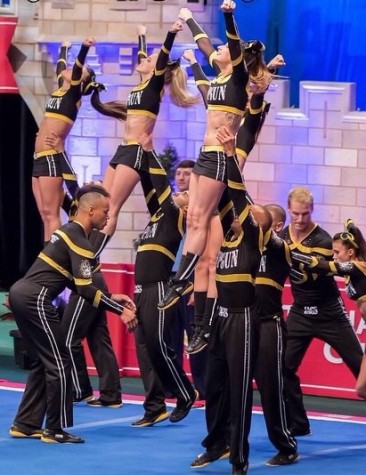 Natalie has been Jorge's cheerleading best friend for as long as she can remember. Natalie was very supportive and welcoming to Jorge when she joined the team.
"Cheer makes me and Christina happy," Natalie said.
From the moment she dreamed of being an Angel, she began to work for it. Her mom enrolled her in cheer and she happy to see her daughter's excitement to start.
One of the most important and exciting times in Jorge's life was her first competition with the Jags. She was anxious, but she knew she was ready and used her goal as her motivation. 
Jorge has the body build and personality like an ideal flyer. She is skinny, tall, strong, brave, confident, and energetic. Flying is a big responsibility to the team and they need to have "sharp motions." The flyer is what the judge and the audience are focused on and an iconic symbol of cheerleading.
The Top Gun Jags had won first place in the competition with their complicated and quick stunts and dance.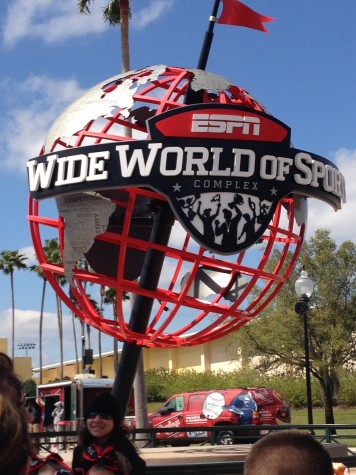 The cheer gymnasium is one of the greatest escapes from the bright lights of the streets of Miami.
Although the Jorge family lived in a safe house in Kendall, which has a 28 percent lower crime rate than the national average, Miami can be dangerous. Cheer was the perfect way to stay out of trouble.   As years went by, Jorge and the rest of the Top Gun Jags had been scoring victories nationwide as they traveled up the east coast.
Jorge accomplished one of her biggest goals as the center flyer on the team. The center flyer is the flyer located in the middle of all the background flyers.
Jorge continued in her training as a center flyer, but she was now also enrolled in tumbling classes. Tumbling is an introduction to motions, such as the simple cartwheel, and then leading into back handsprings and triple flips.
She spent her free time on the beaches stunting with her friends and learning new dances. After all, cheer is a dangerous sport and there was a chance she or anyone else could get hurt during a stunt.
After a night of relaxing on the beach and laughing with her friends, Jorge walked home and headed to her room on the second floor. Something just did not seem right to Jorge. Her dad came in to talk to her and declared that their family was moving.
Jorge did not know what to think or what to do. She was so upset and tears slowly dripped down her face as the thoughts of leaving behind her family and friends raced through her mind. 
Due to her dad's job and earning a promotion, the family had to pack up their belongings and leave Florida life behind for the suburbs of Glen Rock, New Jersey. The stress was too much, so she wanted to escape her house and get back to cheering. She did not want to leave her home state behind. 
"
I was of course upset when Christina moved because she was the one who was always there for me no matter what,""
— Natalie
Jorge had the opportunity to cheer in one last competition before moving to the tristate area. 
"I had to drive her to the competition and make sure she had all her gear," Johanna Jorge, Christina's mom, said. Her mom was one of the most supportive people in Jorge's life. 
"I was of course upset when Christina moved because she was the one who was always there for me no matter what," Natalie said.  
Time came for the final competition as a Top Gun Jag and Jorge described it as  bittersweet. At that moment, she realized she would never be able to pursue her childhood dream of becoming a Top Gun Jags Angel. She would not have the chance to wear the pure white and diamond studded crop top and shorts.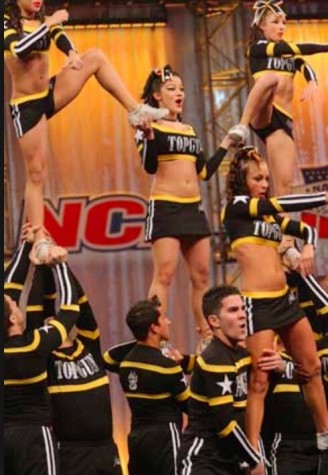 That summer, Jorge took a two hour flight to the Newark airport and drove to the family's new home in Glen Rock with her mom, dad, older sister and two dogs. Jorge was starting as a middle school student in eighth grade.
Coming into a brand new state and going to a completely new school was difficult, and she knew it would be hard. She would have to make a new friend group, figure out the town and places to go, and, most importantly, find a new competition cheer team because cheering was still in her heart.
After a year, things started to fall into place. She had friends, earned high grades, and enjoyed Glen Rock as a whole. Florida was still always on her mind. 
Christina missed her big and crazy family back in Florida and the many friends she had. She missed the countless memories of taking walks on the beach and eating fresh oranges on her balcony. She missed the warm weather and sunshine in her face, especially when she felt snow for the first time during one of the worst winters in New Jersey.
As Jorge adjusted to the new school, she wanted to start cheer again. She became a part of a cheer team, Cheer Gym All-Stars. The team placed her as a base to start. As a base she would have to lift, throw, and catch the flyers. Disappointed to be a base, Jorge worked hard and practiced as often as possible to prove herself as a flyer. She got to the opportunity to be both. A compromise she was willing to make, she was sometimes spending time in the air and other times on the ground as a base.
During freshmen year of high school, Jorge was focused on school work and friends, forcing her to set aside her love for cheer. She took a break. A break that was detrimental to her cheer life. 
As she was entering sophomore year, Jorge decided it would be best to join the Glen Rock Panthers cheer team. In hopes that it would help her regain her passion and keep her doing a sport, she handed in her athletic forms, and began practicing, and trying to bring back her memory of cheer dances and stunts.
The day came when tryouts started. Jorge had been through a lot of tryouts back in Florida, but she was still anxious. She didn't know what to expect. Throughout the three frustrating days, she made the JV team.
Jorge started out as a base on the team. Something she didn't like as much as flying, but she did it. Each time she tossed someone into the air, she remembered that feeling. The feeling of being high in the air at competitions in Orlando and having the time of her life. She missed it and would do anything to feel that again.  
Eventually she got the chance to be a flyer on the JV team, and she took it without hesitation. It wasn't the same as competitive cheer, but she loved every second of it.  
Along with being a part of the JV cheer team, Jorge set aside time to help the minis. The minis are younger cheerleaders in Glen Rock that Jorge and other high school students devote time to mentor and coach.  It was something that Jorge loved to do during the cheer season.  Jorge saw a part of herself in the young cheerleaders and it brought her back to her childhood in Kendall where she started.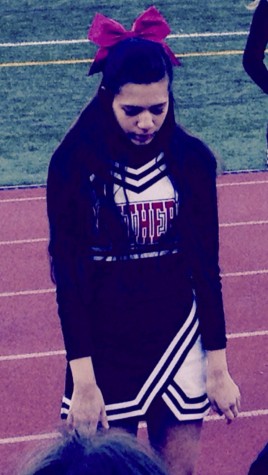 During the midst of an intense season with the high school team, Jorge sprained her ankle and got a concussion from stunting.  There was no way she would be able to get back up in the air for the remainder of the season. For a few agonizing weeks, she walked the hallways with a brace on her ankle and endured numerous headaches.
To her surprise, she made a quick recovery. Jorge was able to make it for a few more football games and had a good time back as the flyer and the cheer team couldn't be happier.
"Come in, stretch, go over some goals our coach has for us. Then we warm up with some stunts and tumbling, go over our routines, and fix and improve on anything that has to be improved on," Jorge said, explaining the typical routine at the cheer gym. 
Cheer is the most positive thing in Jorge's life. Cheer was the one thing that was always there for her when she needed it most, such as when she was frustrated with friends or school. When she was at her best or worst, she was always cheering. It focused her and was an ultimate escape from the pressure of everyday life.
At every competition winning first place with the All-Stars, Jorge thought more and more about her team back in Miami.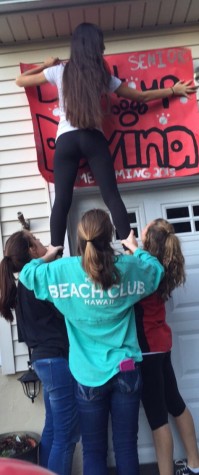 There was no way that she could go back to a life of cheer in Miami.  Jorge looked backed at her cheer experience in Miami as one of the best things that happened to her. She was able to incorporate the skills she learned, the friendships she made, and the experience of competing to make herself a better cheerleader and to help her team succeed in New Jersey. 
Around Christmas time, Jorge and her family took a flight down to Kendall to visit family and friends. Various emotions ran through Jorge's head when she sees her family because she has not seen them in such a long time. It has been an agonizing year without them. It made her upset to know that she only had one short week to spend time with the people she loved most in her favorite place in the world. 
"
I like both equally now cause I have close friends and good memories with different people in of course both states,""
— Christina Jorge
At the end of the week, it was time to fly back home. For once, Jorge felt a bit happy to go back to the small town.
Even though New Jersey life started out as the most stressful time of her life, finally her life was at a normal place. She was content with living in the tiny town of Glen Rock from the big city of Miami. To her surprise, she started to like New Jersey and miss Miami  less, and did not want to change anything in her life.
"I like both equally now cause I have close friends and good memories with different people in of course both states," Jorge said.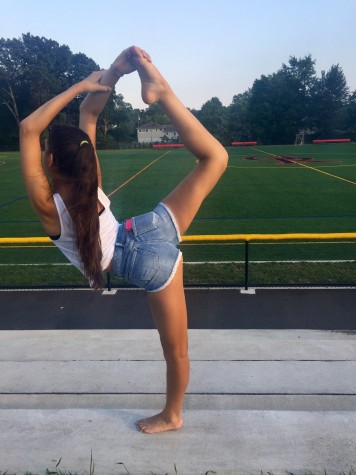 The one thing she will never want to stop is being thrown into the air and performing stunts like bow and arrows, toe touches, and scorpions. 
"I could be having a bad day and then I get to practice and it just impacts my mood and makes me forget my problems and it puts a smile on my face," she said. 
"
I could be having a bad day and then I get to practice and it just impacts my mood and makes me forget my problems and it puts a smile on my face,""
— Christina Jorge
The best thing that she learned throughout the whole moving experience was that her passion of cheer could help her overcome any challenge put in front of her and practices were always something to look forward to.
"Cheer is a part of me and will always be my way to escape reality and will be something positive to look back at all the memories created throughout the years…"
Leave a Comment
About the Contributor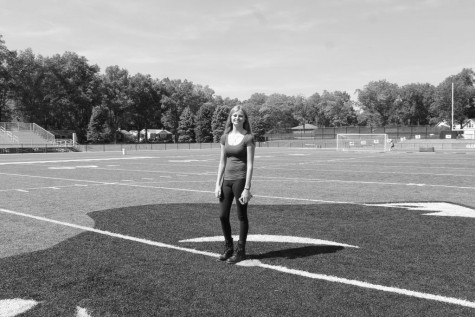 Olivia Lorenzo, Senior Staff Writer
Olivia Lorenzo, a sophomore, loves food. Olivia rides horses. She spends her weekends watching netflix. This is her second year in journalism.  Email...