A bettor fantasy
Names in the following article have been altered to protect the identities of the people described.
It's 8:30 on Sunday night: millions of eyes stare at television sets and witness some of America's best athletes competing in Sunday Night Football.
While thousands of people flock to stadiums and pay hundreds of dollars to get a glimpse of their favorite players, some would rather place a small wager in hopes of winning a few bucks in the comfort of their own home.
Billy Winters
Before selecting his weekly lineup, Billy Winters gathers his statistics. They range from weather trends to real NFL rankings. After obtaining the necessary data, he gains confidence to start drafting his roster.
"I enjoy the analysis every week," he says.
The struggle, now, is for him to stay under the salary cap, which is a rule that places a limit on the amount of money that a team can spend on player salaries.
Draft Kings and FanDuel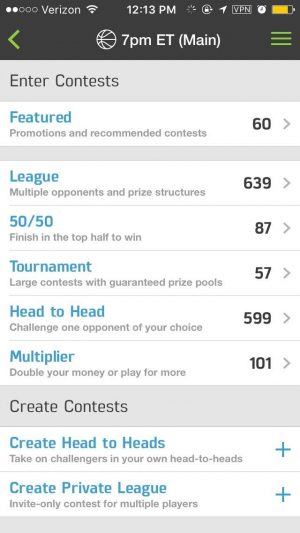 Draft Kings and FanDuel are two, fairly new, phone applications for online sports betting. They allow users to select a lineup of players and bet on their performances in weekly games.
Draft Kings categorizes the players that are available to draft by position. Each player within these categories has a "monetary" value assigned to them (usually ranging from about $4,000 to $16,000). With nine positions to fill and a cap of $60,000, drafting a weekly lineup can be quite difficult.
After he enters his wager of a dollar or two, he submits it to a league of his choice.
Deciding upon a favorable league can be of strategic value as well.
"Featured leagues," are filled with thousands of users competing for the top score to receive a grand prize.
Another type of league called a 50/50, is usually made up of one hundred users and the top 50 percent win a prize, and the lower half do not.
Prizes in featured leagues can vary from tickets to a big game to thousands or even millions of dollars. 50/50's return a little less than double the initial investment for the winner. For example, If a user enters one dollar into a 50/50 and comes in the top half, he will win $1.80 as a prize.
The quarterback lines up under center, his running back behind him, the defense anticipating a passing play.
For larger, more confident users, there are leagues with entry fees upwards of $5,000. They tend to be filled with three to five users.  The winnings are much greater in leagues such as these.
The ball is rapidly transferred from the hands of the center into those of the quarterback. He turns, looking for his running back. The running back takes it and with no hesitation begins sprinting, scanning the shining turf for a gap, some hole to run through and break from the defenders.
For now, Billy sticks with his $1 bets. He places roughly two to three bets a week.
There. Just to the left, he plants his right foot and redirects his route.
10 yards, one point.
The terms "betting" and "gambling" often go hand-in-hand, but Billy Winters thinks Daily Fantasy Sports are harmless.
A defender comes at him from the right, he spins jolting himself out of harm's way, untouched.
"I'm not dependent upon it. I just do it to make the games I watch more interesting," he said.
Through the metal of his face mask he sees two teammates blocking defenders downfield. With them clogging his route, his only option is to come back to the right.
It seems that most users utilize daily fantasy sports simply for the fun of it.
20 yards, two points.
"I am not afraid (of gambling behavior) because I know I can stop whenever," he said.
One defender broke from the efforts of his teammate and now trails closely behind him in the open field.
Daily Fantasy Sports have had their very own run in with the law in the past several months. Multiple states banned daily fantasy sports all together while New York and FanDuel have an ongoing case that could potentially terminate their presence in New York state.
He can hear the footsteps behind him. The defender makes a diving, last chance effort; his arms fully extended, he feels the the cloth of the runner's jersey.
Luckily for New York users and FanDuel itself, FanDuel was granted the ability to operate while the lawsuit goes on.
And luckily for Billy Winters, it wasn't enough.
Huge revenues are to blame for the industries recent time in the spotlight. With this comes the questioning of legality.
30 yards, three points.  40 yards, four points
Both FanDuel and Draft Kings, leaders of the industry, received millions upon millions of dollars in the venture capital funding process.  This is a process in which venture capitalists gives a sum of money to a small company with potential in order to get their feet off the ground, in exchange for partial equity of the company.
50 yards, five points. 60 yards, six points
Even after raking in tons of money, the industry has been able to make a steady stream of incoming profit.
70 yards, seven points. 80 yards, 80 points.
Touchdown, six points.
80 yard touchdown by a running back, 14 points.
At lunch, Billy Winters, quickly eats his cafeteria bought lunch and treks to the media center. He enters the viewing room and chooses a single computer to start his analysis.
He sits down, his eyes focus on the words that begin to appear in the google search engine. He logs onto Rotowire.com. He's done this so many times he barely has to look at the screen in front of him. Regardless, he watches intently.
He clicks into the websites fantasy football section and begins to read.
He goes on to read professional statistics. Anyone that has played fantasy football knows how ambiguous some of the trends reported can be:  how many interceptions Peyton Manning has thrown in the fourth quarter, on Thursday games, on the east coast while it is raining.
Winters tends to stay away from those. Rather, he looks at the true statistics of the game. He looks at last week's reported stats and the injury updates, what player might be a sleeper, which is a player who will perform well, but is not popular in other users' roster. He looks at offensive and defensive rankings, how many interceptions certain defenses have. Maybe, if he is lucky, one of the high performing athletes on his roster is up against a low ranked defense.

Only after Billy feels he knows all there is to know about the upcoming week in football will he draft his roster
and leave the rest to chance and his faith in the players he carefully selected.
Billy Winters has been an avid user of FanDuel since the beginning of this football season. FanDuel caught Billy's interest when he saw a family member using the iPhone app.
"I get to win money. Who doesn't like winning money," he said.
"In the beginning, all you need to do is fill in your name and age," he continued. "Obviously, you put your age as over eighteen."
That's where it gets tricky.

FanDuel, Draft Kings, and other daily fantasy sports providers restrict their users not only on location, but age as well. To sign up you are required to be in a legal state and above eighteen years of age.
Later, FanDuel requests that you verify your name, age, credit card number in addition to a picture of a valid ID, like a driver's license or passport.
"I was able to have a favor done for me by a sibling and I got an ID that would work," Winters said.
It's made obvious that there are some loopholes in the verification and sign up process, and they're no maze.
Billy Winters has discovered an interesting backdoor into the world of Daily fantasy Sports that has given him the opportunity to compete and earn money on a game-to-game basis.
"That is the thing I like most about playing," he said.  "I can become a millionaire overnight. There are endless possibilities."
The Industry
But, has anyone actually won big money on online betting?
According to the fantasy sports sites, yes.  
"We have had 20 winners of $1 million prizes," a FanDuel official said in a New York Times article.
The chances are slim, but it has been done.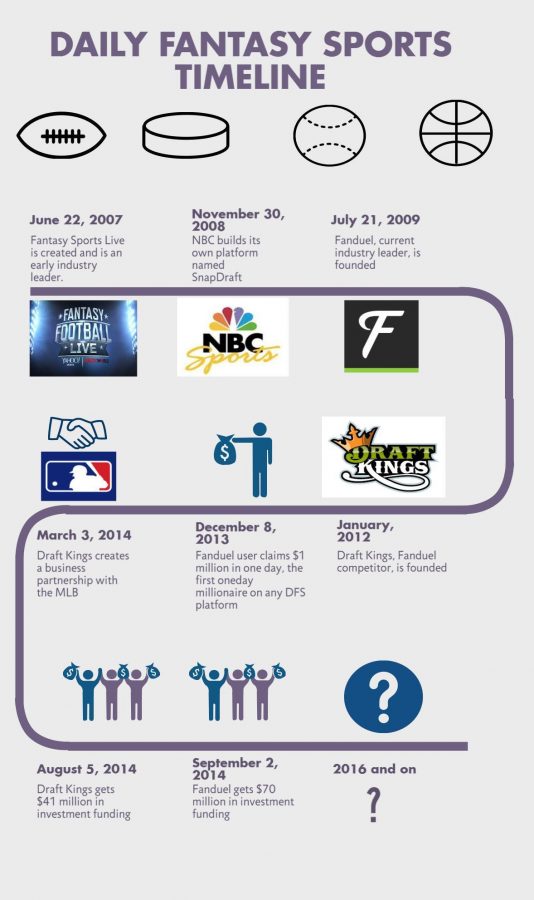 In 2013, a FanDuel user won $3 million after a simple running touchdown secured his lead.
Despite its million dollar payouts today, FanDuel had humble beginnings:
FanDuel began as a simple idea between five friends.
In 2009 they gathered in the backyard of a Texas home and began brainstorming. They talked in tee-shirts and jeans, a casual conversation.  They had no idea that their nonchalant, barefoot, snacking  "think-tank" would be capable of taking the sports world by storm. They never knew that their company would be capable of giving away hundreds of millions of dollars in prizes each year.
Several months later, three investors would give them a whopping $1.2 million of funding to get their business off the ground.
In 2011, they would receive $4 million; in 2013, $11 million; in 2014, $70 million.
By the start of 2016 they had received a total of $361.2 million from seven rounds of investment funding.
Draft Kings, on the other hand, has received $5.6 million of Series A. Since then it has compiled an additional $439.4 million.
Together, Draft Kings and FanDuel have spent a total of more than $200 million on advertising in 2015 for more than 9,000 total advertisements.
In 2014 both companies claimed revenues upwards of $30 million.
These are big companies we are talking about here.
Not only is FanDuel receiving revenue from deals with organizations like the MLB, but FanDuel has been able to pull in an average of $465 per fantasy user on the site. And according to New York Business Journal, FanDuel has upwards of one million users during the peak of the NFL season.
This is by no means a short term trend either. Some expectations for revenue from entry fees in 2020 soar to $31 billion
"Those two companies have raised more money in the past year than in the history of the fantasy sports industry combined," said Paul Charchian, president of the Fantasy Sports Trade Association to New York Business Journals.
The addiction
One question will forever surround companies like FanDuel and Draft Kings: is the million dollar industry an honest fantasy sports based model, or are they promoting illegal gambling through a game of chance?
Recent accusations tie Draft Kings to "insider trading," when a Draft Kings employee won $350,ooo on a fantasy site.
The New York times speaks of "allegations of insider trading" in several articles and cases where "employees were placing bets using information not generally available to the public", fraudulence.
"'Employees with access to this data are rigorously monitored by internal fraud control teams, and we have no evidence that anyone has misused it," Draft Kings and FanDuel said in a joint statement written in the New York Times;
Yet, the industry can't seem to shake the dark cloud of corruption looming overhead.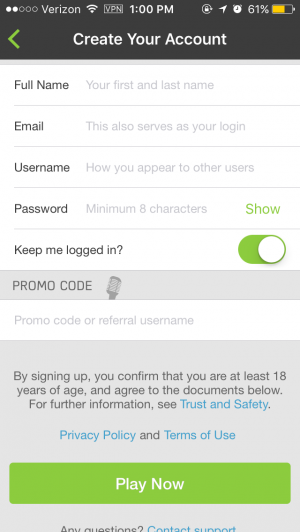 "I think DFS are a fun source of entertainment," Winters said. "I don't become addicted."  
Students at the high school, despite being below the required age for using apps such as FanDuel and DraftKings, believe that such programs are harmless and a means of recreation, rather than a plot so scam average sports fans out of wagers.
Under the Unlawful Internet Gambling Enforcement Act of 2006, these applications are NOT considered gambling. Very specific word choice excludes fantasy sports betting from falling under these laws.
According to the high school "gambling is intolerable." So even under the circumstance that an 18 year old high school student is placing bets on school property, this is still punishable by the school
"In the beginning all you need to do is fill in your name and age. Obviously you put it as over 18," Winters said.
There is no verification when signing up on these sites.
However, after several weeks of using the app, placing bets and hopefully winning money, the site will ask you to confirm your identity through a more strict process.
They may even require a government issued ID to fully ensure that you are above the legal age to claim and win the offered prizes
"Later on they might ask you to verify your identification," Winters said.
When Billy Winters came across the issue he came up with a unique solution. He asked his older brother if he could use his ID. Now, when Winters withdraws money from the app, it will head towards his brothers account and Billy will collect it from his brother if he decides to withdraw his earnings.
A quite simple solution to a seemingly large barrier.
This would suffice and allow his earnings to continue as the football season went on.
Winning in daily fantasy sports can be looked at in one of two ways. As a skillful achievement or a means of gambling behavior. That is why when high school students begin to play these games, the little grey area there is, becomes smaller.
"I think it means that I was smart enough and made the right decision."
A win to Billy Winters means that he is "better than someone else who had the same opportunity."
Billy does not view fantasy sports as gambling at all thanks to "the analytical part" of the competition.
"If that didn't exist it would just be blind guessing," he said.
"The "game of skill" argument rests on the idea that it takes talent—a deep understanding of the sport and the rosters, perhaps with the aid of statistics-filled spreadsheets—to consistently win money doing this, rather than chance, which would make it gambling," says a Fortune article about the controversial sites
According to Billy Winters,"blind guessing" is the line where entertainment and illegal split.
According to FanDuel: "Fantasy Sports is considered a game of skill and received a specific exemption from the 2006 Unlawful Internet Gambling Enforcement Act (UIGEA). Thanks to fantasy sports being specifically excluded from laws affecting online sports betting, FanDuel is not illegal in any way.
But of course the very company that supplies users with a means of betting defends the act
New York State, however continues their pursuit to outlaw such sports betting in the state.  Several other states have taken action against companies like FanDuel and Draft Kings.
In fact, the attorney general of Illinois recently released a statement as mentioned in the New York Times, that the daily fantasy sports industry "clearly constitutes gambling"
But, it gets bigger than that.
"The U.S. Justice Department and the Federal Bureau of Investigation are probing whether the business model of daily fantasy-sports operators violates federal law," according to The Wall Street Journal.
Still, industry leaders defend themselves by saying it is a game of skill, and not luck
"Most users are destined to lose over and over again," Fortune magazine said about the issue.
ESPN has even disallowed Draft Kings and FanDuel advertisements from being aired on their systems.
The scandalous and corrupt ways of these companies are not going unseen by the public. Yet, high school students, and adults alike continue to pour money into these sites.
With the black clouds above the industry, underage use of these games can be seen, not only as a legal issue, but a moral one as well.
_______________________________________________________
Demographic:
When you think fantasy sports you may think high school students, you may think of the average guy in a business league. The demographics may surprise you.
Daily fantasy sports are made up of 34 percent female and the average age of a user is 37 years old.
This statistic alone shows how small the population of high school students playing these games are.
The average player ends up spending $465 on games and bets annually, throughout all seasons of sports.
66% Male // 34% Female

Average Age: 37

College Degree or More: 57%

Have a household income of $75k+: 47%

Have full-time employment: 66%

Average Annual Spending Per Fantasy Player (age 18+): $465

Favorite Fantasy Sport: Football (73%)

Fantasy Sports Players that Pay League Fee: 60%
Leave a Comment