Baseball team aims for Toms River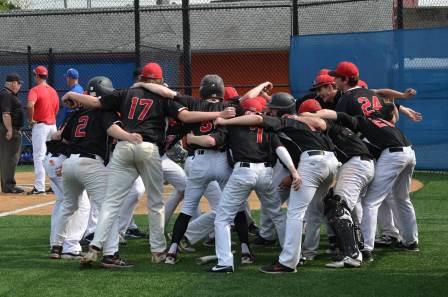 April 1 marks the first game of the 2016 baseball season, and the team could not be more excited.
Last season, the baseball team finished 14-10 and lost in the first round of playoffs to Dumont.
"I think we have some high expectations for this season," outfielder Max Felsenstein ('16) said.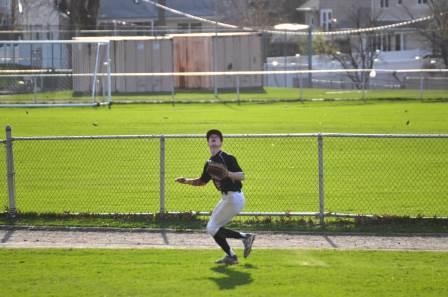 Head Coach William Crispino said the team's first goal this year will be to win the league, but they also hope to make a run in the Bergen County Tournament as well as the North 1 Group 2 state championship.
"I'm hoping we can make it to Toms River and bring a state championship back to Glen Rock," pitcher Jason Palmeri ('16) said.
Glen Rock will welcome six returning starters, with all six of those players touting batting averages of over .280 including Matt Lange ('16) and Felsenstein who both hit .468.
As a team, Glen Rock batted .357 with an on base percentage of .425 last year. However, these numbers are something Crispino thinks they can improve upon.
"I was pretty happy with our batting average. Our on base percentage could get a little bit better, drawing more walks, putting the ball in play more," Crispino said.
While there were many positive takeaways from last season, one of the negatives was the strikeout percentage. Something Crispino had stressed all season was the idea of putting together quality at bats and not wasting opportunities by striking out. Unfortunately, as a team, Glen Rock struck out 17 percent of its at bats.
"The most important thing we need to do is knowing our opponent better and knowing the pitchers that we are facing," Crispino said. "Nothing good comes out of strikeouts."
Glen Rock also has five returning pitchers who all pitched in at least one varsity game: Jason Palmeri ('16), Zach Waller ('16), Jeff Buckwalter ('16), Ryan Stolz ('16) and Noah Kastelman ('17). Their team ERA (earned run average) was 2.38, which is a solid number.
"I thought our pitching staff last year was great but there's always something you can do better," Palmeri said.
As a pitching staff last year Glen Rock's opponent batting average was nearly .300 which is a number Palmeri would like improve upon next year.
Throwing a first pitch strike was crucial for Glen Rock last year. After throwing a first pitch strike, 71 percent of those at bats led to an out being recorded. Another point of pride was throwing 63 percent strikes.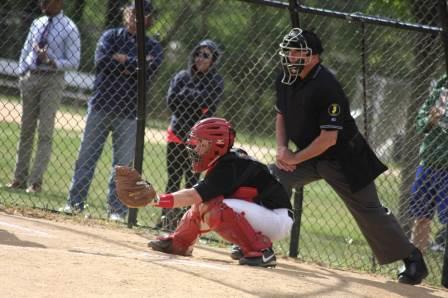 Felsenstein, Palmeri and Lange, and senior Catcher John Scandale are all committed to play Division III baseball next year. Felsenstein and Lange are committed to Drew University while Palmeri is committed to Rutgers Newark and Scandale recently committed to Kenyon College. Already having four college commits, Glen Rock has a solid foundation for the season.
"We have three or four guys going on to the next level but we also have other guys who are capable but opted not to," Felsenstein said. "It's certainly something that will contribute to success."
Glen Rock has twelve returning seniors. Crispino explained how the seniors on the team this year are all natural leaders. He is also excited about them being good role models to the younger players. Crispino then emphasized how he loved the fact that most of the seniors play other sports so they are now 'battle tested.'
Team chemistry is important for any team, and Crispino stated how having such great team chemistry in this class will be an advantage going into the year.
The team will be tested early; in the first seven games, Glen Rock plays Pompton Lakes, River Dell, Dumont and Jefferson.
Last year, Jefferson was the four seed in states and this looks to be a tough game in which Glen Rock hopes to gain power points. The game against River Dell will also provide an early challenge as The Bergen Record predicted River Dell to go to the semi-finals in the county tournament and Glen Rock is looking to avenge a loss in extra innings last season.
Dumont will also prove to be a big game as it was the team to take Glen Rock out of the state playoffs last season.
The team's schedule is built to get them a lot of power points and quickly as an effort to hopefully get a better seed in counties. To be guaranteed a bid into the county tournament it will need to win ten of their first fifteen games. However having a win percentage of over .500 will also give them a decent chance of getting into the tournament.
Felsenstein, Palmeri and Crispino all emphasized how their end goal is to win a state championship. It would be Glen Rock's first baseball state championship since 1999.
"There's a certain atmosphere this year that if we don't win, that this season was a failure," Felsenstein said.