Lacrosse player advances from Panther to Thoroughbred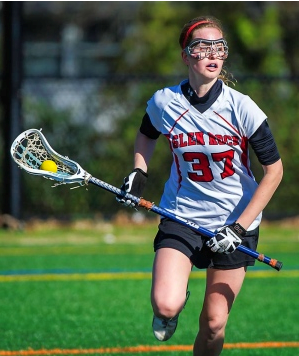 Earlier this school year, senior McKensie Dill verbally committed to play women's lacrosse at Skidmore College in Saratoga Springs, NY.  Skidmore has a Division III program that finished second in the Liberty League with a 13-5 record last season.
It was a long recruiting process for Dill.  Recruiting began during her freshman year, since women's lacrosse generally begins recruiting earlier than most other college sports. Finding the right fit can be very difficult for many young athletes, but Skidmore College has been on Dill's radar since freshmen year.
"I had a long list with tons of schools on it and, as time went on, the list became smaller as I started to reject some school's offers, but Skidmore was on my list the entire time and that's where I feel at home," Dill said. "The coach said I was a great fit both athletically and academically and that's what I like to hear.
"The recruiting process was very long and stressful and I am glad it's over because I truly feel like I made the right choice. I am comfortable with all of the coaches and everything just feels right," Dill said.
Dill is a defender on the Glen Rock High School girl's lacrosse team that has only been a varsity program for 12 years, but it is on the rise under Dill's wing.
According to her teammates, Dill serves as a role model for the program.
"On the field, she's always positive, always energetic, and a great role model for younger lacrosse players. She always keeps a level head and is always looked up to as a leader, even as a freshman," senior teammate Maddy Doubet said.
Doubet is not the only one to recognize Dill's leadership qualities as she has been named co-captain along with fellow senior Killeen McDonald going into the 2016 spring season.
"I know she is going to be a great captain. She's enthusiastic, motivating, and I know I can always look to her for support on and off the field," senior co-captain Killeen McDonald said.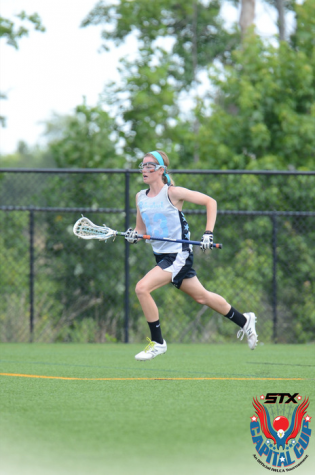 This came after Dill's strong junior campaign that saw her pick up 49 groundballs and score 4 goals, as a defender en route to win All-American Central Division honors and a selection on the All-Bergen County 1st team.
"It's not all about being an all-star. She cares about the team like we're a family. She organizes team dinners and fundraisers and is always willing to take the extra step for our team," Doubet said.
Dill works hard to become a better player and person each and everyday, and her other teammates have noticed.
"She's a natural born athlete and a natural born leader who goes to work and comes prepared 100% of the time, and I know that if we asked for more than 100% she'd give that, too," senior teammate Fiona Higgins said.
Two summers ago, Dill played for Metro Lacrosse Blue, a club team which plays in the metropolitan area. This past summer, Dill played for Tri-State Lacrosse Black, which was an important switch because that is where she felt most comfortable and where she thought she could perform her best.
Playing for Tri-State Lacrosse gave Dill the exposure she needed to be seen by college coaches and to be recruited by the schools that she was really interested in.
"I was looking for a small liberal arts college where I think I can make an impact right away and that's what Skidmore provided me," Dill said. "It was hard but I had to turn down larger schools."
Before Dill takes her talents to Saratoga Springs, NY to play for the Thoroughbreds she has one more item on her agenda for the Panthers, though.
"Glen Rock is in store for our second straight league title this season and we'll build from there," Dill said. "I'm looking for a second banner in the gym."