Like nobody's watching
The dance studio has six rooms, each of a different color. Four of those rooms are big, spacious for dancing and leaping, while two others are smaller. There is a main building where the art takes place. There is a cooking studio in between two buildings. This is where Valerie Stewart learned to dance, a passion of hers for as long as she can remember.
Stewart can be identified by her long brown hair and stunning blue eyes. She wears glasses, and she is athletic and lean. Students commonly see her carrying her pink backpack through the sophomore hallways talking to her friends.
But Stewart is also, behind the scenes, the most passionate dancer anyone will encounter.
Complementary to Stewart, as if their talents are accentuated by the other, is Kaylie Ernst. One of Stewart's best friends, she is also a very passionate dancer. She wears sweatpants and a bright pink sweater to match. Her hair is typically in a simple braid. She is outgoing and loves to be a part of her dancing community. Ernst can be found doing splits in the dance studio or as a base on the winter varsity cheerleading team and also the high school girls softball team.
Stewart and Ernst are able to balance heavy loads of homework, studying, and maintaining an active social life with their dance classes. Stewart describes herself as a pretty organized person. This characteristic helps her to balance everything everyday.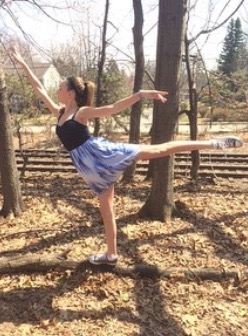 Both of the high school girls go to dance to escape the everyday stress they face. Stewart describes dance "a great escape for someone who has a lot of stress in their life," and that it "really is a way to let go and express how you are feeling without words."
Using movements to express how one feels or tell the perfect story is really important to the two Glen Rock High School sophomore and freshmen. There are many types out dance out there and the girls are happy and willing to do any dance that is put in front of them. Although they are excited to do any dance, they each have a favorite style.
Ernst is most passionate about hip-hop dance while Stewart loves contemporary. Hip-hop is a style of dance that refers to street dancing and has a mix of pop culture with it. Contemporary is also a style of dance that involves strong dancers and blends modern jazz and classical dance and ballet together.
Another freshman student, Emily Pensec, enjoys hip-hop as well because "it's a good exercise." Pensec has medium-length dark brown hair and deep brown eyes. She has large hands and skinny arms.
Unlike Stewart and Ernst, though, Pensec quit dance. It's not that she didn't have the passion, she says, but she became disinterested. She loved dance for the time she did it. Pensec mainly focused on a type of dance called jazz, which jazz  is a classification shared by a broad range of dance styles. Before the 1950s, jazz dance referred to dance styles that originated from African American dances.
"I am too busy to dance with all the tweeting and Netflix watching I have to do," Pensec says with a smile, always taking the opportunity to crack jokes. Pensec now does softball with the high school team.
Stewart and Ernst, though, clearly have a passion for dance. Stewart's mom admires her dedication to dance and used to be an avid dancer herself,
"From a mom's perspective, I think dance has impacted Valerie in a very positive way," Stewart's mother says. "She sees the value in pushing her limits, working hard, and dedicating her time and energy to the beautiful art of dance."
Mrs. Stewart also was involved in dance when she was younger. She studied acting, dance, and vocal music at the University of Southern California School of Cinema and Television. "After college, I followed my passion to pursue a career in the performing arts until I was ready to start a family," she says.
Mrs. Stewart was talented in the arts and had the same passion as her daughter, Valerie loves to see that in her.
With all that dance has done for them, the girls give credit to the important people that have helped to inspire and influence them in the world of dance. Ernst was mainly influenced by her dance teacher who continues to make dance, as Ernst says, "such as a great experience."
Stewart is influenced by Maddie Ziegler. Ziegler is a star on the show "Dance Moms" and was featured in two music videos (Chandelier and Elastic Heart) with Sia, a famous pop singer. Ziegler has performed at the televised 57th Grammy Awards and was on the Ellen Show and the popular Disney show Austin and Ally as a guest star.
Stewart is impressed by Ziegler's flexibility and skills.
Pensec also is a fan of Ziegler. Pensec's claim to fame is that she is "the Maddie Ziegler of her time." Ziegler, 13, is the younger of the two.
Parents Kurt and Melissa Ziegler continue to support Maddie and her younger sister Mackenzie. Her family is supportive of them pursuing a career in dance, with the help Abby Lee Miller.
Stewart's and Ernst's families are just as supportive.
Yet if they really want to be successful, they need experience. Stewart has been dancing since she was five years old, Ernst was three and Pensec was four. Although they already have years of experience behind them, the teenage years require intense dedication.
Stewart practices dance Tuesday, Wednesday, and Saturday and Ernst practices dance every day Tuesday, Thursday, Saturday and Sunday. They each spend about 3 hours stretching and dancing, whether it is in their bedrooms or living room.
Stewart mostly practices in her room, which is the perfect place for it. Her bedroom is a quiet place with a big mirror and bright blue walls. There is a simple white desk with expo markers to write notes on her mirror for inspiration.  Lights are around her bed and the carpet is soft. This is where she makes up dances.
"
Through the art of dance, she has found a love for art, beauty, and movement."
— Mrs. Stewart
Stewart's dance studio sometimes gives the students an opportunity to create their own dances and it's something she looks forward to.
In order to practice this often the girls need to be on top of everything: hey need to keep up with heavy loads of schoolwork, jobs such as babysitting, family events, other sports and clubs, and an active social life with their peers. Mrs. Stewart is always impressed with the fact that Valerie can handle all of these things along with giving 100% effort to dance all the time.
"Dance helps Valerie in so many ways. Through the art of dance, she has found a love for art, beauty, and movement. She respects her body and treats it well by eating right and sleeping enough hours. She has learned that hard work, commitment, and dedication is important for achieving a goal," Mrs. Stewart said.
As Mrs. Stewart mentioned, dancers need to stay fit and healthy to do their absolute best. This is why the girls eat healthy foods and stay active. Pensec says dance kept her active and doing something instead of sitting on the couch, eating chips.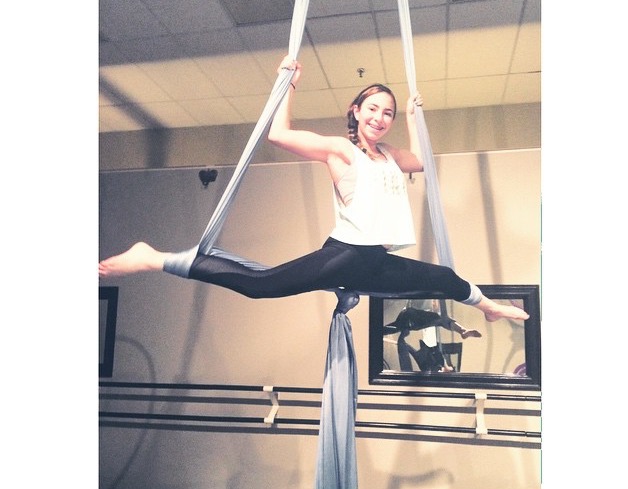 Even though a great dancer is ready and able to perform almost any dance, all the girls have a special field. For instance, Ernst is very good at the silks in her dance studio. The silks are used to fly in the air and practice the various poses, as they are better known as aerial silks. They also have things that they want to learn to improve on, such as aerials (an in-the-air cartwheel) and splits.
Stewart has had some rough spots in her dancing lifestyle. It can be hard to to make it to a professional level and to keep pursuing your dreams and goals. Stewart has come so far in her dancing since she first started back in her kindergarten days. According to Mrs. Stewart, "I've never seen her happier as when she lands a perfect triple pirouette!" A triple pirouette is a ballet move and is a turn a step close to the full and is very hard to do.
One of Stewart's best moments was when she got her left split down to the ground because that meant she would get to be one of the leads in the performance.
"
I wish I could become a better dancer because I just want to be the best that I can be all the time and keep learning new skills as often as possible and dance is incredibly special to me because I do it all the time."
— Kaylie Ernst
Valerie Stewart continues to practice her splits in her living room. Her living room has wooden floors, a tall ceiling, an open floor plan and bright lights. She practices her dance here and makes up dances with her friends, too.
Stewart and her friends use dance as an escape to get away from the everyday stresses they may face such as at school. Dance is a great way to de-stress and to relax. The girls love how one can express or show a story with a lack of words and using movement.
According to Valerie, dance is also "a way to weave your real life with your dance life," so a person can tell a story about what happened in her real life.
"I wish I could become a better dancer because I just want to be the best that I can be all the time and keep learning new skills as often as possible and dance is incredibly special to me because I do it all the time," Ernst said.
All of the girls are trying to be better dancers and performers throughout their high school years because, for all they know, they might have a career in the arts.
Stewart wants to prove to her dance teachers that she can do anything she sets her mind to.
Pensec, on the other hand, enjoyed dance in the past but softball has become such a big part of her life today.
"Once a dancer, always a dancer. Even though my skills aren't where they were in my teens and twenties, I still take pilates and yoga to keep my dancer strength and flexibility. And whenever a song comes on Pandora that makes me feel like dancing, I go for it," Mrs. Stewart said.
For the girls, they each said: "Dance like nobody is watching."
About the Writer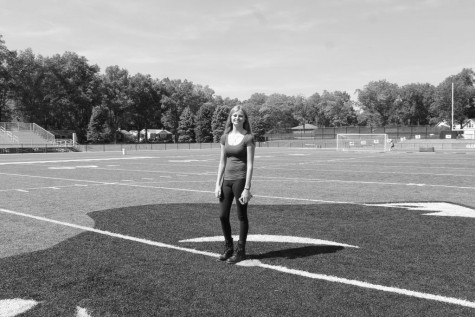 Olivia Lorenzo, Senior Staff Writer
Olivia Lorenzo, a sophomore, loves food. Olivia rides horses. She spends her weekends watching netflix. This is her second year in journalism.  Email...