From the P.E. Department to the Police Department
A goodbye to the beloved physical education and driver's ed. teacher, Mr. Karcher.
Glen Rock's District Teacher of the Year, Mr. Karcher, is leaving the teaching profession, officially making the transition from a Glen Rock High School physical education teacher to a police officer on Wednesday, September 18th.
Mr. Karcher has taught physical education in the Glen Rock School District for seven years, and he recently took a moment to reflect on his teaching years and discuss the new chapter of his life.
Mr. Karcher has always been interested in becoming a police officer.  He said that "the ability to help people every day from kids, to adults, to senior citizens" was appealing as a career choice.
His family is very supportive on his decision to become a policeman. In particular, his father is enthused: his family comes from a police background. Equally supportive, his mother said, "Do what makes you happy, but I want you to be safe."
Mr. Karcher will train for six months at the Essex County Police Academy in Cedar Grove.  "I'm very excited to start the academy.  I am lucky to have the opportunity to do different jobs in my lifetime that I think I'll love," Mr. Karcher said.
On September 20th, he will officially be sworn in as a police offer at village hall. And after his six months of training, he will be a policeman in Ridgewood, NJ.
"I met a lot of inspirational teachers, supportive parents and talented students along the way," said Mr. Karcher.
Mr. Karcher will miss teaching new classes and coaching teams each year, and he also will miss the consistency of the same schedule every day. Police officers don't have many days off or an everyday schedule to follow. They work during the nights, into holidays, and throughout the entire summer (when teachers typically have off). Mr. Karcher won't miss lesson planning on the weekends, however.
He said that he hopes to be a police officer until he retires. He plans of volunteering as a coach on his days off and going back to teaching when he retires from law enforcement.
Mr. Karcher has been one of Glen Rock's favorite teachers and will always be remembered by his caring and knowledgeable personality.  Before coming to Glen Rock High School, he taught at Richard E. Byrd Elementary School. Many of his current students also had him back in 2006 and were lucky enough to have him again.
"Seeing him leave is going to be hard after spending my elementary school years and the eighth grade field trip with him. I'm happy that he is pursuing his dream, and I'm sure he knows he will be missed here at Glen Rock High School," Byrd School Alumni and current Glen Rock High School student, Juliana Roddy said.
Mr. Karcher was also very involved with the extra-curricular activities. He coached the Glen Rock High School wrestling team and assisted with the girl's golf team. "I'm going to miss Mr. Karcher so much. He is like a second dad to me," GRHS wrestler Jack Boscoe said.
We here at Glen Rock High School wish him an exciting, safe, and successful journey as he continues on to the next chapter of his life. With his work ethic and caring personality, those of us who know him as Glen Rock High School's District Teacher of the Year (2013) would certainly not be surprised if he one day became Ridgewood's Police Officer of the Year.
View Comments (1)
About the Contributor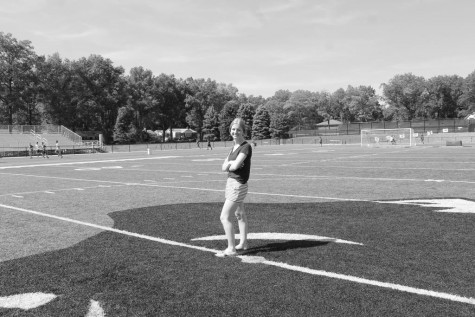 Lilia Wood, Editor-in-Chief
Lilia Wood is the Editor-in-Chief and this is her fourth year working on the newspaper. After she graduates, she plans to study journalism and pursue...