Glen Rock High School's French Club visits the Van Gogh Exhibit in New York City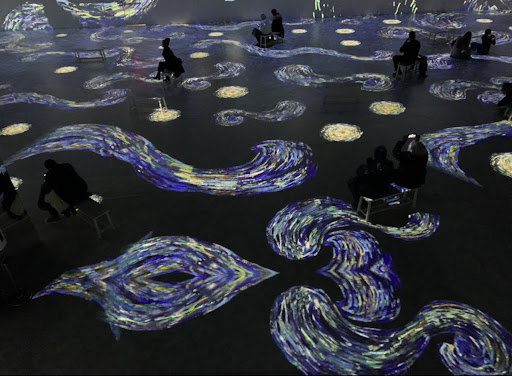 The Glen Rock High School French Club visited New York City on Dec. 14 to see the Van Gogh Immersive Exhibit. They left early in the morning and arrived at the exhibit before lunch. It was filled with van Gogh's best works, and classic french songs. The club made its way over to the Essex market for lunch, and ended the day heading back to Glen rock.
The Van Gogh exhibit taught the club about influential French pieces. Van Gogh is normally associated with French culture, even though he was born in the Netherlands.Famous pieces such as "Starry Night", "Bedroom in Arles", and "Irises" were featured in the exhibit. His famed self portraits, and sunflowers were featured as well.
The exhibit was created by Massimiliano Siccardi who has been working on immersive exhibits in Europe for thirty years. With the intent of people who view the exhibit to "step inside" van Gogh's most acclaimed pieces.
The French Club was the first club to visit New York City this year. Dr. Susan Alswang, French teacher, and French club supervisor had high hopes going into the trip. Her intentions were to show this wonderful exhibit and how it relates to French culture.
Alswang stated, "Van Gogh is not French, but he spent the majority of his life in Arles, and that's where he did the majority of his painting, and what's so incredible is that he died penniless, and now his paintings go for a fortune"
Alswang also mentions how it was a wonderful experience for the kids.
"The kids were having a ball because they could stand and take pictures, and make videos according to the music and the paintings."
There were concerns going into the city with the club, considering it was the first trip this year. It ended up being a near perfect day, with wonderful art to enjoy, beautiful weather, and a new experience for the entirety of the club to enjoy.