How the 2020 fall sports seasons were affected by Covid-19: Girls Soccer and Boys Soccer
The upbringing of COVID-19 throughout the year 2020 has no doubt caused many adjustments and alterations to be made to certain entities, but one distinguished change that was brought about was the high school fall sports season. Within the previous summer season, New Jersey Governor Phil Murphy announced that high school fall sports could commence under certain rules and regulations to help prevent the spread of Covid-19. Different sports called for different procedures, but overall, every coach and athlete found themselves to adapt to a new sense of reality, at least for this season. According to the fall coaches of Glen Rock High School, all sports endured many challenges and obstacles throughout the season, but it didn't stop most of them from achieving many of their pre-season goals. Here are two sports: Girls and Boys Soccer, and their stories on how Covid-19 positively and negatively affected their seasons.
Girls Soccer and Boys Soccer
Another sport that seemed reluctant to have a season due to the difficulty maintaining social distancing and other safety precautions was soccer. The sport, classified as a high-contact activity, certainly saw various adjustments to how practices, games, and gatherings proceed but nonetheless, they were able successfully complete their season and make some memories along the way.
Though there are many different levels of high school soccer, Varsity, Junior Varsity, Freshman, and Girls and Boys, they all major similarities when it comes to the season in general. During the preseason, athletes had to show up wearing masks and maintaining social distancing while their temperature's were being taken. On the field, drills were permitted six feet apart and equipment was not to be utilized until the beginning of the season. Masks were worn when not on the field such as when walking to and from the bench during competitions and practices. Later on, for the girls team, the athletes received their own pinnies, and coaches would sanitize balls and cones after practice.
Junior Varsity Girls Soccer coach Ashley Yancy said, "It was a process."
Once the actual season began, all soccer athletes were in their own seats on the buses to away games (and when this was not possible due to numbers, they were properly spaced out, masks were worn on the buses at all times, and windows were kept open). Masks were worn on the bench during games, and the statements read by referees before games were now read to each team individually. Unfortunately, there was no longer any hand shaking after games to show good sportsmanship, but a wave from across the field. It was a lot of work, but I'm proud of how everyone involved followed these protective measures.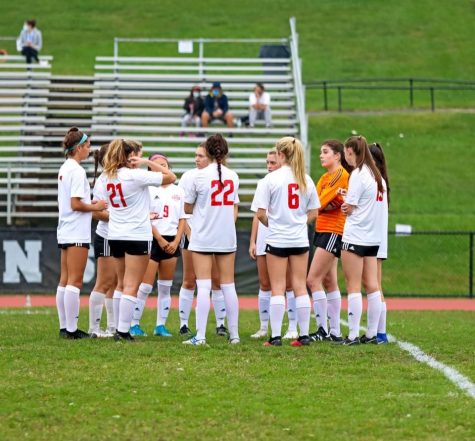 "After we adjusted to these new preventive measures, everyone was very good at following them," said Junior Varsity soccer coach Brian Weinberg. 
Fortunately, in terms of competition, there were no limits to how many people could view the games in person; however, masks and social distancing must have occurred. This came in good merits as many people became interested in the varsity and junior varsity end season competitions. 
"From my part, everyone in the audience was following the rules they needed to follow, while enjoying the essence of the game," said Varsity boys soccer coach Casey Schick.
Though the premise of the season was to try to enact normalcy as much as they can, it did get difficult as various girls and boys had to quarantine due to exposure of COVID-19. But nevertheless, they persevered and all soccer teams were able to complete their season.
Varsity Girls coach Steve Grenz said, "We had some turbulence; I don't think as much as other teams or schools, but we managed."
Despite some obstacles, all teams made sure to incorporate some acts of normalcy to make the athletes content and up the motivation and devotion. One of these acts that occurred on the girls side was Senior Day. 
"We made sure our seniors still received their Senior Day outside, honoring them with posters made by underclassmen that were placed six feet apart. We were able to get each family to take a photo with their senior, socially distanced from others," said Yancy, "Our lovely parents have done wonderful things throughout the season to support the girls and build team spirit."
As for competitions, all teams suffered some form of cancellations or postponement due to COVID-19. On the boys side, certain Bergen County tournaments that the Junior Varsity team normally participates in were cancelled which was unfortunate because it meant that they had to play many schools that they normally don't play.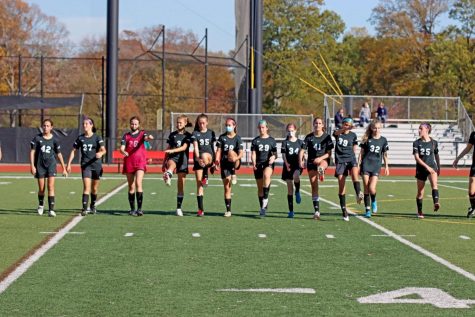 "The competition was new so we played many towns that we normally do not play each year," said Weinberg. 
On the girls side, there was some brief unexpected turmoil with the postponement and cancellations of games, but they managed to verse and play all the teams they were expected to.
Fortunately, all the teams did not endure such drastic changes to their rosters when people had to quarantine; most of the team athletes remained healthy and fit the whole season. 
"Thankfully, our team remained healthy and safe for the season! Coach Grenz and I commend players and families for their efforts in helping to make this happen," said Yancy.
With that, they managed to take the advantage they had of a full and stable roster to their advantage on the field. The varsity girls team came close to an undefeated season; the junior varsity team managed to complete a full undefeated season! For the boys, the junior varsity finished with a 5-3-2 season and the varsity team went 8-3-3. Overall, coaches credit their players determination and dexterity to the sport as a determining factor in their successes.