Glen Rock's political shift
In the 2020 presidential election, residents of Glen Rock are more likely to vote for Democrat Joe Biden than Republican Donald Trump. However, the Glen Rock electorate did not always follow this voting pattern. Between 1960-1992, Glen Rock voted for the Republican presidential candidate each time. The Borough has voted for the Democratic presidential candidate in all elections since.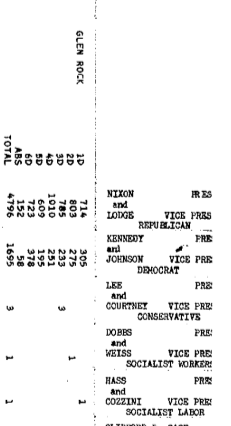 This fact begs the question: What led to this shift in voting? 
Between 1990 and 2000, Glen Rock went through a demographic shift. According to the 2000 Census, 43.8% of Glen Rock residents had children under 18, a 7% increase from 1990. This number went up even further in 2010 to 46.3%. 
Kathleen Walter, a Glen Rock resident of 24 years, a Glen Rock High School history teacher of 14 years and the newly appointed Borough Historian, thinks an increase in the youth population has contributed to the shift.
"It's actually very, very typical to see a lot of young kids who are liberal, because you usually start out liberal when you're a young kid, and then you go a little bit more conservative as you earn your money," Walter said. 
Walter has also seen more engagement in the student population.
"Students are more active than they ever have been, which is terrific," Walter said. "That makes my heart so happy that students are more active."
Another cause for this change in voting could be Borough income. In 1990, the median income in Glen Rock was $65,976 (adjusted to $86,924 for 2000 inflation), compared to $104,192 in 2000. While Walter mentioned how people can become more conservative as they earn more money, this financial increase can be contributed to a more educated population, which tends to vote Democratic. In the 1996 Election, voters with Postgraduate degrees supported Democrat Bill Clinton 52-40. 
Even with this shift in demographics, Walter believes Glen Rock voters think hard about the people they are voting for.
"The nice thing is that Glen Rock does not do column voting, they don't do straight party voting, which I appreciate," Walter said. "To me, that means Glen Rocker's are looking seriously at all the candidates and considering the candidates rather than the parties."
A third change in Glen Rock was the amount of housing units. According to the 1990 Census Glen Rock had 3,963 units, while the 2000 Census showed Glen Rock with 4,024. This increase in over 60 housing units demonstrates further growth in the younger population, as most people move into Glen Rock for the school system. 
Shifting to current day, Glen Rock is heavily Democratic. The mayor and six council members are all Democrats.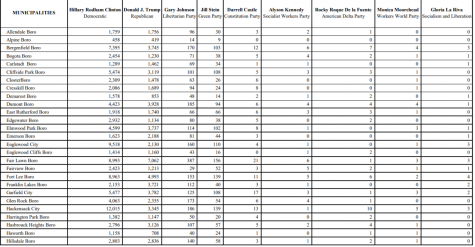 With the upcoming 2020 election, Walter thinks Borough political discussion can get hostile, partly because of Glen Rockers, an unofficial town Facebook page. 
"I think the political discussion today is very different because of social media, and Glen Rockers is one of the more interesting places," Walter said. "So it makes me a little bit sad there's sometimes not the nicest tone on Glen Rockers, and I don't think that's the spirit of Glen Rock people as a whole."
While the future of Glen Rock politics is unknown, Walter hopes everyone continues to exercise their right to vote.
"I think everybody should have the right to participate, I think it's their duty as a citizen," Walter said. "So I'm hoping that voter participation continues to grow."
Leave a Comment
About the Contributor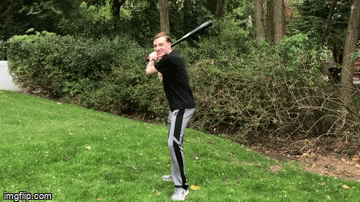 Andrew Kastelman, Co-Editor-in-Chief
Andrew is a senior at Glen Rock High School and this is his third year writing for The Glen Echo. Andrew enjoys spending time with friends, playing baseball,...