Meet the President of Newark's youth office
She got involved in the community for fun, after volunteering and attending events in Newark that she'd heard about.  The director of the mayor's office, Shakira McKnight, spotted her at these events they'd both be at, and recruited her to join NWK Youth College Affairs.
McKnight developed a mentoring relationship with Kegler. She took Fajr under her wing, and took her around to some of the other events and gatherings in the area. By taking Fajr to some of the larger events, she would be able to get her name and face out there, and make connections.
As this relationship progressed, McKnight started to see potential in Fajr, and volunteered her to run for President of Newark Youth College Affairs. "Now I'm the first President in the first Youth board of elected officials for the city of Newark," Kegler said. This will be her third year being affiliated with the office, and she is regarded as one of its founding members.
"
Now I'm the first President in the first Youth board of elected officials for the city of Newark"
— Fajr Kegler
As President of Newark Youth College Affairs, she takes on a larger role than her other friends in the group. They meet every Friday to discuss plans for the week, and future projects. While she attends these meetings, she also takes on a project management role. "I organize a group of young people and together we host events and workshops, provide resources to those in need, and build proper work ethic and leadership skills," Kegler said.
Certain events are left for her to organize by herself, while others are coordinated by her, the Vice-President Quinton Smith, or the rest of the NWK YCA members.
The "Black History Meets Black Future" event was technically coordinated by the whole group, but Kegler devoted a considerable amount of her personal time to make sure everything was done on time. The event was last minute, so only two to three weeks could be spent putting it together.
Coordinating events and workshops require board meetings at least twice a week, usually on Monday and Friday. Though she is only 17 years old, Kegler hosts these meetings herself. She plans out the format, meeting place, and agenda, so she knows what she wants to discuss and get done during the meeting. She makes sure to invite the Vice-President, secretary, and treasurer of NWK YCA to these meetings so they can be as effective as possible, and the events can get done quickly and professionally.
"Being that I have the head role, a lot of the decision making comes down to me like location, preference, time frames, and things of that nature when it comes to meeting to aim towards a bigger goal," Kegler said.
She got the idea for the Black History event, because she wanted to make Newark youth aware of their history and art.
Once she came up with the idea, she introduced it to the rest of the group, and together they started developing a plan. They started thinking of what type of venue they wanted and who they'd have perform.
Venues are usually chosen by familiarity among the group. Many of the kids in NWK Youth & College Affairs are familiar with event spaces, as they might've gone to a sweet 16 there, or attended a program there previously. Kegler takes these recommendations into consideration, and if she feels they are right for the event she is trying to host, she books it. If the group cannot think of a venue, Kegler consults McKnight and she will provide event locations she's had experience with, or heard about. In the rare case that these options don't suffice, she goes to Newark Housing Authority, and they provide her with a list of potential locations.
Once the venue was secured, Kegler started to look for performers for the Black History event. Thankfully, because she is an artist herself, acting and performing poetry, it wasn't hard to find talent for the event. Most of the performers were booked through word of mouth, so Kegler didn't have to audition talent. Being a young artist wasn't only convenient, but it also allowed her to accomplish the vision she had for the event. She was looking to hold a "for youth by youth" event, and did just that by reaching out to the young performers she knew.
"
Kegler was able to book the mayor of Newark, Ras Baraka, to attend the event. He made a speech about the importance of Black History, and even gave a little history lesson for the citizens attending the event. He also performed a poem he wrote, joking that this is what he does when he's not in his office. Baraka leaned over the podium in his navy blue suit, carefully gripping the mic and reciting his poem. The previously buzzing crowd quickly fell silent, amazed by the robust yet eloquent delivery of his words. His carefully crafted beats and stanzas made for a passionate performance.
While everyone else was impressed with the mayor attending the performance, Kegler just seems him as a regular guy. "We see each other on a daily basis because our office is located in city hall. He comes to leadership meetings, he's a very youth forward person, he loves the youth," she said coolly. "To get the mayor wasn't that hard, we were able to speak to him directly and ask him about it. As far as booking his time, we had to go through his secretary."
Though the schedule of the event ended up getting rearranged last minute, and the timeline was moved around, Kegler was happy with the turn out. Her vision for the event was to gather the people of Newark to showcase the talent of the youth, and exhibit the beauty of black history and art. Getting this message across was especially important to her because Newark is a "Renaissance City." Kegler says that the concept and purpose she had in mind, "came through fully."
In the future, she would love to hold a woman's history event. But for right now, the group is working on holding a teen party with a 90s theme. Kegler believes that the "serious" events they've been hosting are important, but ultimately wants to attract teens with a more lighthearted and playful event. She wants to show other Newark youth that NWK Youth & College Affairs isn't only for boring kids. By throwing this party the office hopes to get the word out to join the group.
With holding meetings, coordinating and attending different events around the city, her schedule gets overwhelming at times. A week in the life of Fajr entails a cycle of going to school and meetings. On Mondays, she attends school, and leaves immediately after to attend a two hour board meeting. Once this meeting is done she has to go to her acting class, go home, and do homework. Other pop ups during the week include performances, poetry competitions, doctors appointments, and Newark student union meetings. Her only free day is Tuesday. She has recently started a planner to keep up with all of tasks she needs to attend to during the week.
Though getting involved with the city leaves her schedule booked, Kegler is glad that she has taken a role in the community. She never saw herself gravitating towards community organizing, and was surprised at the fulfillment that came with it.
"
You know that it's limitless—the amount of things you are able to do"
— Fajr Kegler
"It feels great to know you can accomplish something huge. Most kids think about a project like a school project, a slideshow presentation, a poster, a speech at most. When I think of a project I think of a movie, an event, or a gala that can include 10's, 20's, 50's of people," Kegler said. "Knowing you can put together a project no matter the size and it actually works, it gives you a sense of confidence. You know that it's limitless—the amount of things you are able to do. You can be satisfied with your abilities."
View Comments (1)
About the Contributor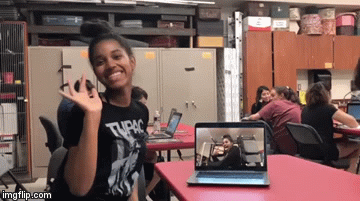 Isis Kirkland, Editor-in-Chief
Isis Kirkland is a senior at Glen Rock High School. This is her fourth and final year writing for The Glen Echo. In her free time, she enjoys writing,...