Hockey team improves over the season as new coach continues success of the program
The Glen Rock High School hockey team came out of the gate very slow after losing many key seniors from last years great run, coming up short of another state championship. This years team was looked down upon by many. Nobody believed that this year's team could recreate the success of the legendary team before them.
The 2017-18 Glen Rock hockey team reached great heights, as they reached the New Jersey State semi-finals in a devastating loss to Summit. Many seniors had graduated from the teams that had won a State title and reached the semi-finals in back to back seasons.
This years had a mix of Senior experience along with quite a few new faces. Glen Rock had a new coach named Dean Portas. Coach Portas was previously with Ramsey and Northern Highlands and won state championships in both previous destinations.
When Portas was the head coach of Ramsey in 2016 they defeated Glen Rock in the Public B State Championship. In 2018 as an assistant at Northern Highlands he won another state championship.. There was no doubt the Portas was the right choice for the job as he had many State championships under his belt.
Glen Rock started off the season 1-4 in their first five games which is never how any team wants to start the season. Glen Rock opened up the season against Wall, who Glen defeated 2 years ago in the State Championship. Glen Rock sophomore forward Ryan Leblanc said, "We knew Wall was gonna be a hard first game and that they would want revenge from the state finals a few years back."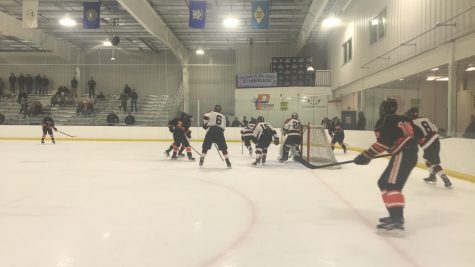 The Panthers defeated Wall by a score of 5-2. Glen Rock was unhappy on how they started and also upset on how the first five games went. Glen Rock new they needed to step it up if they wanted to go anywhere with there season.
Glen Rock really turned it around after the first five games of the season. They went 9 straight games without a loss. They had 6 wins and 3 ties in those games. Glen Rock needed to go on a run if they wanted to play late in the season and they did just that. Sophomore forward Anthony Maurice explained, "we knew that we needed to start to pick it up if we wanted to go anywhere this season and it took us a little but we figured it out".
One of the best games of the season that Glen Rock played was during that stretch. Glen Rock faced off against Mahwah on a Sunday night at the Ice Vault.  Mahwah was really hot coming into that game as one of the hottest teams around and they most likely had the best player at the time. Kevin Johnson came into the game that was mid season with about 30 goals which is a crazy amount for only halfway through the season.  However, Glen Rock defeated Mahwah 3-0 and gave a lot of confidence to Glen the rest of the season.
Sophomore Goaltender Mack Alvino said "It was a battle; it was a grind, we didn't start the way we wanted but Leblanc got a big goal when we needed it to take the lead". Alvino also mentioned that sophomore forward Ryan Leblanc was always there to give the team a big goal when they needed it.
In the first round of the state tournament, the hockey team rolled past Mountain Lakes 4-0, looking sharp and ready to make a run in the tournament that they have had plenty of success in the previous years. But the road ahead was tough for the Panthers, as they had to face off number 3 seeded Lakeland in the second round.
Going into the 3rd period, Glen Rock was only down 1-0, but two goals from forward Bobby Wogisch propelled Lakeland to a 3-1 victory. The Panthers had given it their all and played a tough last game of the season, put they were unable to pull out a win over  powerhouse Lakeland Regional.
This season was not expected to be a special one for the hockey team. Even though they didn't end up getting as far as they would have liked, it turned out to be one that exceeded expectations. Glen Rock has some promising underclassmen, which include the likes of Juniors Aidan Mountain and Tate Whalen, as well as Sophomores Anthony Maurice, Mack Alvino, Ryan LeBlanc, and Alex Vicinanza. Next season, they will look to make a splash in the NJIIHL, and improve on what was a successful 2018-19 season.