The power of song
High school is a cesspool of angst and emotions, and students have to find ways to express these complex feelings.  Common examples of this include playing sports, participating in theatre, painting, etcetera. However, one particular Glen Rock student found her own unique way to manage the stress of high school.  
Junior Dylaney Sabino writes, composes, and performs original music, spending hours of her time writing her lyrics.  Sabino keeps all of her lyrics in her phone so that when inspiration strikes she can write it down immediately. She writes multiple groups of lyrics down per day, sometimes writing just two lines and sometimes writing entire verses.  
Though she writes down random fragments of lyrics throughout the day, Sabino finds that she is most creative at night.  Sometimes, she will have revelations right before she goes to bed, and she has to get up regardless of the hour just to write them down.  
Sabino's music is inspired by her personal life, and she writes what she feels.  Common themes of her work include growing up, being in high school, and any emotions that come with being a teenager.  She believes in "writing about experiences as you live them and as you feel them." Sabino recognizes that this means her musical style changes depending on the day.
Sabino also enjoys to write music that has nothing to do with her own personal experiences.  She likes to put herself in other people's shoes and write from a perspective that is not her own.  
"I like to think about what it would be like in a certain scenario, to live through something, and sometimes I write as kind of a narrator.  Kind of omniscient," Sabino said.
It makes sense that Sabino has an innate love for music, as she has been singing and performing since childhood.  Sabino said that she has been "singing all my life," and she has had a love for music as far back as she can remember.  Her favorite thing about music is the way it makes her feel, and she loves when she listens to music and thinks to herself that the lyrics are brilliant and that they moved her.  "That's what gets me," Sabino said.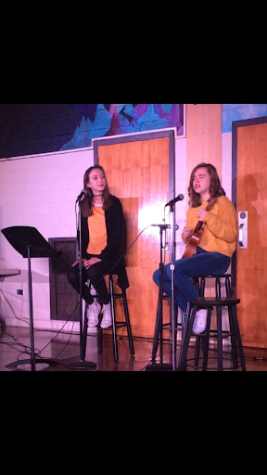 Sabino's goal is to invoke the feelings she gets when listening to music  in her audiences as well. She wants her audiences to feel her music on a deeper level.  "My chief objective when I am writing lyrics is to have people listen to them and go 'Oh, wow, that's really interesting' because I love when I do that when I listen to songs," Sabino said.  
Above all, Sabino considers herself a lyricist, and admits that she struggles with writing melodies.  She feels that her melodies can sometimes be repetitive, and she relies on a lot of the same harmonies in her music.  She says that writing melodies is one of the hardest parts of writing songs, not just because they are hard to come up with, but they are also hard to keep track of.  She will write lyrics in her phone with specific tunes but then forget them as time goes on. When she revisits the set of lyrics to finish them, she has to rearrange the words to fit with whatever new melody she can come up with.  However, Sabino said that her main goal for this year is to improve her sound and to practice writing more provoking melodies.
The other hardest part of writing music for Sabino is overcoming writer's block.  Since she writes her songs fragmented and not all at once, she finds that sometimes, when she revisits a set of lyrics, she does not have the momentum to finish them.  She writes when she has feelings she needs to express in a certain moment, but once that moment passes it is often hard to go back and tap into those emotions once again.  What happens is she begins to add new ideas to the lyrics, and the song veers off track.
However, Sabino continues to write songs because she wants to get better.  She started out as a mediocre lyricist, but with practice, writing lyrics became her strength.  "I keep writing songs just because I keep getting better at it," Sabino said. "Eventually, just by the laws of practicing, I'll be better, and I'll be able to just keep improving."
Sabino feels immense pride when she finishes a song, and she loves to perform them for audiences.  Sharing her work with people is what makes writing her music so fun. Sabino has performed three of her original songs for audiences at school Coffeehouses and Cabaret Nights, the first being in her freshman year, and she aims to perform original songs for the rest of her performances this year.  
Sabino has performed two of her original songs with fellow junior and friend Caitlin O'Brien.  O'Brien loves working with Sabino, and feels that they have developed a mutual trust when working on songs together.  O'Brien is constantly impressed by Sabino's writing, saying her songs are "super unique," and they "definitely break the mold."  She loves performing Sabino's original songs her because they get to put their own unique interpretations and spins on the lyrics.  "It's really awesome to be a part of the creative process," O'Brien said.
"
The best kind of thoughts are the ones where you write them down, and you realize you have more to say about them."
— Dylaney Sabino
For Dylaney Sabino, writing songs is a tool that helps with self-expression and expression of her thoughts and feelings.  She begins with an "overwhelming wave of emotion" and then channels these feelings into a few words or phrases. Conveying her feelings through her lyrics is therapeutic for Sabino, and she loves finding lyrics that inspire her to write more.  "The best kind of thoughts are the ones where you write them down, and you realize you have more to say about them," Sabino said.
Sabino's golden rule for songwriting is that in order to successfully write music, she needs to have something she wants to express and share with the world.
"In order to write a song, you have to have something to say," Sabino said.