Glen Rock senior takes on the role of assistant director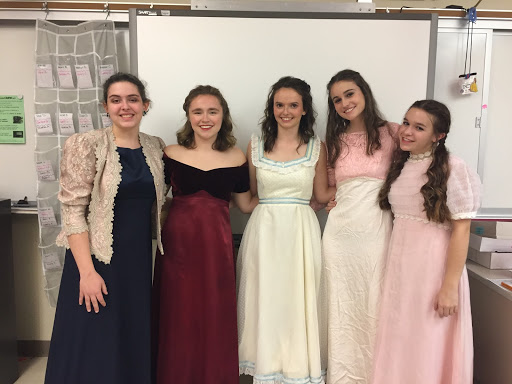 Behind every great production is a great director, and behind every great director is a great assistant director.  It is the responsibility of the assistant director (or AD) to make life a little easier for the director and for the cast.  
This year, senior Emily Campbell takes on the role of assistant director in the High School Theatre Company's production of Pride and Prejudice.  The performances will be November 1st, 2nd, and 3rd, and Campbell has put an incredible amount of work into the production. Though it is hard work, she loves what she is doing.
"I'm just starting directing, so it's so fun every time I get to direct a scene. I feel so excited about it," Campbell said.
As AD, Campbell is responsible for making the rehearsal schedule each week for the entire cast, directing certain scenes, and picking up any slack from any member of the cast or crew.  This is Campbell's first time assistant directing a production, and it is her eighth show with Theatre Company. She was a member of the stage crew for her first three shows, and she began acting as well in the spring of her sophomore year.
"When I was doing crew I was like 'Acting looks so fun, maybe I should try it out,'" Campbell said.  She ended up loving the experience, and she has been acting in all Theatre Company shows since then.
Campbell is also taking on a starring acting role in this production.  She will be playing the role of Jane Bennet, the beautiful daughter of Mr. and Mrs. Bennet that is trying to find herself a husband whom will not only provide for her, but one that she will love.  
Campbell feels that acting and assistant directing has helped her become more in touch with her character.  After reading the script so many times, going to every rehearsal, and hearing the other cast members discuss the script so often, Campbell feels more confident in becoming Jane.
"I feel like just being with the play so often helps me figure out how I want to act things out," Campbell said.
Though directing makes acting easier in many ways, Campbell still recognizes the hardships of taking on the two huge responsibilities.  She finds it hard to balance the two positions and separate them in her mind.
"I'll be on stage, and then at that point I'm supposed to be an actor.  Then I'll feel like being a director, and I'll be like 'I should not do that because it's not my turn to be doing that right now'," Campbell said.
The director of the show is high school drama teacher Juliette Montalbano.  Campbell says that that working with Montalbano is "great" and that they "work really well together."  Montalbano shares the same sentiment.
"Emily has impressed me with her professionalism and her talent.  She is an absolute pleasure to work with, and I couldn't have done this without her," Montalbano said.  
As assistant director, Campbell also has to work with the stage manager, fellow senior Jess Peiser.  Peiser and Campbell have worked on all of their shows together, and are great friends.
"Working with Emily is really awesome.  She is super collaborative and creative, and I really admire her," said Peiser.
For Emily Campbell, theatre is a true passion, and the Theatre Company is her home.  The rewarding feeling of finishing a show and the friend's she has made through theatre have kept her coming back time and again.  
"I think it's definitely worth a chance to just try to do one show.  It's not that big of a commitment, and you just meet such an amazing group of people," said Campbell.  "You never know if you're going to love theatre until you try it."