Forty fourth Coffeehouse strengthens school tradition
Something has changed in the cafeteria. The usual blinding lights are now dimmed. Tables have been folded up and put away, with rows of chairs being placed to face an arrangement of stools, each paired with a microphone. A piano keyboard rests nearby.
Three seniors rush up to smile, tell a few jokes (most involving puns), and introduce the next act. A student walks hesitantly up to the stage and takes a seat. The crowd cheers as music begins to play.
This year's spring Coffeehouse took place on April 26 in the cafeteria. Admission was five dollars, with refreshments being served as students and teachers alike performed musical acts and read original poetry.  
This unique event was hosted by Mobius, the Glen Rock High School literary magazine. Madison Jones, a senior and one of the editors-in-chief of Mobius, has been going to these Coffeehouses since freshman year. What keeps her coming back? The overall positive feel of the event.
As she notes, "I think that everyone who comes together to like, put on this show, y'know, it just takes a lot of people who are willing to put themselves out there and perform, and the audience is always so supportive of everyone, and there's free food, so there you go."
As an editor-in-chief, Jones was also one of the emcees for the event- and, for the first time in her high school career, had decided to perform.
"I was always nervous to perform, but I realized it was my last Coffeehouse, and it's such a warm environment, and I should just take the chance and do it," she says.
Jones recommends Coffeehouse for everyone, and states that, "If you're going to perform, and are nervous, just do it, because it is worth it."
The Coffeehouses have a long history, with the first one being held in 1996 when the editor-in-chief at the time Bronwyn Purcell suggested the literary magazine do one after being inspired by the 1950s Beatnik era. Mrs. Mahoney, the adviser for Mobius, decided to honor that idea by helping to organize the event. Twenty two years later, the Coffeehouses are stronger than ever: with their longevity proving just how important the arts are to teenage minds.
"Kids need a place where they can have a forum to practice their art, to make music, to share their poetry and their stories and have their creative artwork shared and appreciated by others," says Mahoney. "The spirit of the event is so supportive. Kids get up there and either sing a song, or read poetry, or read a short story, or do stand up comedy. It takes a lot of courage to do something like that, and the audience is so receptive and so supportive."
Madeleine Brennan, a junior at GRHS, has been going to the Coffeehouses regularly. While she is not a part of Mobius, or considers herself as an "art person", she still enjoys the entertainment provided. "I like seeing people's original works, and just hearing all the talent that we have in our own school… It's five dollars, and you just get to sit, and eat food, and watch your friends perform. It's just a really positive experience."
While it may be the performers tirelessly rehearsing for weeks on end, the Coffeehouse audience also plays a significant part in contributing to the overall 'vibe' of positivity for the event. As Mahoney says, "Everybody cheers for everybody else, and everybody is just very kind to everybody else… I think that there aren't always a lot of places in the world where we experience that, so I think that's a big part of what has made it endure."
About the Contributor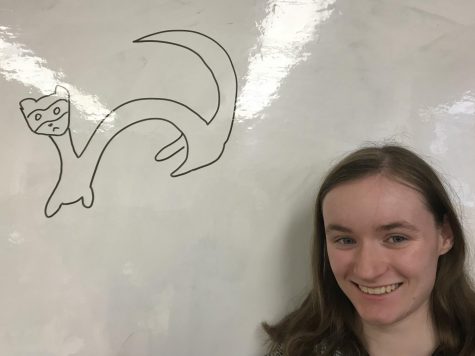 Caroline Geoghegan, Managing Editor
Caroline Geoghegan is a senior at Glen Rock High School and this is her third year writing for The Glen Echo. In her free time, she enjoys making sacrifices...