Urban to suburban: the "gawd" from Queens
Every morning, Elijah Fernandez woke up and had to make a choice– he could go to school where the only individual attention he would receive was unwarranted pushes, punches, and shoves from classmates; or he could hide away in a friend's house until the school bell at Franklin K. Lane High School in Queens, NY rang, and the police could not arrest him for truancy.
Almost always, he chose to put on his headphones, walk across town to a friend's, and cut his classes.
Before Fernandez and his family moved to Glen Rock in the summer of 2016, he was fighting almost everyday and rarely going to school.
"I never felt safe in school, there was always someone or something," Fernandez said. "Everyone had to watch their back there. The teachers didn't care about you. You had to care about yourself."
Franklin K. Lane High School enrolls more than 3,500 students every year. It is nearly impossible for the teachers and administrators to keep track of every student, making it easy to skip classes.
It was a serious reality check for Fernandez when he began his freshman year at Glen Rock. Here, where enrollment is less than 800 students, an absence not reported by a guardian will immediately be dealt with.
"In New York, there was no one in school, so there was no one to be with. Here, I come to school to hang out with everyone and socialize and do what I would do outside of school," Fernandez said.
Now that he has the opportunity to receive a better education, he's began to think about his future. With help from his family and teachers, his dream is to pursue a career in music.
"In Queens, I didn't feel like I had a future. Now college is an option, it's something I can do now," Fernandez said. "I've loved music since I was a little kid so of course I'd love to have a career in it."
Since eighth grade, Fernandez worked with his own music, but until recently it was only a hobby.

R&J Productions, a recording studio, contacted Fernandez through Instagram after finding his account and videos of him rapping. They now assist Fernandez in recording, editing, and releasing his original music.
As of now, he only uploads his music on SoundCloud, but with the help of his producers, he is working on distributing his songs through Apple Music.
Apple Music is a paid streaming service, so releasing songs on it gives artists the opportunity to make money off their music.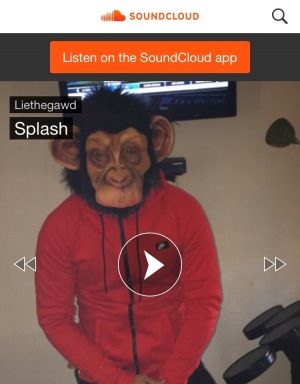 He currently has four songs on SoundCloud under the name Liethegawd. His songs, "Red Dot," "Catch Me," "Splash," and "Walk Up"  feature rap and hip-hop tones.
"It was hard for me to find my 'thing.' I'm good at sports but I don't like to play them. I'm good at other things but I don't enjoy them. Then I started music and I knew that was it," said Fernandez.
Will Rabens is one of Fernandez's closest friends. He supported Fernandez through his transition from Queens to Glen Rock.
"I've definitely seen his fighting side. He gets in this other zone and you can't tell him what to do. He trusts me so he'll listen to me, but not anyone else," Rabens said. "He deals with things heads on, not like people in Glen Rock, and I understand that because that's how he had to do it back in Queens."
The social setting in Glen Rock is much different than Queens. Arguments take place behind backs instead of face to face.
"I've been fighting science elementary school, I've always been a hothead. It's bad sometimes but I love the adrenaline rush you get," Fernandez said. "So when I first moved here I hated this place. No one tells the truth to your face. In Queens, you know if someone says something, it is the truth."

He's adapted to the social atmosphere, but has not forgotten his straightforward personality. He lives by the mantra: "If it's not directed, it's not respected."
"If you don't say it to my face, I'm not going to react, if they can't say it to me it just makes them look bad," he said.
After a year in Glen Rock, Fernandez has learned to love his new home.
"I love the parties, I can have fun and I'm not worried about anyone fighting," he said. "I can party and still be safe. I don't have to watch my back."
He values his new relationships with his friends but misses his family in Queens. On every block of his neighborhood he could find family.
"Manny, Travis, Ariel, Austin, those are my guys. I grew up with them. They are my friends, but friends in Queens aren't really friends, they're family," Fernandez said.