St. Catharine's longtime Youth Minister retires
Once Roe Miller's children became involved in St. Catharine's Catholic Youth Organization (CYO) so did she. She began volunteering with program, immersing herself in the rewarding and faithful aspects the program possesses. She eventually feel in love with the program, oblivious to the impact it'd leave on her life and the lives of others. All the time she spent with CYO landed Miller the job of directing the entire program in the years to come.
For the past 12 years, Miller has been the Youth Minister at St. Catharine's Church in Glen Rock, coordinating the CYO events and retreats, while simultaneously working a full time job at the St. Nicholas Cemetery in Lodi. She has recently decided to step down from her position as Youth Minister and retire at the end of the school year.
"It was a hard decision, I love everything about the program and I love the kids especially," Miller said. "For the last 12 years, I've worked six days a week."
Miller has put in her time and energy into the program and has been committed ever since she accepted the position to direct it.
"Mrs. Miller will forever be CYO," CYO parent Marianne Fontana said. "I don't think it's a job to her I think it's a life passion of hers."
In the years that she's been here, she's only missed a total of three Sunday night events due to personal conflicts.
"She thinks about CYO around the clock," St. Catharines Friar Bogumil said. "She's in it because she really loves it and you wouldn't find that many people to be as devoted to the program as she is."
St. Catharine's CYO allows high school students of all faiths to partake in a variety of social activities held on Sunday nights in the St. Catharine's gymnasium. Activities can range from playing dodgeball, watching movies and taking field trips to places like Medieval Times. According to Miller, CYO is a place where kids can go to relax and have fun while believing in their faith.
"I think less and less kids are really practicing their faith which is why I think CYO is important," Miller said. "It brings their faith into their lives."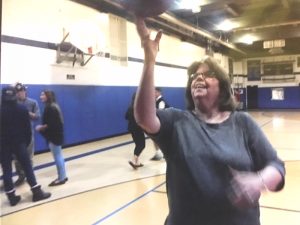 Along with the weekly events, the program holds three spiritual retreats each year. A Freshman-Sophomore one in January, a Junior-Senior one in March and a summer retreat for all high school grades in July. The teens will travel to The Warwick Center in Warwick, NY for the retreats in January and March, and will attend the summer retreat at the Capuchin Youth Ministries center in Philipstown, NY. On these retreats, young people grow their connections with faith, family and friends.
"CYO can bring people together based on faith," the Co-President of CYO, high schooler Erin Dunn, said. "That's a special thing cause you can't really find that in a lot places."
St. Catharines CYO has existed for generations upon generations, and is more developed than any other youth program according to Fr. Bogumil. He said there's always a solid number of teens that attend the program on Sunday nights and participate in the retreats. The large turnout of kids attending is due to the unique aspects of the program that other cyo programs lack.
Since Miller has been directing the program, she's instituted multiple service projects for kids to participate in, other than the social activities. CYO runs a pajama drive for orphans, and collects school supplies and makes halloween goody bags for kids in Paterson. The Program also hosts a field for the kids from Eva's Village, an anti-poverty organization located in Paterson.
"She brought all those other elements into it where all of these kids are going out and doing community service as well," Fontana said.
A prominent aspect to the program is Miller herself. Miller says that there's thorough planning that goes on behind the scenes to make CYO what it is today. She goes through amounts of paperwork to make the Sunday night events and the retreats possible, because she knows what impact it has on the kids.
"Doing this I honestly felt like I was doing something I was meant to do," Miller said. "If I could give that to any kid you know just to know that they can rely on God in their lives, then I feel like everything is worth it."
Over the years Miller has spent with the program, she grows a relationship with each and every kid that participates. For years Miller has been better known to the kids as her nickname 'Mills.' Miller says the name originated six years ago when two CYO members began calling her that, and the name certainly stuck.
"I remember when we were freshman and like all the upperclassmen would call her Mills, and always talk to her and hang out with her during CYO and it was so cool," the Co-President of CYO, Nina Dunn ('17), said.
Not only is her personality something that people admire, but all she has done for the program shows what kind of person she is.
"She's fun, she's enthusiastic, she really gives everything, she's made a huge impact [and] she's kept the program going," long time friend of Miller and previous CYO parent Janice Crowley said. "She's just an incredibly giving person."
Bogumil says how he notices how all the kids feel so comfortable with Miller, that she is the person you can open up to and be yourself around. Her nurturing nature is what he feels people will miss about her.
After high school seniors graduate and leave the CYO program, Miller says some contact her thanking her for the impact she's had on them and how much they appreciate the program.
"Everyones going to miss her," Bogumil said. "But she's not disappearing, she's still going to be here in the parish. She's still going to be a phone call away."
The news of Miller leaving has not only surprised those currently involved in the program, but those out of the program. CYO alumna Sara LoPiccolo was shocked when she found out Miller was stepping down.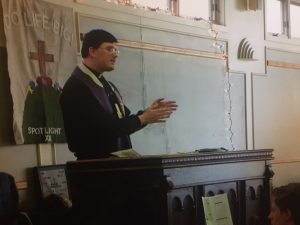 "You didn't imagine it happening for years," LoPiccolo said.
Miller's final event with CYO will be the summer retreat this July. She hopes that the program and retreats will follow the same format, just like they did when she did when she stepped in 12 years ago. As of now, it is unknown who will become the next Youth Minister for St. Catharine's, but the program will have Fr. Bogumil to lean on.
"Even with Mrs. Miller gone I plan on being there, I plan on giving my 100 percent to the program," Bogumil said. "She's given so much, we really sincerely thank her for all the things that she's done for us."
Yet the new Youth Minister along with Bogumil won't be the only ones running the program. The youth is all what CYO is about according to Miller.
"One of the most important things about CYO is that the kids basically run it," Miller said. "I hope whoever takes it over continues to let the kids run it, be a major part of it."
Miller retiring from the program has surprised many, but the impact she has left on the people and the program, and the impact they have left on her will be remembered.
"I love having you guys in my life, I am so appreciative that you guys all let me into your lives, and I really do feel very blessed," Miller said. "I got as much out of it as anybody, it strengthened my faith and it just strengthened my belief that kids are great."
Leave a Comment
About the Contributor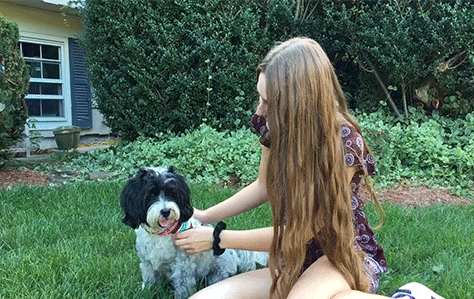 Christine Nappi, Copy Editor
Christine Nappi is a senior at Glen Rock High School and this is her second year writing for The Glen Echo. She plays softball, loves to write and tell...