Comarato to retire after 33 years of teaching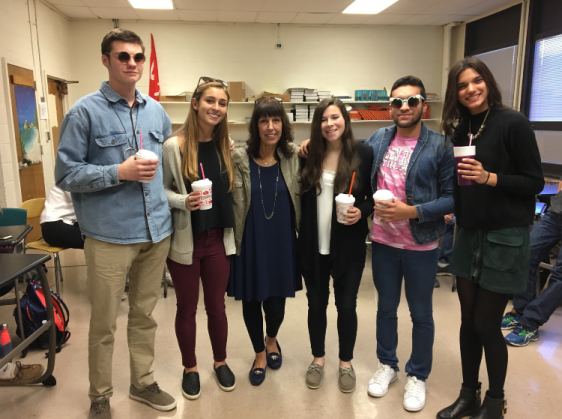 For the past 16 years, Ann Comarato has brought a positive attitude and creative teaching style to Glen Rock students. However, at the end of the 2016-2017 school year, Glen Rock will say goodbye to the English teacher as she prepares for retirement.
Comarato says that this decision was difficult to make, but she believes that it is time for her teaching career to come to an end.
"This took a year and a half of thinking," Comarato said. "I think it's time. I have a total of 33 years teaching. That's a long time. It's time to sleep in a little."
Growing up, Comarato did not envision herself to be a teacher. When she entered college, she was planning on going into theater. She said that she was "going to win the Academy Awards by the time she was 25" and smiled. However, following her parents' divorce, she had to leave college in order to work. After saving up enough money, she returned to school at Trenton Sate College (now The College of New Jersey), but she left there as well in order to work. Finally, after eight years, she earned her degree at Montclair State University.
In her junior year at Trenton State, Comarato and her class went to an inner-city school to teach and direct the students in a play. Comarato says that she had so much fun during the trip that she decided to change her major.
"A lightbulb went off because I had so much fun," Comarato said. "I changed my major to education."
Comarato began her teaching career at Park Ridge High School, where she did the musicals, plays, and the yearbook. After 16 years at Park Ridge, she taught at Raritan High School, but she left after three years to spend time with her son, Grant. Once Grant was in middle school, Comarato returned to teaching and began her new job at Glen Rock Middle School, where she taught drama in the exploratory arts program.
Comarato's lightheartedness and friendly demeanor has made many students smile throughout the 14 years that she has spent in Glen Rock. Josh Frissora ('17) and some of his friends loved Comarato's class so much that on Glen Rock's annual Student-Teacher Day, they all dressed up as her and spent the day in her shoes.
"She's really nice and is one of the few teachers that is understanding," Frissora said. "For example, if you miss a homework but have a valid reason she would let you turn it in late as long as you didn't do that all the time. She also always makes your day better because she always has good vibes."
Comarato has not only touched the lives of students but teachers as well. She says that some of her greatest memories at Glen Rock have been with members of the English Department.
"[They are] Consummate professionals, compassionate people, concerned for the welfare of the kids and each other," Comarato said. "So we have a really nice family."
One of Comarato's favorite things about her career has been not knowing what will come next. This unpredictability has made teaching appear to be something other than a job.
"You never know what's going to happen," Comarato said. "Hopefully you have fun and you don't realize that you're working."
Comarato says that she is planning to downsize her house and see her family more. Aside from that, however, she does not have any set plans. Much like her teaching career, she will "take everyday as it comes."
On Monday, May 8, 2017, many Glen Rock parents and faculty thanked Comarato at the Board of Education meeting for all that she done for the students of Glen Rock. One parent even told Comarato that her children cried when they heard the news.
Many students, like Frissora, will miss Comarato and all that she has brought to her classroom, from her signature coffee with a straw to her iconic "Comarato Shuffle" dance.
"I'm going to miss her," Frissora said. "But I'm sure she is going to have lots of fun in retirement."
Comarato says that she will miss all of her students as well, stating that they have all had a huge impact on her life.
"I think sometimes a student doesn't know how a teacher affects him or her in a negative or positive way. But it follows you the rest of your life," she said. "The students, my opinion, do the same thing to the teachers. Once you leave this profession, you don't leave what the students bring to you and what you learn from them. I think you're always connected at some point."