Athlete of the Month: Joseph McCabe
Hang on for a minute...we're trying to find some more stories you might like.

Name: Joe McCabe
Why he is "Athlete of the Month":

As a year round runner, McCabe ('18) participates in cross country during the fall season, winter track and spring track. Recently, McCabe made great strides at Bergen County Relays, hitting his personal records in the 1600m (4:33), 800m (2:03), and 400m (53.9) during a 4×400 relay.

Key to staying motivated throughout 3 strenuous seasons of track: "

My motivation throughout each season is the meets. My favorite part about track is racing so I always look forward to the next meet."

Where his mind takes him during a race: "

The 800m is relatively a very short race. This means that for most of the race all I think about is strategy. Breaking the race into sections can really help because you don't want to start a race thinking how much it will hurt in the last 100m… Running a 5k is a lot more mentally taxing just because your mind wanders so much. I usually distract myself during 5ks (3.1 miles) by trying to focus on the person in front of me and slowly catching up. If I pass them, I look for the next runner. Often times I find myself having a song in my head. I will be calculating my splits and if I have to run faster or more conservatively."

His favorite way to recover after a tough practice: "

After a tough practice I usually recover with a nice drink. I really like chocolate milk for recovery. Also, smoothies are very refreshing. I will usually turn on the radio to z100 or listen to the top ten songs of the day while lying down on the couch."

Favorite song to workout to: "

My favorite pump-up song changes a lot but currently 'Seven Nation Army' and 'Till I collapse' are my go-to songs because how some of the lyrics coordinate with running."

What keeps McCabe's love for track kicking:

"Racing. The feeling of winning a race or breaking a personal record is the best thing in the world."
"The people. I love my team. We all work hard and bond by getting food together after meets. We all train together and work hard. When we win meets together, like Bergen County Relays, it is truly something special."
About the Contributors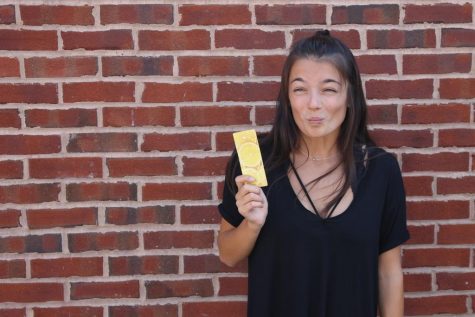 Michelle DeMaria, Facebook and Instagram Manager
Michelle DeMaria will be working with the Glen Echo for her second time this year. She is extremely excited to be managing the Instagram and Facebook accounts...