In the spotlight
A Mistake to Remember
With Glen Rock leading the Hawthorne Bears 54-39 on January 21, 2016 in one of the final games in the basketball team's season, one Glen Rock player sat on the bench, begging to go in.With only a minute and 30 seconds left and Glen Rock holding a commanding lead, Sergio Galvez ('17) began jerking his leg with excitement, feeling his hands become sweaty. This was the time to impress the coach.
He heard a sharp yell.
"Serg! Let's go!"
He jumped up with excitement, ready to show his coach what he can do, as playing time did not come often for him.
"Go get Kieran!" said coach Jason Mittelman, head coach of Glen Rock's varsity basketball team.
Galvez went to the table in excitement. He waited for a dead ball to occur so he could be put into the game. Finally, with 40 seconds left, he heard the whistle blow.
"Kieran!" He said while giving the nod to let him teammate know he was replacing him.
The two exchanged high fives, and the referee blew the whistle to continue the game. He came in to set up the next inbounds play, as the game was now out of reach for Glen Rock's opponent. To Galvez, it was just the little things he could do to help the team: Get a rebound or set a good screen.
In order to show good sportsmanship, Mittelman had instructed the team to wind down the clock as teams do in the situation of a blowout game. Little did he know a bad decision would end up ruining his night. After winding down the clock by continually dribbling in passing, Connor Smith ('17) threw a sharp chest pass to Galvez as he was cutting.
In the thrill of the moment he took one dribble with his left hand and went up to shoot a left handed baby hook from the left block.
"Clank!"
The ball hit nothing but the backboard.
The game was over, but Galvez's walk over to his coach ended up being the most embarrassing walk in his three years playing at Glen Rock. Furious with his decision, Mittelman lectured him as the decision he made was a showing of poor sportsmanship and selfishness.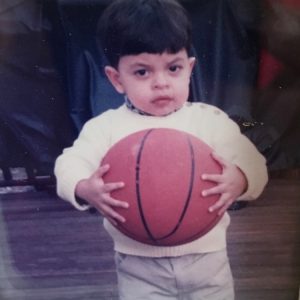 That night, Galvez went home with doubts about playing basketball again. The playing time he was getting was very little, and he felt hopeless in showing coach what he can do to get more.
The rest of the season ended up being much of the same for Sergio. Little playing time, garbage minutes, and no scoring.
"I thought about quitting then. I was getting no playing time, and I could only play half of the JV games due to being on varsity," Galvez said.
JV was no interest for Sergio. A lifelong basketball fan and player doesn't dream of playing JV basketball. It's all about being in that spotlight on the varsity team.
Walking into practice was hard after that game for Sergio. Two and a half hours of practice everyday was a lot. Was it worth it for little playing time in games?  Was the commitment really worth the constant pain, stress, and fatigue for very little time on the court? These questions went on in Sergio's head after that Thursday night vs Hawthorne.
Offseason Improvement
Sergio enjoyed being in the program. He had multiple friends on the team, old and young.
After the season, spring came, and Sergio had nothing to do but play all offseason. This was the time to get better. It was a brand new team coming in the next year, and no playing time is guaranteed. He played in a spring league set up by his best friend Josh Frissora. The team was graduating seven seniors, six that played consistently, and the program was in a rebuild situation.
"I understood that things like minutes are not given but earned, and I have to push harder to earn what is mine," Galvez said.
It was a bumpy start at first; the team didn't seem to be clicking. Sergio knew that a new leadership role had to be filled.
"My role is to be a leader because I am a senior, so I feel that I am noble," he said.
Then came the weight room. He woke up almost every day with some soreness on his body from the day before. The next day seemed harder than the previous one. Galvez would breathe violently during his work on the bench press, deadlifts, and other exercises that Mittelman instructed the team to do. Sergio couldn't be any more busy at this time, as college decisions had to be made and tests had to be taken. School wasn't getting any easier, either.
The summer came, and team camps were about to start. The team went to a camp at Rider University in New Jersey. Sergio roomed with his best friend Josh Frissora, just as he did the previous three years
The first game of the camp was that night. Sergio was excited to show what he could do. Because the game was just an exhibition, Mittelman decided to give all of the players equal playing times.
Sergio was coming of the bench and was itching to get on the floor. Finally, he took the court in hopes to impress the coach. He ended the game with four points and two rebounds. This helped the team get their first win of this year's summer camp.
During the camp, the team played competitively but lost to teams that were bigger, faster, and stronger than them. This is an emotional moment for Sergio and the other seniors as he was leaving this camp for the last time.
After coach checked his room and saw it was all clean, Sergio handed the key to him. The two exchanged high fives, and Sergio and all the other players left the dorms.
The summer continued as Sergio worked out with the team twice a week. Once in awhile the guys on the team would go to the park to play pickup-up ball. This allowed the team to build chemistry.
The previous year, the team had captured its first league championship in 17 years. Despite the success, this year's team focuses on the upcoming year and was determined to not be the shadow of the team before them. This team wanted to be known for their own team.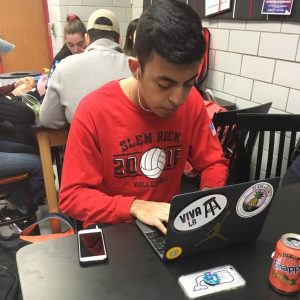 Sergio was starting to love basketball again as the summer training went on.
"The bonds you make on a team plays for a long time, and I am so thankful to be apart of a family like this," Sergio said.
Leadership of a Senior
Senior year came. Sergio knew that this was his last year to make a mark in Glen Rock basketball. These thoughts raced in Galvez's head in the fall, and they could never get out as the season was about to start.
Fall basketball was starting as Galvez showed major improvement on his game. The effort he showed in games was key to his defense.
Diving after the loose balls on the floor and no longer being able to just break a sweat, but to also be productive for his team. Decisions were made quickly and more intelligently when it came to passing the ball and taking good, high percentage shots.
Involved in many other productions off the court, life was very busy for Galvez. He served a significant role for CYO (Catholic Youth Organization). Galvez was proving to be a leader. This role was not expected of him to do.
At a Thursday night open gym session, Galvez picked teams along with the other senior players Connor Smith, Graham Reise, Luke Nuzzo, and his best friend Josh Frissora.  Galvez picked a team of five as the pickup teams were ready to take the floor and compete. Galvez talked with his teammates. Communication made him an easy player to play with.
"SCREEN RIGHT! SCREEN RIGHT!" yelled Galvez as players on his team tried to get through screens.
"I GOT BALL, I GOT BALL." "I GOT GAP, I GOT GAP!" "I GOT HELP, I GOT HELP!" Galvez yelled on defense to help make sure his teammates knew where to be and what to do.
"SHOT!!!" yelled Sergio as the shot went up.
Galvez help signal his teammates to box out and get the rebound.
These little things shaped Galvez into the leader he was supposed to be as the upcoming season was about to come. The bitter cold of winter was approaching along with the tryout period.
The last fall game was up before the season. This would be the last fall game that Galvez and his senior friends would play. It was time to make the most of it.
The game was close and in the balance as it was a fall game against Fair Lawn. Glen Rock cealed it, pulling out the victory 54-50.
Questions went on in Galvez's head: How much would he play during the season?What was his role going to be? How much of an impact was his game going to have?
The questions that went in through Galvez's head at the end of last season were going through his head again the week before the tryouts.
The season was about to begin! Was this just a waste of time?
Last Season, Last Time to Make Something Happen
The day of the first tryout came. It had been a long offseason, and Galvez was hungry to get out on the floor and compete. Hoping to get playing time, Galvez took advantage of every possible opportunity.
The tryout took three days. Mittelman wanted the team to focus on offense, as he had seen some miscommunications on offense during the fall games.
Galvez focused on his role on offensive rebounding, setting good screens, and strength with the ball.
"USE ME, USE ME, USE ME!" yelled Galvez as he looked to set screens for teammates to get open for good looks and good possessions on offense.
"RIGHT, RIGHT, RIGHT! LEFT, LEFT, LEFT!" yelled Galvez as one of his teammates drove right or left towards the basket, in terms called a north-south drive.
"He pushes everyone in practice to do better. He helps everyone get prepared for the game. He's just a great guy to be around and it's fun to be on the team with him," senior co-captain guard Luke Nuzzo said.
However, would this play a role in his playing time on the court?
When tryouts ended, the team was given Thanksgiving weekend off, as they would be notified over the break if they had made the team. No cuts were made, and Galvez wasn't worried, as his commitment to the team had proven him a spot on the roster.
Preseason was mainly getting in shape for the scrimmages, as they were soon coming up. In preparation for the first scrimmage against Wladwick, Mittelman set up play rotations to get guys even chances to prove themselves.
Galvez worked his hardest but saw his minutes decreasing as the scrimmages went on.
The scrimmages were over and it was time for the big game: Opening day at Manchester.
While many players were nervous before this game, Galvez was excited. Many juniors and sophomores played on the floor that night with nervous thoughts having been playing in their first varsity game.
Galvez didn't play.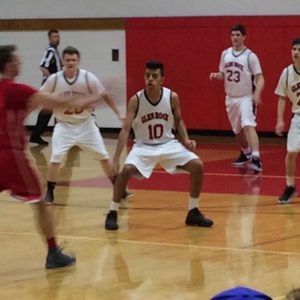 The next game, Galvez found himself not playing once again as the team took on Hawthorne in the team's home opener.
The same thoughts went on in his head: Was all this worth it? Even with Galvez not playing, the team managed to win both games, Manchester 48-41 and Hawthorne 54-36. The team had one more league game before the Christmas break at Rutherford.
Early on, the young team struggled, as it was the first game of the season where they had to find themselves fighting back for the lead.Rutherford's sSenior star Dominic Mignone was on fire to start the game.
"Serg!" Mittelman called out.
This was the first time all season where Serg had heard that call.
"Go get Thomas."
Galvez ran to the scorer's table. As the buzzer sounded, Galvez yelled out to his teammate, giving him the signal to come out of the game at 2:54 remaining in the first half.
Galvez was immediately assigned to guard the Rutherford star who was having a monster first half for the Bulldogs. Glen Rock was having trouble stopping him.
Mignone spung Galvez in a circle as he tried to pick him up full court on defense. Mignone blew past him and hit a turnaround jumper off the glass.
Plays like this summarized the night. Mignone had an amazing game with 37 points in a blowout win for Rutherford.
The season continued with success after that loss as the team was 9-3 and qualified for a spot in the Bergen County Jamboree. Only seven other Glen Rock teams in the program's history had accomplished this feat. This team would be the eighth.
The team was facing Ramapo in a game that was expected to be a blowout loss for Glen Rock. The game started out 6-0 as Ramapo's pressure, matched with Glen Rock's nerves, created the horrendous start.
Galvez wasn't expecting to have his name called, but his hard work in practice would pay off. In a huge stage under the lights, Galvez was called to play valuable minutes for the team. Glen Rock surprised Ramapo and had a lead over them with three minutes to go in the game. Galvez was playing during this time.
For the first time in his career at Glen Rock High School, Galvez found himself playing in a close game on a big stage at the end.
"USE ME, USE ME!" "RIGHT, RIGHT!" LEFT, LEFT!" yelled Galvez on offense.
"BALL,BALL,BALL!" "GAP, GAP, GAP!" "HELP,HELP, HELP!" yelled Galvez on defense.
"SHOT!!!" yelled Galvez when a shot went up.
It ultimately came down to the free throw game in the final 40 seconds as Glen Rock lost a tough one 46-39 with Galvez collecting one rebound.
End Of a Memorable Run
Senior Night!
Galvez had been waiting for this all season long along with most of his senior teammates. It was a Thursday night game against Garfield, and the team was looking to follow their most recent victory over Rutherford.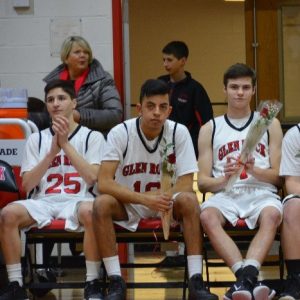 Galvez was starting at the forward position as they made the introductions for the game and eventually the starting lineups.
Galvez handed his roses to the senior cheerleaders for Glen Rock and posed to take pictures with his family.
The game tipped off and it was decided from the start. Galvez scored the first field goal of the game on a right hand drive from the right wing, finishing through the contact of the Garfield defenders.
In the middle of the game, Galvez was savoring the moment, as in the middle of the third quarter, he threw a no-look pass out of nowhere. Once that happened the student fans erupted with Oos and Ahhs.
Never had Sergio gotten that from Glen Rock's crowd. He finally got his chance to shine and play.
After the game, the senior players took pictures and chatted with friends as Glen Rock pulled off an easy victory 57-35. Galvez recorded a career-high six points, three rebounds, and an assist on 50 percent shooting from the field.
His best game of his Glen Rock High School basketball career.
"His performance, his energy, his excitement while scoring six points which is his career high in the program and that's very memorable," Mittelman said.
"Watching Serg score basket after basket on senior night was awesome and I couldn't be happier," assistant varsity coach Dale Poage said.
"I love his no-look passes. He's considered a big guy and probably shouldn't be doing that, but he does it anyway and it works well," Josh Frissora, Sergio's best friend and teammate said.
The team continued to witness success, as they were able to accomplish another goal for the season that they set out: Getting a home state game. The team finished the regular season with two wins over Pompton Lakes and Lodi. Their first state game was against High Point on Monday, February 27. Glen Rock was expected to win, as they were ranked as a sixth seed and High Point was ranked eleventh.
After a rough start, Glen Rock eventually started to pull away. Wanting to add his energy, Mittelman called Galvez's name.
With a timeout by High Point with around four minutes to go in the game, Mittelman entered Sergio into the game.
His job was to play good defense, set good screens, and make good decisions.
"USE ME, USE ME!" said Galvez as he looked to set screens.
Frissora drove right to the basket.
"Josh!" yelled Galvez
The friendly connection showed as Frissora gave a little pocket pass to Galvez for a short pull-up jumper off the glass.
Glen Rock won the game easily 60-32.
That basket would be the last one for Galvez, scoring ten points in his career at Glen Rock.
The second state game was on the road at Newton. In a desperate situation, Mittelman looked to Galvez as the team needed a spark on defense.
Down by twelve with a minute and 11 seconds to play, Galvez checked in and helped cut the deficit in half.
In a trapping situation, Galvez tried desperately to help get the team the ball back as it looked like it was going to be a loss for Glen Rock and the end of the season.
"TRAP, TRAP, TRAP!" Galvez screamed.
A few quick buckets gave Glen Rock some momentum. Unfortunately, it wasn't enough. Glen Rock lost in the second round of the state playoffs 56-47.
"Even though it was late, to get him on the floor and see if he could make something happen and actually we did at that point," Mittelman said.
The locker room following the game was emotional. Teammate's showered tears and hugged each other as the team had to let go of an incredible season.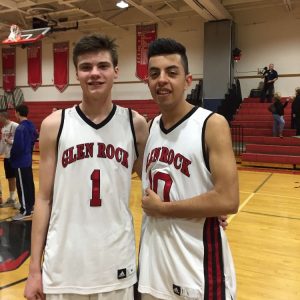 Just a year before, Galvez faced so many questions and ran them through his head constantly.
However, Galvez stood up to the challenge and showed his toughness, as being in the program allowed him to make memories and have many great relationships along the way.
"It was worth it because of the relationships I have made. All of the experiences we've had as a team. As a person, I've learned through hard work and dedication that anything's possible, and good things will come to those who pursue," Galvez said.
Leave a Comment
About the Contributor
James Boisits, Assisitant Sports Editor
James Boisits is a senior at Glen Rock High school and in his second year with the Glen Echo. He loves Basketball and playing it with his friends. He is...