A pilgrimage for peace
When Spanish teacher Taylor Poruk's sister Anna traveled to Senegal as part of the Peace Corps, the decision took her whole family by surprise.
While she teaches Spanish to a class of students in D-124 of Glen Rock High School, her sister is in Africa. It's a far way away from where Ms. Taylor Poruks teaches her Spanish classes, but it doesn't mean her sister can't pitch in on a lesson. 
In the classroom, off-white cinder blocks comprise the walls. The floors are colored deep brown. Two of the three wide ceiling lights reflect off of the epoxy floor coating. Two bright red posters and a plethora of students' drawings adorn the front of the room.A drooping American flag hangs by these two posters. A laptop cart and computer desk reside in the top left corner of the room. The projector hangs down from the ceiling, black wires snaking around the pole that connects it to the ceiling. Three lonely photos are hung up above the whiteboard.
In the middle of everything, acting as the classroom's center, stands the Interwrite board. In the foreground are 16 desks, all mismatched: white, medium brown, and black. Sixteen seats, all varied in color, are behind these desks: yellow, light red, medium red, dark red, black. Most chairs are wobbly with uneven legs. Deep brown bookcases border the room, filled with textbooks that seemingly aren't used.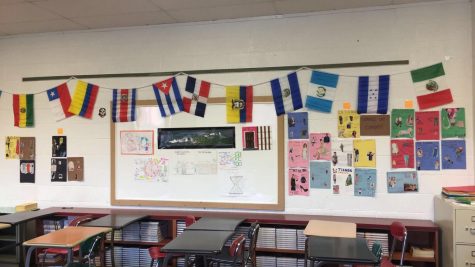 "¿Hola clase hiciste todos completan la tarea que estaba en Google clase ayer?" asked Poruks, hoping her students completed their homework assignment.
"Si!" the class responded with enthusiasm.
The homework from the night before was to answer the question "What do you want to know about volunteering/living abroad? About being immersed in a foreign language and culture?"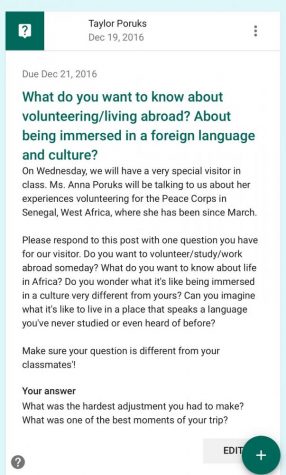 This homework assignment would prepare students for the presentation Ms. Poruks had planned for the next day: a presentation about Anna Poruks and her experience in Africa as part of the Peace Corps.
Poruk's presentation on her sister, Anna Poruks informed the class on the importance of volunteering and exactly what Anna is doing in  Africa. Anna Poruks, a Peace Corps volunteer, is currently serving a two year mission in Western Africa.
Peace Corps was established March 1, 1961 by President John F. Kennedy. Kennedy issued Executive Order #10924, establishing the Peace Corps as a new agency within the Department of State. He also requested permanent funding for the agency to send trained American men and women to aid in developmental efforts in foreign nations.
Its creation sparked a lot of enthusiasm, as Washington received a rush of letters from young Americans eager to join.
Before Peace Corps was officially established, he talked with 'young democrats' about the possible organization in early October 1960. On October 14, young people interested in Peace Corps gathered to hear President John F. Kennedy speak.
Senator John F. Kennedy arrived at the University of Michigan in Ann Arbor at 2 a.m., hoping to get some sleep. Instead of meeting with his bed as he planned, he met with 10,000 university students.
The group of 10,000 students were given a challenge by the President: "How many of them, he asked, would be willing to serve their country and the cause of peace by living and working in the developing world?"
The Peace Corps proposal quickly gained speed, and then on Nov. 8 he was elected the 35th president of the United States of America.
On January 20, 1961 Kennedy spoke one of his most famous quotes, which related to the Peace Corps:  "Ask not what your country can do for you, ask what you can do for your country."
After Peace Corps was established in March, Kennedy's brother-in-law, R. Sargent Shriver, chose 750 volunteers to serve in 13 nations. That  August, Kennedy honored the first Peace Corps volunteers by inviting them to a White House ceremony which he hosted. According to the Peace Corps website:
"On September 22, 1961, Kennedy signed congressional legislation creating a permanent Peace Corps that would "promote world peace and friendship" through three goals: (1) to help the peoples of interested countries in meeting their need for trained men and women; (2) to help promote a better understanding of Americans on the part of the peoples served; and (3) to help promote a better understanding of other peoples on the part of Americans."
"By the end of 1963, 7,000 volunteers were in the field, serving in 44 Third World countries. In 1966, Peace Corps enrollment peaked, with more than 15,000 volunteers in 52 countries. Budget cuts later reduced the number of Peace Corps volunteers, but today more than 7,000 Peace Corps volunteers are serving in over 70 countries. Since 1961, more than 180,000 Americans have joined the Peace Corps, serving in 134 nations."
No surprise here
Poruk's mother, Kathryn Curran, believes that she was drawn to Peace Corps because she was a born philanthropist.
"Joining the Peace Corps was almost inevitable for Anna who is so driven to help people, especially in parts of the world that need help, for without it could mean life or death,"  Curran said. "Even though it was such an extreme commitment on her part, I can't say I was surprised in the least."
Curran believes that Anna is the happiest when she is helping those less fortunate than her and when she is traveling the world.
Glen Rock Spanish teacher Taylor Poruks felt the same way. Poruks wasn't surprised when her sister told her that she was traveling once again. Poruks says that Anna has been traveling a lot since college, and she's always recognized her passion for travel.
In fact, this isn't the only time Anna has been on an excursion away from home. Anna traveled to Peru in the summer of 2013 for a medical mission trip with an organization called MEDLIFE. This trip gave her the travel bug. Anna decided to study abroad in Prague and Paris the summer of 2014. Even though she enjoyed her trip to Europe, there was something missing.
"Although I had the most wonderful time and Europe is beautiful, it wasn't quite as rewarding and meaningful to me as my Peru trip," Anna said. "I realized that traveling means a lot more to me when I have the opportunity to do work that leaves a lasting positive impact on the place that I visit."
When Anna returned home from Europe as a college senior, a life-crisis awaited her.
In college, Anna studied clinical psychology in hopes of going into the career of being a substance abuse therapist or a psychiatrist. She received what she calls her "dream internship," at a substance abuse clinic in Trenton. Not even a week into the internship, she came to the hard realization that the job wasn't what she thought it would be, and she didn't want to do it for the rest of her life.
After hearing about it from her friend, Anna decided to look into the Peace Corps.
The Peace Corps application is on its website and is completely online. Anna describes it as similar to a college application.
Inquiring volunteers upload their basic information, their resume, and a short statement onto the online portal.
"I spent months obsessing over and perfecting my 500-word Motivation Statement," Anna said.
The application then asks volunteers to list three countries they would like to serve in, one of the options being "anywhere I'm needed." Those interested in serving in Peace Corps often feel pressured to choose this option, as it is one of the core expectations of the Peace Corps organization.      
Anna listed her first two countries as Thailand and Vietnam, and her final option was "anywhere I'm needed." Anna named Thailand and Vietnam as her preferences simply because she's always wanted to go to Eastern Asia.
After this step, she needed two letters of recommendation.
Anna submitted her application on February 11, 2015.
A few weeks after her submission, Anna received an email, telling her that she had been placed into the applicant pool to be a Health Extension Volunteer in Senegal.
A week after this, she then received an invitation to interview for the position.
"The interview was also online via video chat, where I got to speak directly to a recruiter about my skills, qualifications, and level of commitment," Anna said.
Accepted
On the evening of April 30. Anna went home to study for college finals and visit her family. She was on the couch when she heard an email notification.
Thinking that the email would be the average spam message, she left her phone on the couch, and unpacked the clothing she had brought with her for the night. When she was done unpacking, she returned to her phone to see an email: "Peace Corps – Invitation!"
"I remember staring at my phone for a couple of seconds and saying out loud a shocked and confused 'What…' as I unlocked my phone and waited for the rest of the email to load," Anna said.
As she read the rest of the email, she broke out into cold sweat as tears filled her eyes.
"I began screaming and crying to my cats about my disbelief over what just happened. I immediately called my family and told them the news, and they were so incredibly happy for me but also laughed at me for being so shocked because they 'knew I had it all along,'" Anna explained in her blog.
"
This vague and outlandish dream of mine suddenly became so real with a single email."
— Anna Poruks
Anna received this invitation to serve in Peace Corps days before her college graduation.
"This vague and outlandish dream of mine suddenly became so real with a single email," Anna said.
However, it would be a while until Anna would reach Senegal in March 2016.
Anna still had to do the proper safety precautions, and after she was cleared, she would need to complete multiple rounds of training.
"I worked to submit a large amount of paperwork detailing my medical and legal history in order to receive medical and legal clearance to serve," Anna said. This paperwork included getting fingerprinted and applying for a visa as well as a new passport.
"My medical clearance involved getting polio and yellow fever vaccinations, as well as removing my wisdom teeth," Anna said. Getting her wisdom teeth removed was Anna's first time getting surgery: she was terrified. On her blog, she explained that the whole experience wasn't that bad, besides 'some dull pain and being confined to a liquid diet.'
While all this was going on, Anna picked up a job as a waitress at Bonefish Grill.
"I also decided to get a job as a waitress to save a little bit of money while having a flexible schedule to travel, see friends, and make the most out of my last months in America," Anna said.
Anna didn't go into what she calls 'Full Preparation Mode" until January 2017.
"That's when I began to research packing lists from previous volunteers and lay out everything I needed," Anna said. "However, staying true to my last-minute fashion, I wasn't fully packed and ready to go until about 4 a.m. on February 27, when I then took a 9 a.m. train to Washington DC to attend Staging with the rest of the volunteers in my cohort and fly to Senegal the next morning."
Anna would soon head out on the  journey to Senegal, West Africa.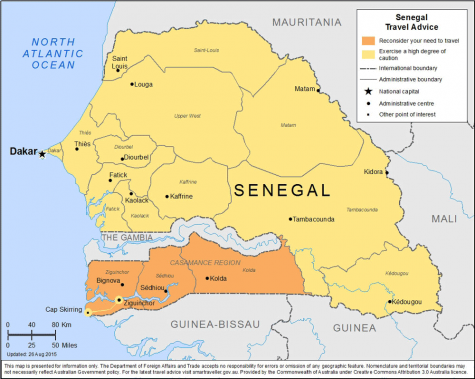 Saying goodbye
But before she left, Anna had to say goodbye to all of her loved ones. The day the whole family had been dreading.
When the family found out that Anna was seriously considering going into Peace Corps, they formed their opinions, and a bit of skepticism arose.
Taylor, her sister, was confused about the whole concept of Peace Corps.
"When I think of the Peace Corps, I think that you're going to a third world country in a place that's not peaceful-to help them towards peace. So that made me nervous because I don't want my sister going to an unsafe place," Taylor said. " But then when I found out it was Senegal and that's a fairly peaceful country then I was kind of thinking 'Ok, so why are you going there if it's not to promote peace?"
The Spanish teacher then learned that Anna would provide humanitarian work. This involves teaching the villagers about basic hygiene and nutrition. Anna's three goals while in Senegal are to 'eradicate malaria, improve child and maternal health, and increase knowledge and access to proper water and sanitation.
Anna's mother, Kathryn Curran, was also worried about Anna's safety. She believed that because Peace Corps is a government funded organization, they were definitely going to keep Anna safe. The fact that Senegal isn't in any political or religious upheaval would contribute to her safety as well.  However, there are certain things Peace Corps can't control.
"My biggest fear is that she will be bitten by a mosquito, or a scorpion, and become ill. I also worry about her state of mind, fearing that she will become depressed, regretting her decision to volunteer," Curran said.
Taylor Poruks did extra research in addition to what Anna told her. Curran read the extensive narratives Peace Corps provides to parents of soon-to-be volunteers. Even grandma did her own Internet search to make sure her grandchild would be safe. However, when all is said and done, there isn't enough research in the world to settle the nerves that come with your loved one living in a foreign, unknown country.
When Anna originally told her mother Kathryn Curran she would be gone for two years, her mother pushed it to the back of her mind. She didn't want to imagine Anna being so far away for so long. Both Curran and Poruks were stunned when they heard that their beloved family member would be gone for two years.
"It was definitely a shock — it's so long term — it's like a two year commitment. When she first told us she wanted to go to either Africa or Asia, it was like WOW," Taylor Poruks said.
When the day of Anna's departure came, Curran reminisced over some memories she and Anna shared. Like the mother-daughter weekend bonding trip they took to a huge flea market in Connecticut during the summer of 2015.
"Before Anna went so far away, I always subconsciously, and sometimes consciously, needed to know where my kids were physically, and how they were doing emotionally," Curran said. "I called it having 'all of my ducks or chicks in a row'. When my girls were little, whenever we were in the car, I made them count off, (Taylor would say 1, then Anna said 2, and Lily would say 3) after each errand upon returning to the car. Well, my middle duck is not in our row, and it sometimes makes me feel uneasy. There's a constant dull feeling that something's not right."
On March 1, 2016, Anna was on a plane to Dakar, Senegal, to begin her Peace Corps Pre-Service Training. An hour outside of Dakar sits the training center where Anna would be learning for three months. Senegal has a training center located in a city called Thies (pronounced "chess").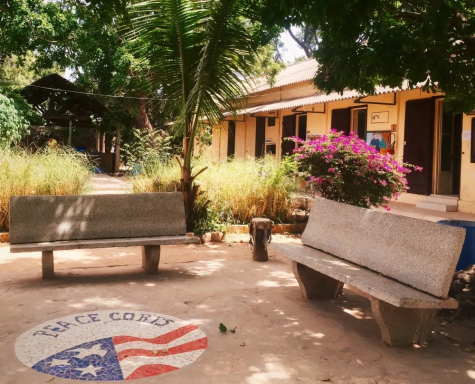 Before formally swearing in as a volunteer, Anna completed 10 weeks of training. Anna's time was divided between training in Thies and with her assigned host family in a village called Pout (pronounced "poot") just outside Thies.
"While in Pout, I was completely immersed in the Pulaar language and Senegalese culture, and also took language classes daily with other trainees in the same town as me and an English-speaking teacher," Anna said. "While at the training center, my training was more safety and security and technical based."
Anna then had another two-week "In-Service Training" three months after swear in which  she described as way more technical- based. This is because 'Peace Corps wants volunteers to focus mostly on language acquisition and cultural integration during their first few months in their villages in order to foster successful future projects.'

Also, during training they were given another set of shots as a precautionary measure. These shots included a series of three rabies shots, tetanus and typhoid immunizations.
"Our medical care here is great!" Anna explained.
Her village
After training was over with, it was time for Anna to find out her permanent placing. Permanent placing is the place where Anna would be living, all of her mission.
Anna describes the day when she found out where her permanent village was as a defining moment in her Peace Corps career.
Anna and her fellow volunteers were escorted to the basketball court at the training center, blindfolds covering their eyes. Painted on the court was a giant map of Senegal.
"On the count of three, we took our blindfolds off to see where we were placed, and it was a very emotional and exciting moment for me," Anna said.
Anna found out that she had been stationed in the desert of the Louga region. Louga is located in the northwestern portion of Senegal. She was put in a town called Lindè.
"The next two years of my life suddenly became so clear, and although it was far from what I was expecting, I was ready," Anna said.
"
I remember rolling up in a Peace Corps car with my supervisor and another volunteer and everyone came out, singing, dancing, and banging on drums."
— Anna Poruks
When she was brought to her permanent village, the villagers flooded her with support. The day Anna arrived in Lindé (pronounced Len-day), the villagers threw a party for her in the health hut.
"I remember rolling up in a Peace Corps car with my supervisor and another volunteer and everyone came out, singing, dancing, and banging on drums. It was a very fun and unexpected moment that made me feel welcome because everyone was so happy that I had arrived," Anna said.
Anna describes the village as small due to the population of about 1200 people. There is no electricity in Lindé, but "many people have solar panels that they use to charge car batteries during the day which in turn light homes, charge phones, and even power TV's at night."
Anna was then introduced to her hut. The humble abode is small in stature, approximately 15 by 15 square feet. The hexagonal shaped hut stands tall, a thatched grass roof hanging over its cinderblock base. On the inside sits a twin sized bed with a mosquito net draped over it. In the corner of the hut are a few shelves, holding clothes and books. There are a woven plastic sitting mat, pictures of family and friends, and her favorite tapestry from college which helps her feel at home.
"Outside of my door I have a small shade structure made out of sticks with a hammock that my awesome older sister sent me hanging underneath. I also have my own bathroom/shower space made of cinderblocks behind my hut, and I am planning to make a small garden back there as well sometime soon," Anna said.
A small propane tank is also stationed in the hut, so Anna can enjoy her morning cup of java. Even though her daily routine has changed quite a bit since moving to Senegal, this is one of the many things that hasn't changed since leaving New Jersey.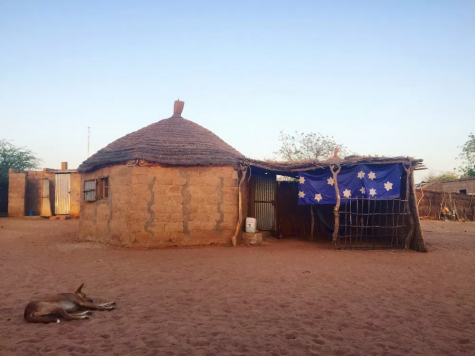 In Senegal there is a much looser concept of time, so life often moves at a slower pace compared to the United States. This was a hard transition for Anna to make, as she went crazy with the amount of free time she had on her hands.
"As an American that prides myself on constant stimulation and strict scheduling, spending my days doing very little was difficult to adjust to. However, I now see it as an important lesson in letting go and appreciating the little things in life!" Anna said.
Once she did adjust to the slower pace, it was hard for her to transition back into the fast moving life that is in New Jersey.
When Anna went home for Christmas, it was a relief to see her family. Her mother, however, had no idea she visiting.
"I came home from work one night a few days before Christmas, and Taylor and Lily were there with their phones up as if they were filming me. Taylor said someone was there that I would like to see right now more than anyone. I immediately said, "ANNA!?", and started freaking out! She said, "no don't be silly, Anna's in Africa". As I relaxed, Anna came walking into the room! I screamed, cried, and hugged her for a long time!" Anna's mother, Kathryn Curran said.
Taylor Poruks
Life in Senegal
Her Sengalese schedule usually consists of breakfast, lunch, relaxation time, walking around the village to greet her family and friends, shower, dinner, sleep.
In the morning, Anna gets her work and errands done. Anna usually eats a small baguette for breakfast. Since staying stagnant is common in Senegal, it is important for Anna to stay active.
Running and yoga are two activities that Anna does in the morning to get her blood flowing, both of which she also did in New Jersey. She tries to get a run or a few yoga poses in before it starts to get too hot.
"Both of these activities are actually more fun in Senegal because I have countless younger siblings and cousins that love to learn the stretches I do and try to race me when I run!" Anna said.
She then eats lunch at 2 p.m. Lunch and dinner usually consist of "rice, any combination of beans, dried salted fish, peanuts, and occasionally potatoes and onions."
Due to the very plain food in her village, Anna misses her American diet.
After lunch, she usually takes some to relax. She either lounges on her hammock, takes a nap, reads, or studies. Anna usually relaxes after lunch, because Senegal afternoons typically hit sweltering temperatures of 120 degrees fahrenheit.
While Anna relaxes after lunch, most people sit and drink ataaya (pronounced 'a-tie-uh'). Ataaya is a strong green mint tea, served in three rounds of small grasses, which is known to be extremely sugary. Anna describes ataya as being perfect for fighting that 'mid-day, post-lunch slump.' However, this isn't the only reason why villagers drink it, they also drink it because it is a Senegalese custom.
"Ataaya is incredibly important tradition to Senegalese people not only because they love their sugar but because the ritual fosters togetherness, socializing, and hospitality, all things that are most valued in life," Anna said.
Before the sun starts setting, she starts to walk around the village to greet everyone, go on a run through the bush, or play with the village kids.
After Anna takes a shower, she sits with her host family and talks, laughs, tells stories, and watches the stars with them until dinner is ready. Anna loves watching the stars because they're beautiful, with so little light pollution.
She then starts to head to bed around 10 p.m.
Fitting in
While Peace Corps is something Anna wanted to do, the transition into being a volunteer wasn't  easy.
Learning a new language, making friendships, establishing work partners, adjusting to a new routine, and teaching others a completely unfamiliar subject is very overwhelming.
Studying a new language and communicating with others through that language without a translator was an interesting, trying time. Anna found herself becoming more animated and expressive when she spoke. "Hand gestures and unspoken visual cues helped get my point across when my words failed me," Anna said.
To aid her in this laborious process, Anna started sitting, listening, and observing others to expand her vocabulary, and find comfort in speaking the language.
"
A lot of my work involves teaching people about microbes that stay on your hands and can make you sick unless you wash with soap. So many germs!"
— Anna Poruks
After ten months, her language is still far from perfect, but she is more comfortable speaking it. Anna has also acquired a few patient friends that help her learn when tricky proverbs like "slowly, slowly, one catches the monkey in the forest" trip her up.
Anna also had a hard time following the common hygienic practices in Senegal, as she is a health volunteer. Anna is often baffled by the lack of hand washing that she sees. Turkish toilets are used in Senegal. Turkish toilets are porcelain covered holes in the ground. Villagers wipe by using water and their left hand. "This is why it is culturally inappropriate and seen as rude to do anything with your left hand, and people shake hands to greet each other and eat with their right hands. However, greeting someone from afar involves clasping both of your hands together and shaking them in the person's direction, so here is where lots of cross-contamination happens if one does not wash their hands with soap and water after using the bathroom," Anna said. "Also, people most often eat with their hands and will, if anything, simply dip their hands in a bowl of water before eating. A lot of my work involves teaching people about microbes that stay on your hands and can make you sick unless you wash with soap. So many germs!"
Other occurrences made discouraging experiences.
Anna lost one of her close family members while she was in Senegal, and it was hard for her to be away for that.
She also had a little cat that the villagers gave to her. In Senegal, cats aren't seen as pets like they are in the United States, they are more like something you keep on the farm to get rid of bugs. There is no cat food in Senegal. Anna found herself struggling to keep the cat alive, as she had to share her small rations of food with it. So, the cat passed away right after the loss of her family member.
The villagers in Senegal were having a hard time empathizing with her because they didn't understand why she was so upset.
"That was really hard because I know she's really sensitive, and I just hated the idea of her being alone through that. That was hard for me as the big sister, it was hard for her, but it was definitely hard for me being away from her for that," Poruks said.
While there were many hard things she had to deal with during her mission, Anna moved past them and maintained a positive attitude.
"Through all of the difficult experiences there is knowledge to be gained, and the hard times just make the good times that much better," Anna said.
Villagers often expect Anna to give them money just because she's there volunteering. However, Anna doesn't do that because that isn't what she is there for.
"A lot of my work involves explaining to my village the importance of capacity building over simply giving things, it is the 'give a man a fish, he will eat for a day, teach a man how to fish, he will feed himself and his family for his entire life' analogy," Anna said. While she knows it isn't realistic for her to single handedly solve all problems in the village within a two year period, she feels like she's made her mark.
"I do feel like I am doing my part and hope to leave my village better than I found it, even if just a little bit," Anna said.
While villagers ask for money, they also ask about America. The people in Anna's village are extremely interested in American culture.
"To them, America represents the land of freedom, opportunity, and money, and they spend their entire lives dreaming of the possibility of going there. I love to share with them aspects of American culture whenever I can because it helps them have a more concrete idea of what America actually is," Anna said.
When Anna shares her culture with the Senegalese villagers, she is fulfilling one of the goals of Peace Corps. Peace Corps gives volunteers three goals to complete during their service. Giving the people you are serving a better understanding of America is one of these goals.
Through sharing stories, and playing with her host family, and other villagers, Anna has formed meaningful bonds with the people around her.
"I have definitely made amazing friendships here over the past year. I live with a Senegalese host family and they have truly taken me in as one of their own, calling me their daughter/sister/etc," Anna said. "It is so nice to feel welcomed and accepted in this way, and my family members are definitely the people that I am closest with in Senegal."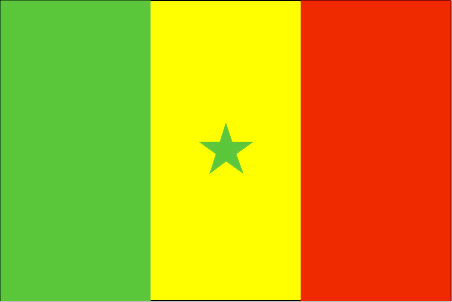 Personal progress
Anna's says that her service has changed her in an unimaginable way. "I have learned so much from the kindness and hospitality of Senegalese people, and they have taught me to slow down and appreciate the little things in life. Us westerners are so obsessed with constantly going places, doing things, and planning ahead, but the Senegalese simply sit back, take each day as it comes, and don't worry about the future," Anna said.
Anna's family has seen this same change.
Anna's sister Taylor explains that she hoped that Peace Corps would make Anna grounded, and it did.
"She was the typical sorority girl. She's always been smart and very bright, but I always felt like she was really gonna benefit from something like this to really get her centered on the important things in life. And it definitely has," Taylor said.
Anna's mother described her change as spiritual and philosophical. "She has learned things from this part of the world that I wish my part of the world could learn. There's an 'unhurried' aspect to her now," Curran said.
Anna still has some growing to do, as her two years comes to a close. She says that she's noticed life getting easier for her over the past few months. Of course she still stumbles over language, and cultural faux-pas every now and again, but the progress she's made in her journey drown out these minor mistakes.
"Whenever I'm feeling discouraged I always make a point to look back on how far I've come. Peace corps is a nonstop growing and learning process," Anna said.When it is time to come back to New Jersey, Anna plans on spending time with family and friends to make up for lost time.
"I am thinking about using some of the money from the readjustment stipend I will be given to go on a road trip across America!" Anna said. "I am also planning to study for and take the GRE's when I am home so I can apply to graduate schools, most likely for fall 2019. Returned Peace Corps Volunteers are offered excellent scholarship opportunities by graduate schools across the country, so I am hoping to take advantage of those."
Anna has no regrets. She doesn't regret going to Senegal, and she doesn't regret any mistake she has made. Anna has documented her whole Peace Corps experience, from the time she applied, to the time she was accepted, to the time she left New Jersey. Anna created a blog called 'Stories from Senegal.' Here she expressed how she felt 100 days before her departure date, she detailed her first week of service, and she posts updates of how things are going for her.
"Living abroad is definitely an experience I think everyone should have when they are young," Anna said. "It is all at once a fascinating, humbling, frightening, and exciting adventure that will shape you and your world view for the rest of your life."
About the Contributor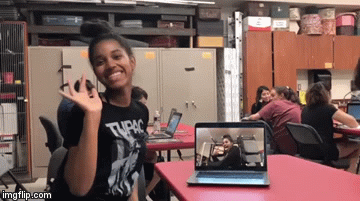 Isis Kirkland, Editor-in-Chief
Isis Kirkland is a senior at Glen Rock High School. This is her fourth and final year writing for The Glen Echo. In her free time, she enjoys writing,...