Interact club hosts annual fashion show for cancer research
The interact club hosted their annual fashion show on Monday, Feb. 27. All proceeds were donated to Hope Lodge American Cancer Society.
Students were chosen to model prom dresses and tuxedos to raise money for the cause. Each fashion model walked twice down the runway; once alone and the second time with a partner.
Hostesses Michelle DeMaria and Hannah VanderWall introduced president of the interact club, Laurent S, who directed the audience to www.cancer.org for more information. 
"The interact club is great and helps a lot of different people by doing fundraisers, food drives and a lot of other activities," said VanderWall.
The student models for this year were Anne Nebbia, Katie Trahan, Caroline Keller, Katie Kelly, Rachel McMahon, Hallie Johnson, Sophia Algerio , Isabella Ranieri, Anna Rasmussen, Jimmy Moore, Lee Hasselman, Matt Schlett, Jack Cinquegrana, Brendan Murray ,Trevor Douenias, David Martinez, Matt Williams and Michael Quinn.
"It was my second year doing the fashion show but I was still nervous. Every year is a different crowd," said Quinn.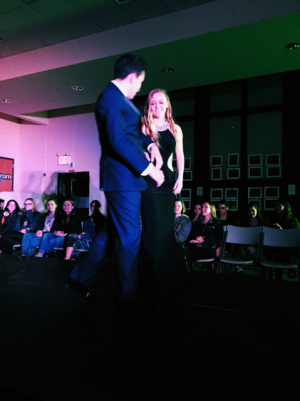 Students were chosen based on who wanted to do it and would have fun doing it. VanderWall and DeMarria tried to pick people from each grade and made sure everyone was paired up with a partner who was close in height.
"When you walked out on the runway there was music playing and everyone was just cheering for you," Kelly said. "I felt really excited because I've never been in it before and it was a great experience."
Nail and hair salons such as Bellula, Narz, and Moxie donated their time for the cause by giving the girls a makeover before hitting the runway.
Dresses were also donated by stores such as Lord & Taylor, Suite 201 and Aleana's Bridal Shop.
"We give the dresses back. When we have them on we have to be so careful that we give them back exactly how they were," said Kelly.
In order to donate more money to the organization, raffles were offered. Anyone who attended was able to buy a raffle tickets to put toward the prize of their choice. The money made in raffle tickets went to the American Cancer Society.
"This year Michelle and I went to a bunch of new places and asked them to be apart of it. We were surprised how many people were willing to donate and contribute to the fashion show," said VanderWall.
VanderWall and DeMarria went to several organizations to tell them about the interact club and where the proceeds go to. In addition they offered to put out their business cards and give the stores recognition as being a contributor in the fundraiser.
"We received positive feedback. Overall it was a lot more planning than i thought but it was a lot of fun and definitely a success," said VanderWall.