Luckenbill returns from National Guard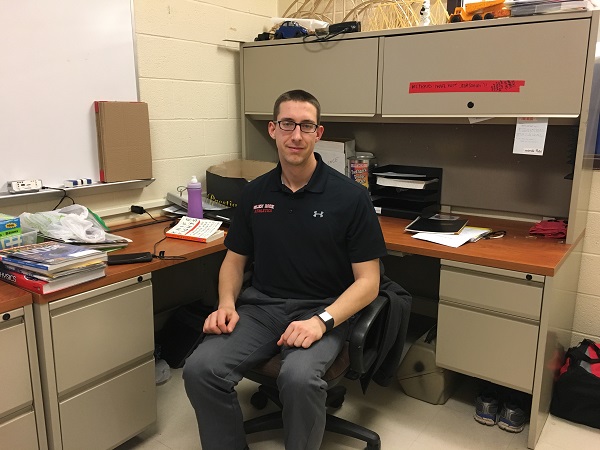 Mr. Brian Luckenbill had thought about joining the National Guard for a while and last August he put his teaching job on hold to join.
Luckenbill, a physics and pre-engineering teacher, had previously thought that he would have to choose between being a soldier and being a teacher. But after learning more about the National Guard, Luckenbill realized he had time to do both.
The National Guard is a branch of the army with military members from each state. According to one of the National Guard's websites, a member serves both the community and country and "responds to domestic emergencies, overseas combat missions, counterdrug efforts, reconstruction missions and more."
When joining the National Guard, Luckenbill was required to go to basic training for nine weeks and six weeks of job training. In between the two periods of training, there was a week of processing. Luckenbill left for the National Guard on Aug. 10, 2016 and graduated Nov. 23, 2016.
Basic training is split into three phases: red, blue and white. In red phase, members go through a soldierization process where bad habits are broken.
"Think of when you speak disrespectfully to a parent, you try that with a drill sergeant it ends horribly," Luckenbill said.
In white phase, members are given their weapon and taught how to use their weapon by spending time in target practice. For Luckenbill's specific group, the weapon used was an M4, which, according to Luckenbill, "is a high powered rifle." At the end of white phase, members should be able to shoot targets from 50 meters out to 300 meters.
The final phase, blue phase, introduces members to job training after being officially welcomed into the army as a soldier. Luckenbill's specific job is a combat engineer.
"We're basically a support element for the infantry; focusing on mobility, countermobility and survivability," Luckenbill said. As a combat engineer, Luckenbill destroys obstacles so his unit can move, creates obstacles to prevent enemy troops from moving and does jobs that the infantry isn't trained to do.
Luckenbill's specific unit was based in West Orange with the 104th engineering battalion. Throughout the year, Luckenbill will meet his unit. The unit will drill one weekend a month and have a two week annual training to upkeep skills or learn new skills.
During his time training for the National Guard, Luckenbill lived with his platoon which had 60 men.
"That could kind of be the best and worst of it. You get to be good friends with these people, friends that'll hopefully be lifelong friends," Luckenbill said. However, because most people who join the National Guard soon after high school, around 80 percent of Luckenbill's platoon consisted of 18 to 19 year olds. "They were just over the age of people that I teach so some people were a little immature or obnoxious or just have some learning to do."
While Luckenbill was away, three teachers covered his classes: Mrs. McDermott, Mr. Rapkin and Mrs. Bickert-Fink. McDermott covered his pre-engineering classes while Rapkin and Bickert-Fink covered his physics classes. After returning from training, Luckenbill completely took over his classes after a short break.
According to Luckenbill, his transition was smooth because of state mandated law that allows a two week period. Although he graduated on Nov. 23, Luckenbill came back to teach on Dec. 6.
"It gave me some time to spend some time with my family and it gave me that little bit of transition period so it's not just a quick switch," Luckenbill said.
Amy Pfeiffer, one of Luckenbill's physics students, agrees the transition was good and additionally believes Luckenbill to be a good teacher.
"He makes the stuff a lot easier to comprehend and it makes more sense when he's teaching it," Pfeiffer said.
Although Luckenbill joined the National Guard later than most members, he still feels it was a great experience.
"I kind of wish I had done it earlier, during college. I would have had six years of experience then instead of a little over one."