School nurses involve students, faculty in cause almost 1,000 miles away
The humble Chantelle Nickson Clarke, founder of The Pink Angels Foundation and six year survivor against Breast Cancer, was as aware of Glen Rock, New Jersey as she was about the impact of her organization across state borders. That is, she had no idea either existed.
Clarke had to take a gratifying moment of silence to herself before responding to learning how Glen Rock High School raised $412 for her fundraiser in St. Louis, MO.
"That's just absolutely amazing," Clarke paused. "We are just so honored to be more nationally known and recognized for the great philanthropy that we are doing the community."
School nurse Robin Leone felt it was important to expose students to an organization that would teach students how common and prevalent breast cancer is. This led her to find an organization that donated the majority of its proceeds to helping women who are struggling with the disease to fight it and live comfortably. The Pink Angels Foundation, located in St. Louis, seemed to fit like a glove.
"Everyone is touched in some way. We all know someone who is or has suffered, whether it's a mother, sister, grandmother, friend. This is why we feel it's so important for our students to involve themselves in an organization like The Pink Angels," Leone said.
Chantelle Nickson Clarke, a six year survivor, founded The Pink Angels Foundation. The Pink Angels is a nonprofit breast cancer organization that provides unlimited resources to women diagnosed apart of the organization. Within the organization, it is understood that there are many needs for those battling the disease such as children needs, doctor bills, rent payment, and mortgage payment. The Pink Angel are more than willing to profit these finances.
"
Breast Cancer is no longer a death sentence."
— Chantelle Nickson Clarke
"We want to make noise about breast cancer. It doesn't have age. It doesn't discriminate," Clarke said.
Their youngest angel was only 18 years old. She was a teen mother when she found a lump in her breast while breastfeeding. Clarke believes it's better to start practicing self breast exams sooner rather than later because girls and women should be in touch with their body.
Leone sent an email to all school faculty encouraging them to bring in donations which would be collected in the nurse's office. Students were welcome to partake in donating as well which excited Clarke to hear how all ages got involved in the process of raising money.
17 years ago, Clarke's mother passed away due to breast cancer. With the technological advancements in the medical field, Breast Cancer survival statistics have changed.
"Breast Cancer is no longer a death sentence. Six years ago when I was diagnosed they used to tell us 1 in 8 women would be diagnosed with Breast Cancer and I believe that those statistics have changed," Clarke said.
View Comments (2)
About the Contributor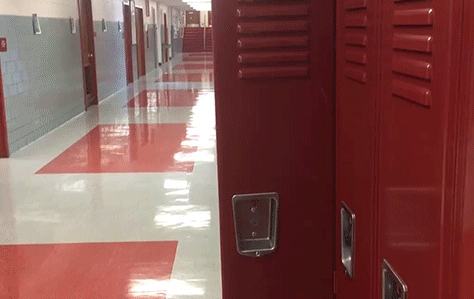 Sophie Ferreri, Head Copy Editor
Sophie Ferreri is a senior and this is her third year writing for The Glen Echo. She attended an Investigative Reporting program at Boston University this...