Panthers step up their game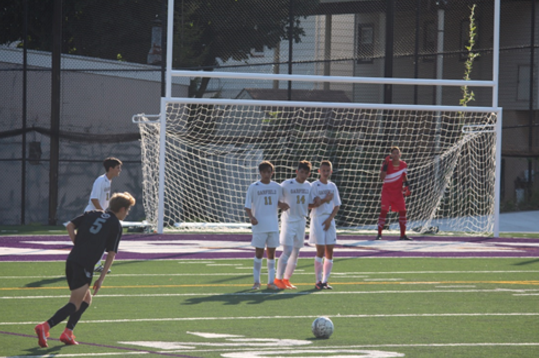 The Glen Rock High School boys' soccer team wasn't expecting to make many headlines in the 2016-2017 fall season after going 8-10 in 2015-2016 and failing to qualify for the Bergen County tournament. Justin Kochman, junior midfielder , led the team by tallying three goals and five assists through the first eight games of the season, before suffering a concussion, and was voted the top midfielder in the North Jersey Interscholastic Conference by NJ.com, helping Glen Rock qualify for the Bergen County Tournament with a current 10-4 record.
"We're a pretty young team. When I was on the team as a sophomore there were three sophomores on the team and one freshman. This year there's one freshman and maybe like eight sophomores, so we're a young team, but we're very good. We're better than we have been in the past; this year we actually made it to counties, which was the first time in three years, so it's been a successful season so far," Will Connor, senior captain, said.
Many of the Panthers stars, including the leading scorers John Corry and Ben Zakowski, midfielders, Nick Rogers, Rick Dager, and TK Kishida, and defenders Josh Kim, Owen Corry, and Mark Buckel, are only sophomores and still have two more years at the varsity level.
"Playing with Mark Buckel and Owen [Corry] on the outsides, I trust them a lot, and I just have to talk to them more, and they're fine, I don't have to worry too much," Connor said. "He's a natural leader, so he leads me in the right direction on and off the field."
Kim, who plays as a midfielder and defender, scoring three goals and providing four assists so far this season, believes the older players are doing a good job of mentoring the younger players.
Both Connor and Corry hoped to make a good run in the North Jersey Section 1 Group 2 playoffs, but the Panthers needed a strong finish, as they still had to face Hawthorne and Pompton Lakes, both of whom won at Glen Rock earlier in the season.
"We're hoping we can win the league title, and also we have states to look forward to and I think we can make a good run in states." Connor said.
Connor's wishes did come true as Glen Rock secured a 6-seed in the North Jersey Section 1, Group 2 playoffs, and they host Wallkill Valley in the first round on Monday, Oct. 31.
Justin Kochman took a free kick against Garfield on Sept. 16. Glen Rock went on to win the game 2-1, with Kochman providing an assist.