Students sit to protest racial discrimination
by Kate Casey, Advertising and Business Manager
September 30, 2016
Several students are refusing to stand for the Pledge of Allegiance during morning announcements, protesting against racism and following in the footsteps of Colin Kaepernick.
Colin Kaepernick, San Francisco 49ers starting quarterback, first sat during the National Anthem at his first preseason game on Aug. 14, but it went unnoticed until he dressed for his game on Aug. 26.
Kaepernick was interviewed after the game by NFL Media. "I am not going to stand up to show pride in a flag for a country that oppresses black people," he said. "To me, this is bigger than football and it would be selfish on my part to look the other way. There are bodies in the street and people getting paid leave and getting away with murder."
Kaepernick has continued to protest against the Pledge and National Anthem and has inspired many others to join his controversial stand against racism. Teammate, Eric Reed; Seattle Seahawks cornerback, Jeremy Lane; Megan Rapinoe of the United States Women's National Soccer Team; Denver Broncos linebacker, Brandon Marshall; and several other professional and student athletes are kneeling for the pledge. This also includes several Glen Rock students.
Sophomores Adam Dietrich, Kelly Walters, and Maddie Hendl sat during the Pledge in their first period Drivers' Ed class on Sept. 23 and have continued to do so several other times over the past few days.
"I'm tired by the constant racial slurs that are being spoken by people at our school and I'm tired of this ignorance," Hendl said. "There is constant racism that happens every single day with people getting killed because their skin color and their race."
While some people see abstaining from participating in the Pledge as an act of peaceful protest, others see it as blatant disrespect.
Sophomore Robby Del Guercio is strongly against Kaepernick and his protest against racism.
"The Pledge of Allegiance and the flag show how hard we've worked to get to this point of freedom," Del Guercio said. "I think the people who don't stand aren't giving respect to the people that deserve it and for that I think they have to leave this country."
Some argue that fighting racism is not Kaepernick's goal at all, it is just a call for attention.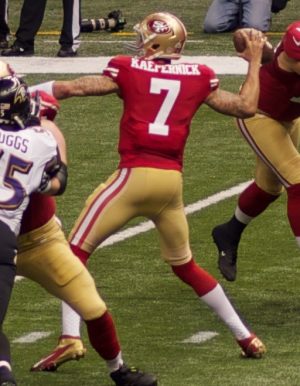 "We think they are making a stand but most of the football players are really, really bad so they are just trying to draw attention," Del Guercio said. "Their head is up in the clouds and they are so focused on fame that they are just trying to act like idiots to get attention."

Del Guercio also said that overall African-Americans aren't discriminated against as much as people claim they are.

"I think people in their minds form these crazy thoughts that they don't have rights," Del Guercio said. "The cops that are killing the black people are a couple bad apples."

But Kaepernick and his followers are saying the opposite. Hendl has seen the effects of racial violence firsthand.

"My boyfriend is a minority, and he was unfortunately shot because of his skin color," Hendl said. "That is a horrible thing to witness."

Hendl said that her African American boyfriend was walking to a store when a white man drove past him and shot him in the back. There were minor injuries, but the minimal physical damage was nothing compared to the emotional distress.

"It was only a graze, thank God, but he was bruised and shaken up," Hendl said. "I've witnessed people not being allowed to participate in activities, people getting stared at on buses and trains, people not wanting to sit next to a black person: it's everyday."

Although many people see kneeling during the anthem or sitting for the pledge as disrespectful, the Bill of Rights guarantees freedom of speech and peaceful protest, even the ability to critique our government and country. Sophomore Max Lindley believes in this idea.

"I stand for the Pledge of Allegiance to honor the soldiers overseas putting their lives on the line for the USA. I stand for the people who died trying to save lives during the terrorist attack on 9/11 and at the Boston Marathon," he said. "This sounds contradictory, but I love the fact that if you really want to, you can sit during the pledge. I don't agree with it, but as an American you have the right."

"

I've witnessed people not being allowed to participate in activities, people getting stared at on buses and trains, people not wanting to sit next to a black person: it's everyday."

— Maddie Hendl

While Lindley believes that Kaepernick has the right to protest, he "could be getting his point across in so many other ways without disrespecting our troops."

Those who endorse Kaepernick, however, believe that his protest is just.

"I wanted to stand up for what I believe in. I was not being disrespectful to anyone, I was doing this peacefully, which is what Colin Kaepernick is doing," Hendl said. "Soldiers are dying overseas for our right to do these exact things; they are protecting our First Amendment right to protest peacefully."

The bottom line for these students is, although their actions can be interpreted as dishonoring the United States and troops overseas, American citizens have to right to do what they want.

"It's America. Non-supporters have the freedom to do and say what they want. I rally for what he is doing and support him," Dietrich said. "I know the violence is not going to stop because people are kneeling, but it will raise awareness and bring attention to the issue of racism."
About the Contributor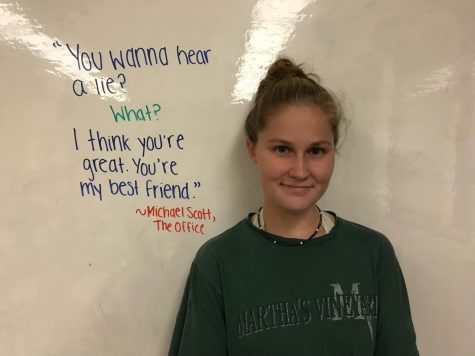 Kate Casey, Editor-in-Chief
Kate Casey is a senior at Glen Rock High School and this is her fourth and final year writing for The Glen Echo. She volunteers at a tutoring program for...