Once a Hawk: Senior enrolls in university where he received life-changing operation
He's back.
It took Jesse Weiss eleven years, a major spinal cord operation and four years of high school, but this fall he'll be returning to the campus where he received a life-changing operation when he was seven years old.
When Weiss was a child he underwent a specialized surgery — then done by only one doctor in the United States — performed by a physician at University of Iowa.
For the second grader, the procedure wasn't the only terrifying aspect. He had to leave his family, his friends, and his home state to go under the knife nearly 1,000 miles from home.
"
At age 6, you can't really understand how to sit still for that long."
— Jesse Weiss
Weiss's condition was known as basilar invagination. In scientific terms, it's the infolding of the base of the skull when the C2 vertebra moves upward. The condition led to chronic headaches, dizziness, and could become life-threatening. Weiss has not been permitted to play contact sports despite the surgery he received as a child.
Weiss's complications began at six years old when his parents noticed that he was constantly tired and he always complained about painful headaches. He also often threw up when the temperature was too hot outside. The local pediatrician broadly diagnosed Weiss with a "head injury," but the pediatrician suggested visiting a neurologist.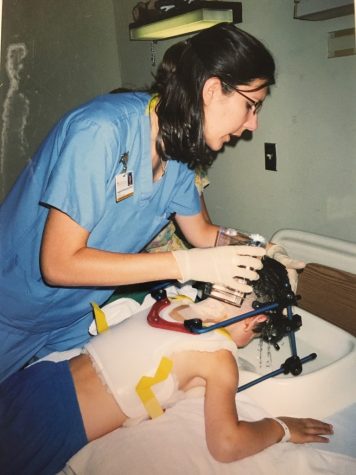 Weiss visited specialists during a month long journey in which he traveled up and down the East Coast, yet the diagnosis remained a mystery. Nevertheless, Weiss credited his pediatrician's initial hunch with potentially saving his life.
The journey to recovery, however, was not a straight path. Weiss recalled waiting rooms and needles; he remembered a four hour MRI at Hackensack Hospital.
"At age 6, you can't really understand how to sit still for that long," Weiss said.
Weiss's journey ultimately led him to NYU, where he was seen by Dr. Jeffrey Wisoff. Wisoff recognized the symptoms of basilar invagination, but he was hesitant to perform the surgery. Wisoff had never done it before.
Although he offered to take on the task himself, Wisoff recommended that Weiss and his family contact a doctor in Iowa, Dr. Arnold Menezes, who was a known specialist and had previous experience in the field. With such a specialized condition, Weiss and his family did not want to take any chances; they flew to the University of Iowa for a consult a month before the planned surgery.
When the Weiss family returned to Iowa for the surgery, they checked into the Ronald McDonald House, a housing unit for patients and their families located next to hospitals around the world. They moved in a week before the surgery. The Ronald McDonald House is meant to be a 'home away from home.'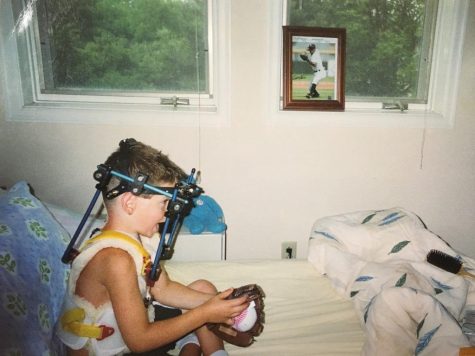 Iowa's Ronald McDonald House is made up of 32 rooms. The house has a single large kitchen that is divided into five distinct sections. As it is only designed to provide housing for pediatric patients, it is not expensive. For Weiss's family, it only cost $15 a night. If a family could not afford that fee, though, the Ronald McDonald house was willing to make accommodations.
Dr. Menezes required Weiss to stay local for two months after the surgery.
While the amenities may have been like home, it wasn't the same as his home in Glen Rock without half of his family there. While Weiss's mother stayed with him throughout the duration, his father and brother were only able to stay for two weeks. The Ronald McDonald House was a house, but it wasn't a home.
Weiss was diagnosed in first grade, and he had the surgery during the summer when he was going into second grade. Being without half of his family was hard for a six and seven year old. He was undergoing a major surgery, miles away from his home and his friends, and his father and brother had gone home. For Weiss and his mother, it was a pivotal moment.
"
He was very loyal to us. He started coming back to practice almost every day."
— Justin Wieck
Weiss, who needed treatment only a few days a week at the hospital, found himself in a strange city with little to do. His mother wanted to help him feel more comfortable, to distract him from the surgeries and frightening procedures at the hospital.
One morning, the two walked to the Carver-Hawkeye arena. Weiss, waist height to where he stands today, looked like a small Iron Man, armored in a brace that wrapped around his chest and torso. He and his mother sat in the stands and began a daily ritual: they would watch whatever sports were going on, whether game or practice, basketball or volleyball, they would be there watching the college students play.
Afterward, they would walk over to the football or baseball fields. The pair would often go to the Coralville mall to walk around and eat lunch.
Sitting in the bleachers, the boy in the brace and his mother became a familiar sight for the athletes. One day, a basketball player named Justin Wieck came up to Weiss and volunteered to show him around the locker room. There, Wieck introduced him to Bret Wessels, a teammate, and they invited Weiss back the next day to an official basketball practice.
"He was wearing a halo around his head the first time we saw him, so we knew it was a very serious thing," Wieck said. "He had such a great heart and determination to get through that. He was very loyal to us. He started coming back to practice almost every day."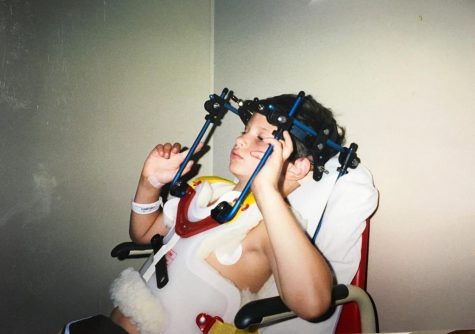 Weiss returned to his room at the Ronald McDonald House that night and tossed and turned all night, his mind running circles around the fact that he had officially been invited to a practice. Perhaps his surgery was not all bad, maybe there was a silver lining after all.
At the practice, head coach Steve Alford introduced himself to Weiss and invited him to attend as many practices as he wanted. Weiss took up the offer and attended another practice the very next day.
"It was a lot of fun as a coach to see how our players took to him and supported him through everything," Alford said. "I think our players grew close to him because they could tell what he was going through was not easy or fun, yet he always had a smile on his face at practice and carrying himself with an incredible attitude."
Alford had a pile of Iowa apparel waiting for Weiss, so he could feel like the team mascot.
"The first year when we met them their basketball team was really really good," Weiss said. "They ended up winning the Big 10 Championship."
Aside from practices, Weiss attended a home game in which his Hawkeyes took on Ohio State.
"Getting to watch them play Ohio State and going into the locker room after the game was a big deal," Weiss said. "It was a big game and I got to stand on the court before the game while they were warming up."
Weiss was soon introduced to Jerry Palmer, who works in the video department, at one of the basketball practices. He invited Weiss and his mother to the football complex for a tour and to meet the head football coach, Kirk Ferentz.
"He invited us to come and gave us tickets to the Michigan-Iowa football game, which was the day that we left," Weiss explained. "We went there then went home."
When Weiss returned to Glen Rock, he remained a zealous Iowa fan. He attended the basketball game when Iowa played Penn State, looking for his old friends on the court.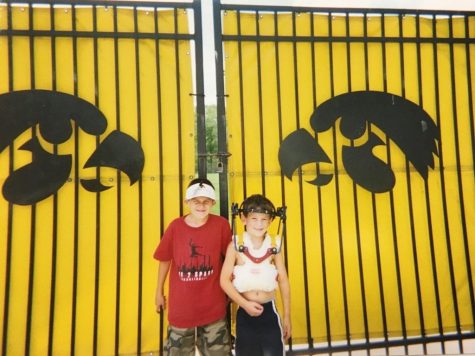 Meanwhile, Weiss was acclimating to life in New Jersey. It was different now; he could no longer play contact sports and had to be aware of his surgery. His physical education teachers were hesitant to allow him to participate, so he sat on the sides for a while at first. He decided to play tennis and basketball since they were non-contact sports.
Despite the risks, he did play lacrosse for a season. Weiss said that he told his parents that "it wasn't a contact sport." After watching him play, however, his parents did not let him proceed with the game in high school.
"
It's obvious that Jesse enjoyed the area and the people that make up the city and university. "
— Coach Steve Alford
Every two years, Weiss flew back to Iowa for a check-up from Dr. Menezes. Ultimately, these too came to a conclusion. For all intents and purposes, Weiss's connection to Iowa was over. Except for his friends.
Weiss's family kept in contact with many of their former friends at Iowa. His mother texted former Iowa head coach Alford, who now coaches at UCLA, when the California school went into lockdown after shots were fired on campus two weeks ago. He responded immediately that he was safe.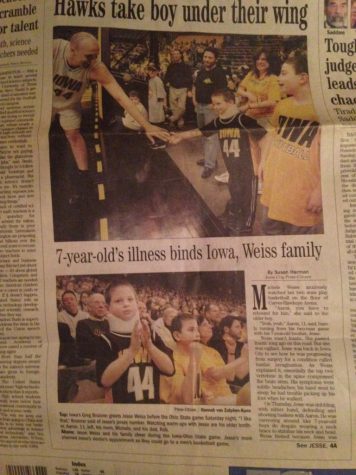 Alford was happy to hear that Weiss would be attending the University of Iowa.
"It's so cool he has chosen the University of Iowa to continue his education," Alford said. "It's obvious that Jesse enjoyed the area and the people that make up the city and university."
Wieck, who first showed Weiss around the locker room, is also still in contact with him and his family.
Wieck values "that lifelong family friendship that we just started the day we met." He said that Weiss is "a very, very easy kid to be friends with and somebody that I am very happy that we struck up that friendship."
"
They have everything to make me the best medical person I can be."
— Jesse Weiss
Then, as a senior in high school, Jesse Weiss filled out an application for the University of Iowa. He told himself that he couldn't choose the school solely because of his history with it: it had to be the right place for him.
With plans to study pre-med in college — apropos considering his personal history — Weiss looked into programs that would fit best with his current goal to become a physician's assistant.
His sights turned to Iowa.
"For medicine, they have a lot of resources and soon they're going to be the largest teaching hospital," Weiss explained. "They have everything to make me the best medical person I can be."
At that point, it was a foregone conclusion:
He's back.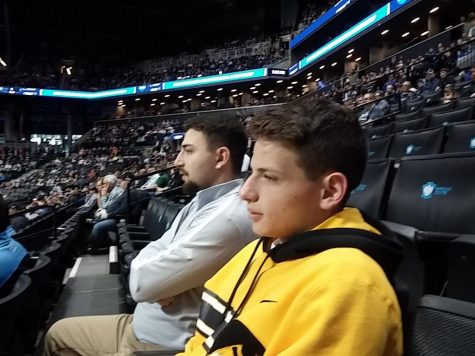 View Comments (2)
About the Contributor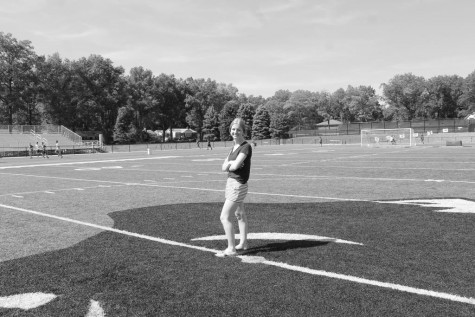 Lilia Wood, Editor-in-Chief
Lilia Wood is the Editor-in-Chief and this is her fourth year working on the newspaper. After she graduates, she plans to study journalism and pursue...